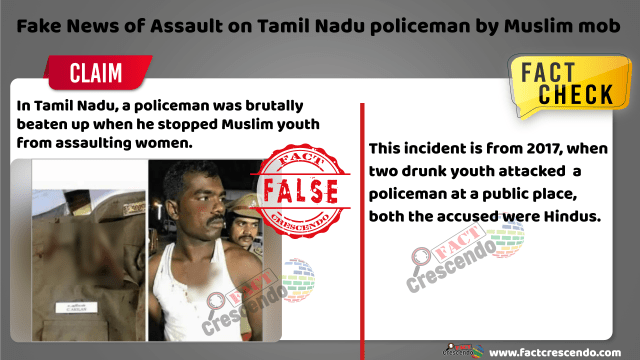 A picture of an injured person and a blood-stained police uniform with "C Akilan" inscribed on it is being shared rapidly on social media. It is being claimed through this picture that a policeman in Chennai, Tamil Nadu was attacked by a Muslim mob when he tried to stop three Muslim youth who were in a drunk state and were hurling abuses at women.
The title of the post reads, "Chennai is becoming mini Pakistan." Assistant Inspector Akilan was severely attacked for attempting to stop three Muslim youth in the Thiruvallikeni area who abused women under the influence of cannabis on Marina Beach. Hundreds of Muslims surrounded the police."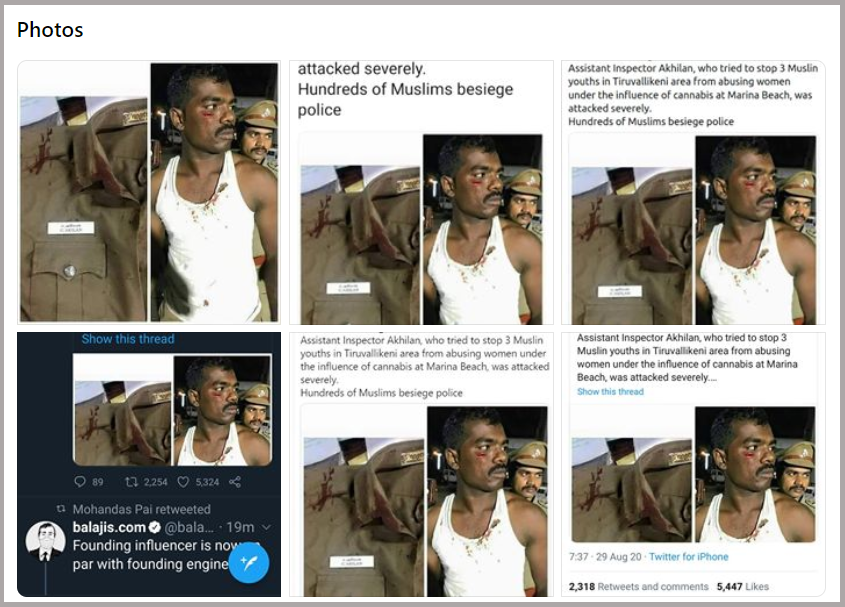 We started the investigation by finding more about the related news using keywords on Google search. As a result, we found news published by Times of India on 22nd August 2017. According to this report, the incident took place on the night of August 20th 2017 on Marina Beach. Akilan, a constable of the Armed Reserve Force, noticed two youths consuming liquor on Marina Beach during his patrolling duty.
The report states that the policeman asked the two to leave that place, they refused to leave and picked up a brawl and attacked him with a sharp object.
To get more information we contacted Ramesh Babu, Sub-Inspector of Marina Police Station who told us that "This is the incident is from 2017, the names of the accused are Hari Ram and Dinesh. Both of them were drinking on Marina Beach when Constable Akilan asked them to leave. Meanwhile, Hari Ram attacked the police officer with a sharp object. Hearing the scream of the constable, the nearby police reached the spot and rushed him to the hospital. The attackers who fled from the spot were later arrested and action was taken against them. The claims running on social media regarding this matter are false. The two men involved in this incident did not abuse any woman while intoxicated.
Both the accused in this incident were Hindus and after this incident there was no attack on Marina Police by a Muslim mob. The incident occurred when Constable Akilan tried to stop two people of Hindu faith from consuming alcohol in a public place. The police was not attacked by any community."
Conclusion: We found the above post wrong after checking the facts. This incident took place way back in 2017 when Constable Akilan tried to stop two people from consuming alcohol in a public place, due to which he was attacked by the two drunk people.

Title:Fake News of Assault on Tamil Nadu policeman by Muslim mob
Fact Check By: Aavya Ray
Result: False