A video showing a group of hooligans attacking cars on the road is doing rounds on social media. Many have been sharing this video claiming that it is from the recent riots in Sweden.
Fact Crescendo found these claims to be False. The viral video is two-year-old and is from Switzerland.
What's the Claim?
In the viral, some people can be seen attacking vehicles on the road at night. Many shared it with a claim that reads: "This is not a film, it is Sweden." (translated)
The tweet has been retweeted more than 2500 times and liked by 3300 users. The same claims are available on Facebook as well. Our readers also sent the viral video on Fact Crescendo's Chatbot Factline (9049053770) for a fact-check.
FACT-CHECK
A reverse image search on the key-frames of the video revealed that it is available on the internet since 2018. Sifting through various links in combination with key-words, we came across a Switzerland Ultras Facebook Page where the same video was uploaded on 21st May 2018. The caption reads: "Basel hooligans attack Zürich and Karlsruher cars 19.05.2018"
Original Post – Facebook
Taking a clue from it, we searched about this incident. An Italian website Tia-20 has uploaded the same video along with the related news. According to it, the video is from Basel, Switzerland.
The said vandalism took place after a football match between Basel and Lucerne teams on 19th May 2018. Fans of the rival teams clashed with each other and some hooligans vandalized the passing vehicles on the street.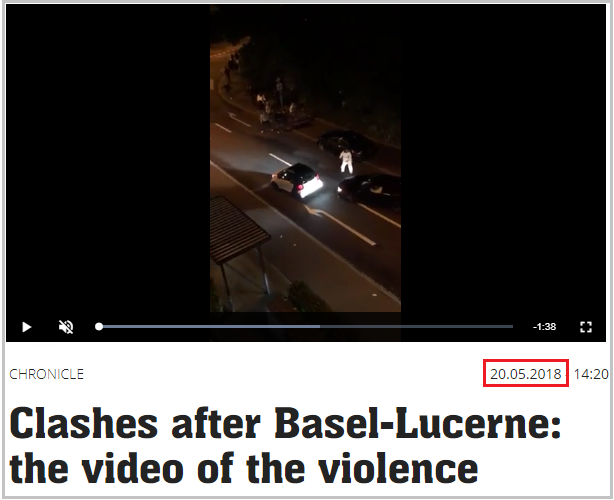 While searching more about it, we found a press release issued by the Public prosecutor of Basel on 20th May 2018. It reads:
"On May 19, 2018, after 11 p.m., violent clashes broke out between "football fans" in Birsstrasse, between the stadium and Redingstrasse. At least two people involved were injured. Several people were checked and two were provisionally arrested." (Translated by Google)
CONCLUSION
The viral video of hooligans attacking vehicles is not from Sweden and is not related to the recent riots that took place. The video, in fact, is from Switzerland. It shows the violence that erupted between football fans after a match in 2018 in Basel. It is being falsely linked to recent Sweden riots.

Title:2018 Video of Football Fans' Clash in Switzerland Passed Off as the Recent Sweden Riots
Fact Check By: Mayur Deokar
Result: False