On 15 September 2014, a Facebook user named "Mohammad Talib" posted a video, which captioned "Durga was a beautiful prostitute. Durga was a beautiful Sex Worker. Smriti Irani".
Union Minister Smriti Irani is being blamed for a highly derogatory quote about Hindu goddess Durga on social media.
In the video, Smriti Irani is reading a paper with the following comment, "Durga Puja is the most controversial, racial festival, where a fair skin beautiful Goddess Durga is depicted brutally killing a dark skin native called Mahishasura. Mahishasura, a brave, self-respecting leader, tricked into marriage by Aryans, hired a sex worker called Durga, who enticed Mahishasura into marriage and killed him after nine nights of honeymooning."
Sharing this video on social media, it is being claimed that Smriti Irani, while speaking in Parliament, called Devi Durga a "sex worker" who tricked "Mahishasura" in her web.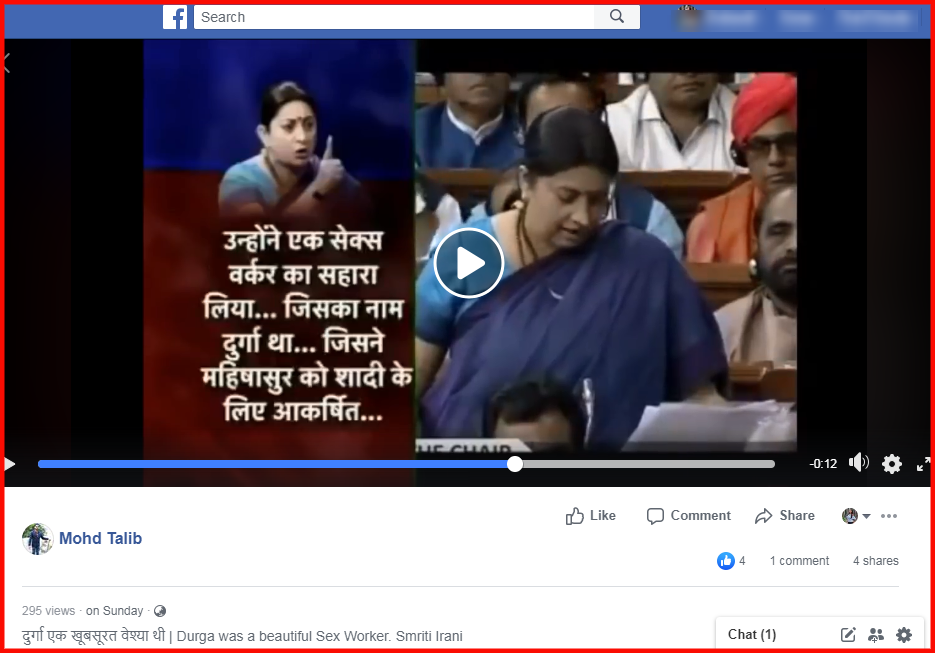 We started the investigation by searching for keywords "Smriti Irani durga speech" on YouTube. As a result, we found a video uploaded by the official YouTube account of the Bharatiya Janata Party. The title of this video reads "Smt. Smriti Irani's speech in reply to debate on JNU and Rohith Vemula issues – 24.02.2016"
If you listen to this video carefully, then you may notice that at 30 minutes and 25 seconds, we can hear Smriti Irani addressing the speaker of the Lok Sabha.
"A statement by the minority, SC, ST and OBC students of JNU and what do they condemn, an attempt, like I said this very pamphlet on the 10th of February highlights, what the communist leaders call Mahishasur martyrdom day. And may my god forgive me for reading this".
Then she starts reading those controversial discussions about Goddess Durga. Below you can see the comparison of the words said in the viral video and the original video on social media.
The narration in the video is actually a statement made by JNU's minority, SC, ST and OBC students. Smriti Irani refers to this at the beginning of her speech and she asks God for forgiveness before quoting these things. 
According to the News published by India Today, on 26th February 2016, it has been mentioned that, "after reading these comments by Irani, the opposition parties protested against it." After that these comments were expunged from the Rajya Sabha records. However, the video is available on the internet. "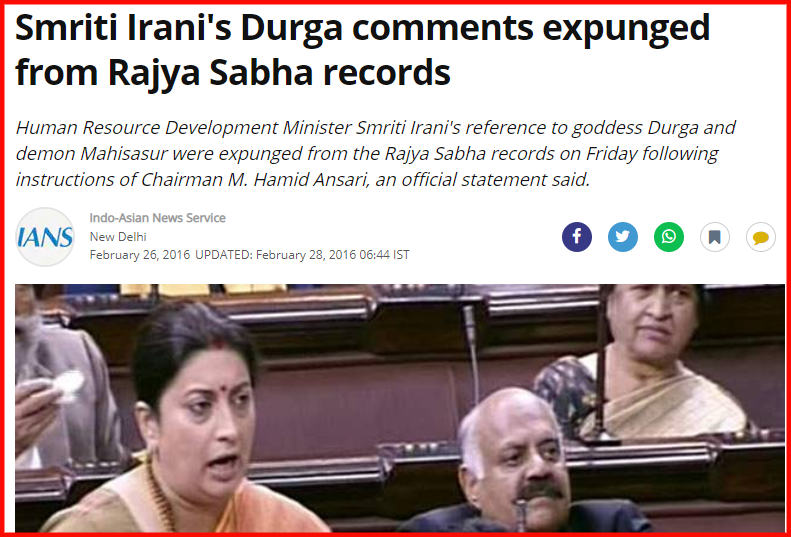 Conclusion: We have found the above post wrong after checking the facts. Smriti Irani did not call Goddess Durga a "sex worker". She was making statements in Parliament citing how SC, ST and OBC students of Jawaharlal Nehru University made derogatory remarks on Maa Durga. The entire video has been misrepresented in order to mislead people.

Title:Smriti Irani did not say objectionable words for Durga Mata
Fact Check By: Ruchika M
Result: False