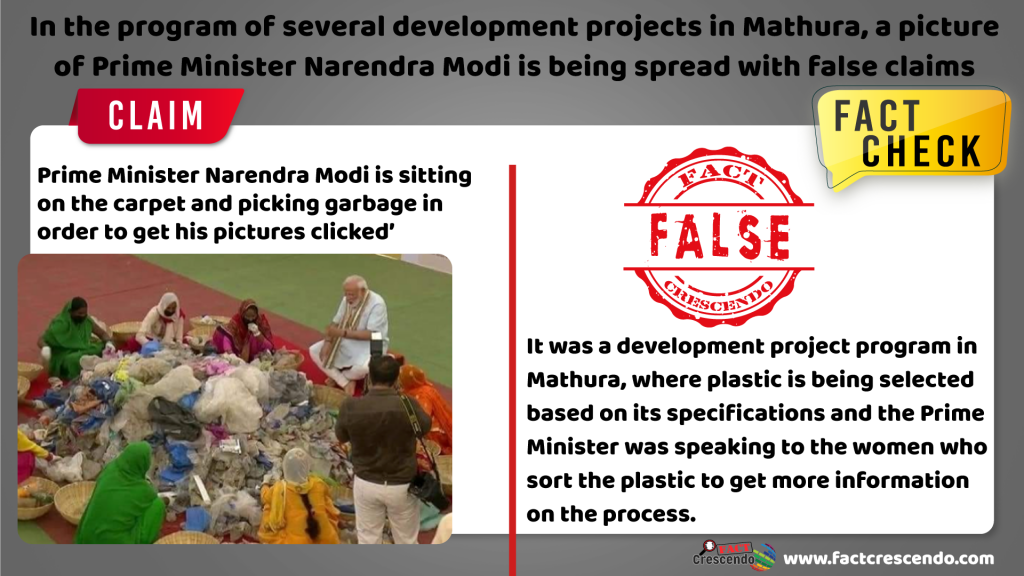 On 12th September 2019, a Facebook user named 'Krishna Rathi' posted a video on Facebook. In this post, Prime Minister Narendra Modi is seen sitting in front of a plastic pile, talking to a group of women. In the description of this post, it is mentioned, "2 camera men bulaakar kaaleen par kachara bichhaakar kaun aadamee kachare binata hai jara bataana bhaee #nautankeebaaj. In this post it has been claimed that 'Prime Minister Narendra Modi is sitting on the carpet and picking up trash only to get his photographs clicked. "Is that really so? Let us know the truth behind the claim of this post.
We first approached SSB Shalabh Mathur of Mathura. His PRO Sub-Inspector Chandur spoke to us. When we asked about this incident, he confirmed that, "This video is from an Animal Health Fair organized by the Veterinary University of Mathura on September 10th, in which Prime Minister Narendra Modi was invited as the chief guest.A part of this program was on plastic materials. How the various types of plastic found in the waste are segregated. To understand the same process, Prime Minister Modi met the women who pick plastic. This video is from that time."
After this, we searched on Google in this context using the keywords 'Animal Health Fair at the Veterinary University of Mathura', and then we found news related to this program. To read these News, click on the links given below.
Apart from this News, we also found a video of live broadcast of this program from the official account of the Prime Minister on YouTube uploaded on September 10th, 2019. You can watch this video below.
This News was also tweeted by APN News on 11th September 2019.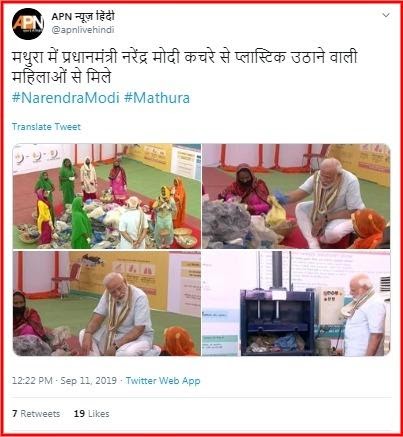 apnlivehindiTweet | ArchivedLink
After that we contacted UP. Pandit Deen Dayal Upadhyaya Pashu Chikitsa Vigyan Vishwavidyalaya Evam Go Anusandhan Sansthan' located in Mathura. We spoke to Sushil Pal, Personal Secretary of the Vice Chancellor K. Singh. He said that his institute had given an area of the University only to organize this program, but this fair was organized by the Animal Husbandry Department of the government.
After that we contacted Dr. Uday Pratap Singh, Director of Animal Husbandry Department of Uttar Pradesh. When asked in this context, he said that, "This is an Animal Health Fair organized by the government. It was auspiciously inaugurated by our honourable Prime Minister this year. Various stalls were set up here to give information about the new animal husbandry treatment, one of which was on different plastics found in the waste. How do the garbage pickers sort these plastics? During this, the Prime Minister stopped on this plastic stall, taking information about various types of plastics from women who pick garbage. How plastic is selected and separated and how many types of plastic are there? The Prime Minister was sitting there and talking to these women about all these issues.
It is clear from this research that the video shared in the above post was from an animal health fair and during this fair the Prime Minister can be seen sitting and talking to women who pick plastic. This was a part of the entire program and was not specifically designed to capture photographs.
Result of the investigation: The claim made in the above post that 'Prime Minister Narendra Modi is sitting on the carpet and picking garbage in order to get his pictures clicked' is wrong. 

Title:In the program of several development projects in Mathura, a picture of Prime Minister Narendra Modi is being spread with false claims
Fact Check By: Ruchika M
Result: False