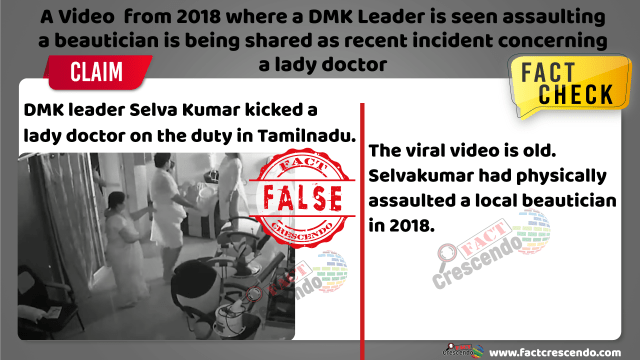 With the COVID-19 pandemic worsening every passing day, it has eventually created havoc in the lives of doctors and health workers. With the cases of violence against the medical fraternity becoming daily headlines, a CCTV footage of a man physically assaulting a woman is doing rounds on social media with a claim that a DMK party leader assaulted a lady doctor on duty.
Fact Crescendo found out that the video is old and the claim with it is false.
What's the Claim?
A two-minute CCTV footage shows a man kicking a woman repeatedly while the other two women urge him not to hurt the woman. People are sharing this video with the claim that "Tamilnadu DMK party Leader Selva Kumar kicked a Lady Doctor on duty." Users are also calling for strict action against Selva Kumar. You can see an archived post below.
Original Post – Facebook | Facebook | Facebook | Archive
The video is rapidly getting traction on social media. As you can see in the screenshot below, many users have shared the viral CCTV footage with the same claim.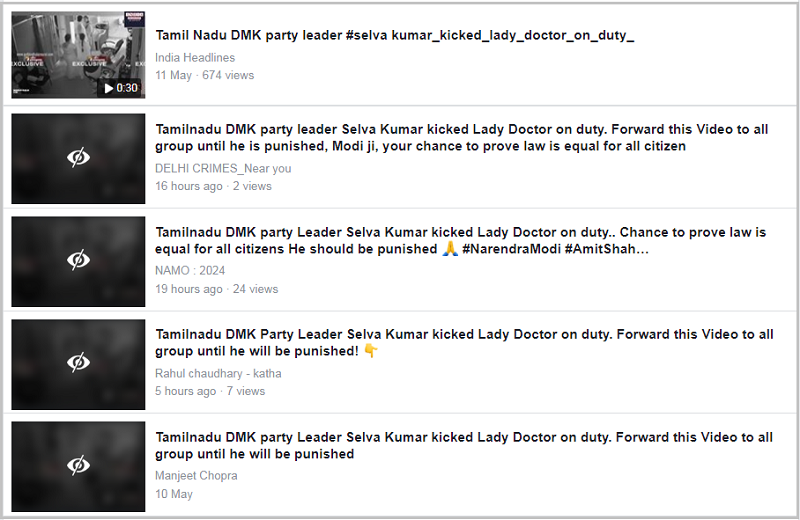 FACT CHECK
A simple keyword search led us to a Facebook post by Times of India. It has been reported in the post that a former DMK councillor Selva Kumar was caught on camera brutally attacking a woman inside a beauty parlour. The post was shared on 13 September 2018.
Original Post – Facebook
Thus, the incident is old and has not occurred recently.
What was the issue?
According to the Times of India, the incident took place on 25th May 2018 at a beauty parlour in Perambalur, Tamilnadu. Selvakumar assaulted a local beautician at her beauty parlour in Venkatesapuram locality demanding her to settle the loan she took from him. He was arrested after the CCTV footage of the incident went viral on social media.
Who was Selvakumar?
Selvakumar was associated with DMK. He was a former Peramablur district panchayat council member. DMK general secretary had suspended him from the party's primary membership for bringing disrespect to the party, reported TOI.

Original News – TOI
Conclusion
It is clear that the viral video of a DMK leader assaulting a woman is from 2018. The victim was not a doctor as it is being claimed on social media. She was a local beautician. Hence, the claim that a DMK leader has assaulted a lady doctor is false.

Title:A Video from 2018 where a DMK Leader is seen assaulting a beautician is being shared as recent incident concerning a lady doctor
Fact Check By: Mayur Deokar
Result: False