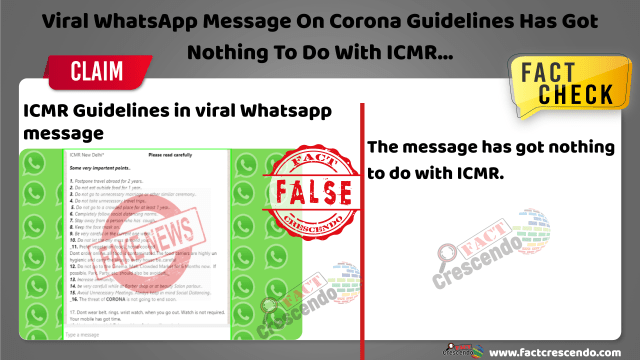 We are into the last week of Lockdown 3.0 and the situation in many parts of the country still appears grim, especially in states like Maharashtra and Gujarat. As Indians struggle with the challenges posed by the lockdown, fake news peddlers and fear mongers have been spreading rumors regarding COVID-19 and the lockdown. Even though the Supreme Court of India has warned such elements of the society with dire consequences, fake news is spreading on social media platforms freely. We recieved one such message on our WhatsApp number 9049046809 for verification. This message contains 18 points and claims these points are Indian Council of Medical Research (ICMR) recommendations for the general public. Even though ICMR constantly releases guidelines regarding COVID-19, but it is usually through proper channels like ICMR's website or its official social media handles. It is seldom that they issue guidelines, bulletins or recommendations through WhatsApp. Owing to the overwhelming number of requests, we did a fact check of the viral message. After our investigation, we found that not only this message is fake but it has been constantly purveyed on social media with various attributions including the ICMR. Let's check the contents of the message and the facts behind it.
Narratives on Social Media
The contents of the viral message are as follows:
"ICMR New Delhi* Please read carefully
Some very important points..
1. Postpone travel abroad for 2 years..
2. Do not eat outside food for 1 year..
3. Do not go to unnecessary marriage or other similar ceremony..
4. Do not take unnecessary travel trips..
5. Do not go to a crowded place for at least 1 year..
6. Completely follow social distancing norms..
7. Stay away from a person who has cough..
8. Keep the face mask on..
9. Be very careful in the current one week..
10. Do not let the any mess around you..
_11. Prefer vegetarian food.._home cooked
Dont order online..all food is contaminated.The food carriers are highly un hygienic and carry the virus to every house be..careful
12. Do not go to the Cinema, Mall, Crowded Market for 6 Months now. If possible, Park, Party, etc. should also be avoided.._
13. Increase immunity..
14. be very carefull while at Barber shop or at beauty Salon parlour..
15. Avoid Unnecessary Meetings, Always keep in mind Social Distancing..
_16. The threat of CORONA is not going to end soon.
17. Dont wear belt, rings, wrist watch, when you go out. Watch is not required. Your mobile has got time.
18. No hand kerchief. Take sanitiser & tissue if required.
19. Don't bring the shoes into your house. Leave them outside.
20. Clean your hands & legs when you come home from outside.
21.when you feel you have come nearer to a suspected patient take a thorough bath.
Lockdown or no lockdown next 6 months to 12 months follow these precautions.
Share this with all your family & friends.
Thank You.."
The same message is viral on Facebook, Twitter and Instagram along with its translations in different Indian regional languages. However, the attribution varies as in some posts the message is credited to Sir Gangaram Hospital New Delhi and in some it is credited to ICMR. Given below are the screenshots of few such posts across different platforms in different languages.
Fact Check
In order to find out whether this message has been released by ICMR, we contacted Dr. L.K. Sharma, the media coordinator and I/C PRO of ICMR. When we enquired about the viral message, Dr. Sharma's response was as follows: "This message has got nothing to do with ICMR. All the important guidelines and communication by ICMR are communicated through our website or our verified social media handles. We don't send such messages via Whatsapp."
Similarly, the claims regarding Sir Gangaram Hospital, New Delhi have been previously debunked by various fact checking organizations. Others have been spreading the same message in the name of 'medical experts' but have not specifically mentioned any expert's name. We cannot comment on the significance or accuracy of the points mentioned in these social media messages, but it has to be noted that the real author of this message is unknown. However, from the investigation it is clear that the message has no connection with either ICMR or Sir Gangaram Hospital, New Delhi.
Conclusion
The viral WhatsApp message claiming to be important points regarding COVID-19 released by Indian Council of Medical Research (ICMR) has got nothing to do with ICMR. The same message has been misattributed to other institutions as well.

Title:Viral WhatsApp Message On Corona Guidelines Has Got Nothing To Do With ICMR…
Fact Check By: Harish Nair
Result: False