Video shows Twilight star Bronson Pelletier at the Los Angeles International Airport in December 2012 under intoxication. The video has no relation with Shah Rukh Khan's son Aryan Khan.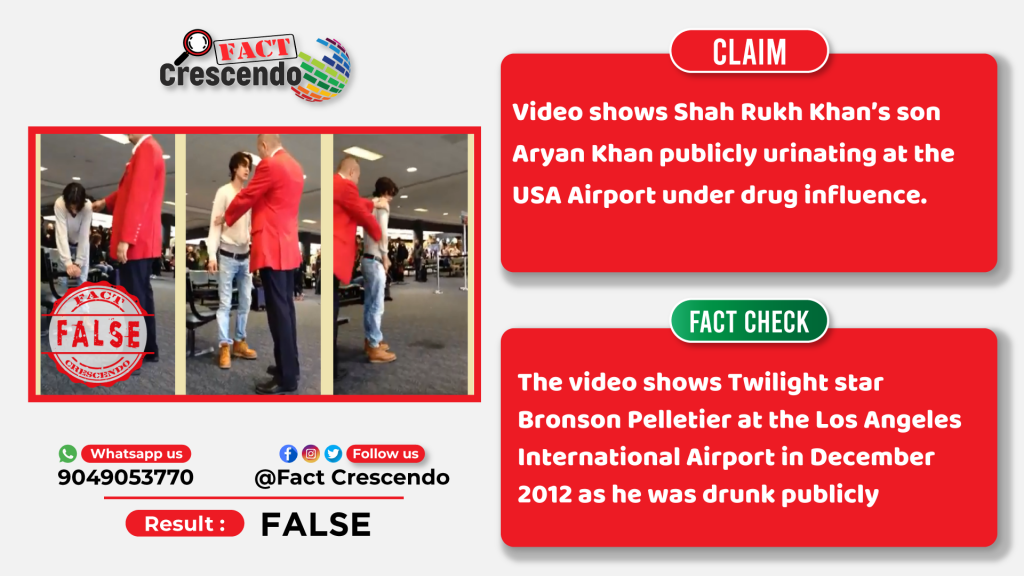 The Narcotics Control Bureau (NCB) arrested Bollywood Superstar Shah Rukh Khan's son Aryan Khan on October 3 last year for alleged possession of drugs from a cruise in Mumbai. He was granted bail after three weeks. The issue received extensive coverage by the national media and it created buzz on social media as well polarizing people and reopening discussion on substance abuse in Bollywood. The issue of substance abuse in Bollywood was widely debated in media after the unfortunate demise of actor Sushant Singh Rajput as well.
It has been a few months after Aryan Khan was granted bail, still the topic of his arrest lingers on social media and often manifest in some viral misinformation about him. In this context, a video showing a young boy urinating in the middle of an airport is widely circulating on social media. Users claim that the young boy is Aryan Khan who was caught at the USA Airport. Users claim that due to his drug addiction, he has no control on his urine and he thus can be seen urinating in the airport lobby. The video shows the security personnel taking the man into custody.
The caption of the post mentions, "Shahrukh Khan's son Aryan Khan at the Airport. He is Drug Addict nor Control on his Urine n on Airport Lobby / Passage done his Urine. Why Nawab Malik is Sailent & his Worst Media? Why they are not cover the News?"
Some users have also shared the video with this claim, "Shahrukh khans' son Aryan Khan at the usa airport."
Fact Check-
We started our investigation by breaking the video into small key frames with the help of InVid We Verify tool and ran a Google reverse image search on one of the frames.
The results led us to a news report published by Daily Mail UK on 3 January 2013 stated that the young man is Twilight actor Bronson Pelletier. The footage shows the apparently heavily inebriated 25-year-old stumbling around Los Angeles airport, as a security guard tries to sit him down. The incident took place at Los Angeles International Airport in California.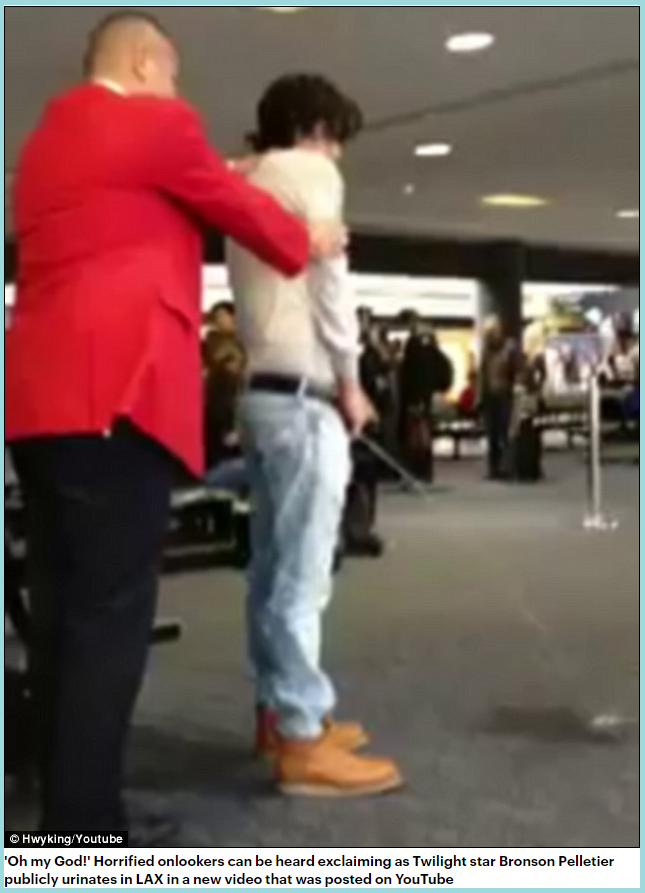 This incident was widely reported by several media organizations that you could read here, here and here. According to the report, Bronson Pelletier was charged with one count of being drunk in public. The incident took place in December 2012, when the actor was initially removed from a plane after being caught in a highly intoxicated state and causing disturbance on board. He was sentenced to 2 years of probation and was ordered to attend 52 AA meetings.
We also ran a keyword search to find relevant news report that corroborated Aryan Khan being involved in such an incident during recent times. However, we did not find any such reports.
Conclusion-
Fact Crescendo found the viral image on social media to be False. The young man is not Shah Rukh Khan's Aryan Khan who was under drug influence at the USA Airport. The video originally shows an incident that took place in December 2012 showing Twilight star Bronson Pelletier at the Los Angeles International Airport.
(If you also have any suspicious messages, posts, photos, videos or news, send them to our WhatsApp Fact line Number (9049053770) for Fact Check. Follow Fact Crescendo on Facebook, Instagram and Twitter to read the latest Fact Check.)
Title:This is not Aryan Khan Urinating Publicly in an US Airport.
Fact Check By: Aavya Ray
Result: False