Image of a 2018 incidence where some party workers burnt BJP flag is being shared in connection with the upcoming UP elections.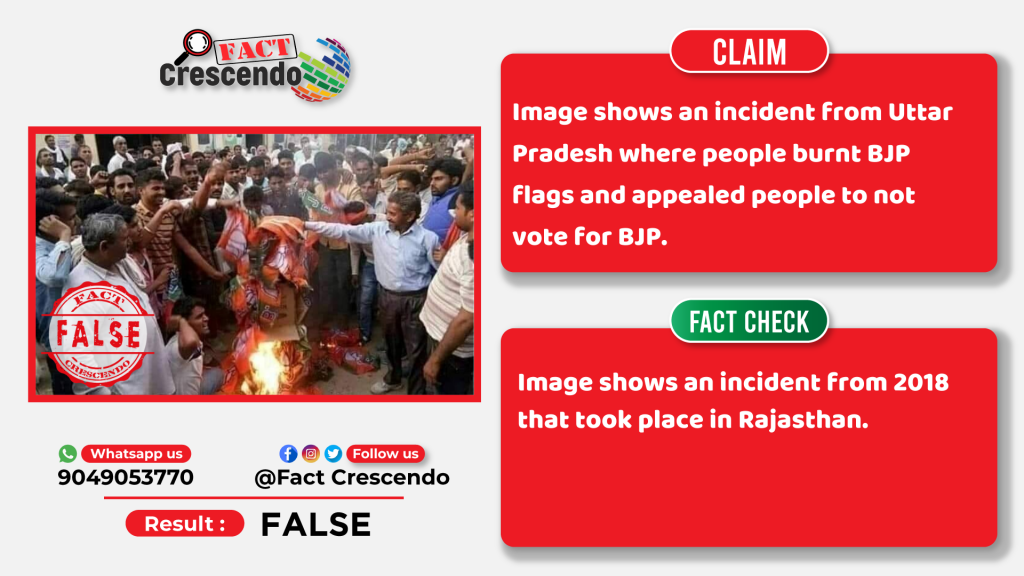 An image showing a group of men burning the BJP flag is circulating on social media to claim people protesting against BJP in UP before the upcoming Uttar Pradesh Election scheduled some time later this year. Social media users claim that the image is from Deoria district in Uttar Pradesh where the people have started to appeal other voters to not vote for BJP by burning BJP flags.
The caption of the image states, "People appealed not to vote for BJP by lighting #BJP_K_flags in front of #BJP office in Deoria district of Uttar Pradesh. #purvanchal_ke_sher"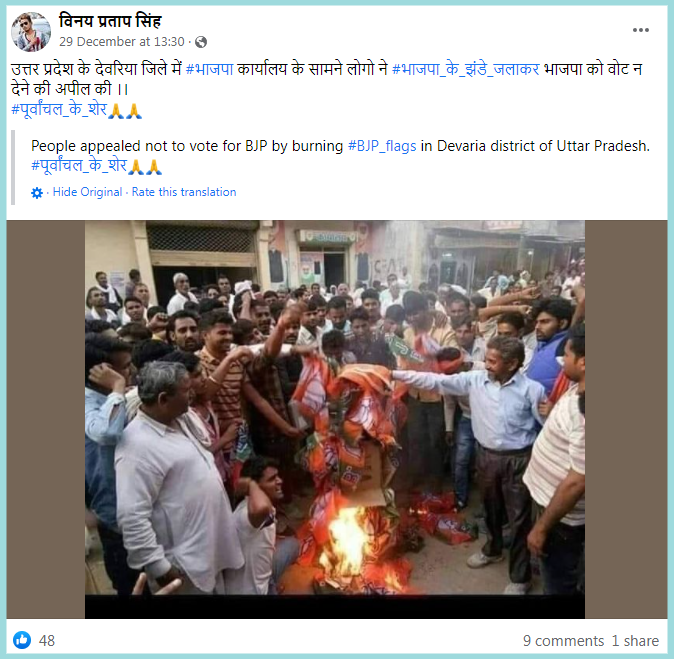 Fact Check-
We started our investigation by running a keyword search on Youtube, which led us to a video posted on November 2018 by a Youtube channel named Indoria Times. The caption of the video states that this video shows banners of BJP party burnt by supporters of BJP rebel Hansraj Patel. The video is geo located to Kotputli in Rajasthan.
Further, we found a Twitter user posting a screenshot of Bhaskar's news that now been deleted. Bhaskar had published a news report that stated,
"On Monday, when Mukesh Goyal's name appeared in Kotputli seat in BJP's fifth list, Hansraj Patel filed his nomination as a rebel candidate. Near the main square in late evening, Patel's supporters burnt BJP party's flag and effigies of UP BJP organization General Secretary and Kotputli resident Sunil Bansal and Union Minister and MP Colonel Rajyavardhan Singh Rathore"
You can see this report on Google cached preview here.
Next, we ran a keyword search on YouTube related to this incident where we found that there are several videos present on the internet. YouTube channel named 'Lokvarta' uploaded a video of Hansraj Patel's supporters burning BJP flags on 20 November 2018. According to the video, BJP did not give party ticket to Hansraj Patel as promised and declared Mukesh Goyal their candidate for Kotputli seat in Jaipur. To protest this, Hansraj Patel left the party and burnt BJP flags outside the office. Hansraj Patel filed his nomination as an independent candidate in this election.
Moreover, the above video and the viral image are of the same incident. Below you can see the comparison image showing the similarities between the viral image and a screenshot from the above video.

Conclusion-
Fact Crescendo found the claim made along with the viral image on social media to be False. The image does not show any incident from Uttar Pradesh where the people are burning BJP flags. The image dates back to 2018 from Rajasthan where angry BJP supporters burnt their party flag.
(If you also have any suspicious messages, posts, photos, videos or news, send them to our WhatsApp Fact line Number (9049053770) for Fact Check. Follow Fact Crescendo on Facebook, Instagram and Twitter to read the latest Fact Check.)
Title:Image showing angry BJP Supporters Burning Party Flag is not from Uttar Pradesh
Fact Check By: Aavya Ray
Result: False