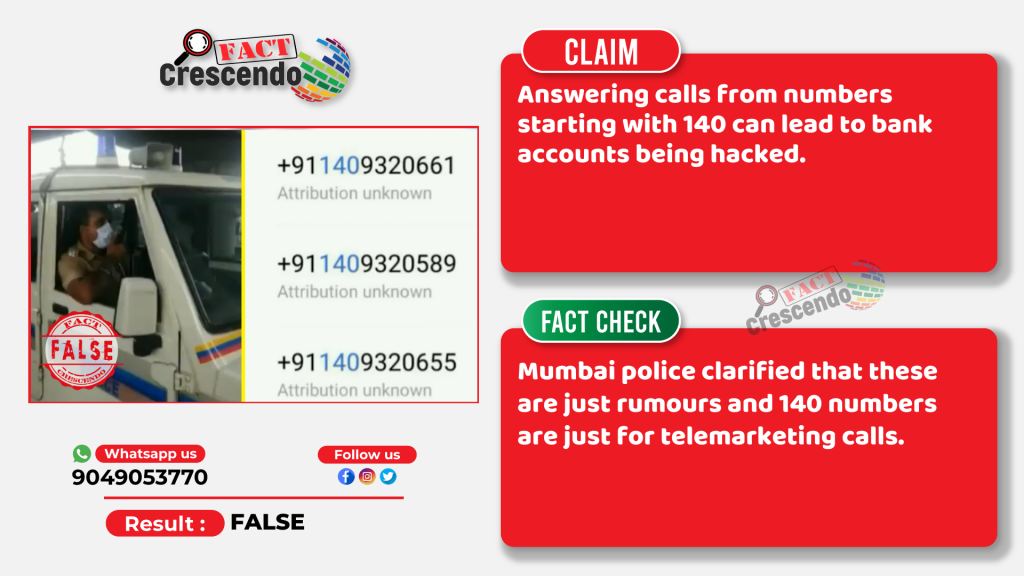 Video of Mumbai police warning people against receiving calls from numbers that starts with 140 is going viral again. It is claimed that such calls can "loot your bank balance" and "hack your mobile phone" if you receive them.
We received fact-check requests about this video on our WhatsApp FactLine number (9049053770).
We found that these claims are misleading and call from '140' numbers cannot empty bank balance.
WHAT'S THE CLAIM?
In the viral video, a Mumbai police officer is making a public announcement. He warns people "not to pick up calls from numbers which start with 140. It may hack the bank accounts and mobile too. So be aware of such calls."
FACT CHECK
First of all, these claims about calls from '140' numbers are not new. These videos first went viral back in 2020 during the Covid-19 pandemic.
At the time, Maharashtra Cyber Police clarified that these are just rumours and mobile numbers starting with '+140' are just for telemarketing purposes.
They also warned not to give personal details, PIN, and OTP to anybody.
"We would like to clarify that numbers starting with +140 are telemarketing calls. No need to panic when receiving such calls," the state cyber police tweeted. "In any case, and in all cases, people should NOT share their confidential banking or personal details with such callers.
In another tweet in Marathi, the cyber police said, unless you give CVV, PIN number, OTP, and other bank details, it is not possible to access a bank account. Still, it is advisable that you should not share Credit/Debit card numbers with any random calls.
A PRANK GONE WRONG
At the same time in July 2020, people were receiving calls from the +911408800135 number in which a person from another end would tell about a murder he witnessed.
People started complaining about these calls to the police. The main control room of Mumbai Police started getting calls from people in the afternoon that they had received strange calls from numbers starting with 140 or 40, reports NDTV.
Maharashtra Cyber clarified that the distressing calls were part of promotional activity by Sony Liv for their show 'Undekhi'.
"If you receive any such call, please do not panic and create rumours. We have instructed the channel to cease this promotional activity immediately," Cyber cell reassured.
Mumbai police also warned that any publicity creating panic amongst citizens and suggesting a threat to their security will be dealt with necessary severity."
Later, Sony Liv also issued an apology on Twitter.
CONCLUSION
Hence, the claims about calls from numbers starting with +140 are just rumours. Answering calls from such numbers will not lead to bank accounts being hacked.

Title:Rumours about Calls from +140 Numbers Looting Bank Accounts Went Viral Again
Fact Check By: Mayur Deokar
Result: False