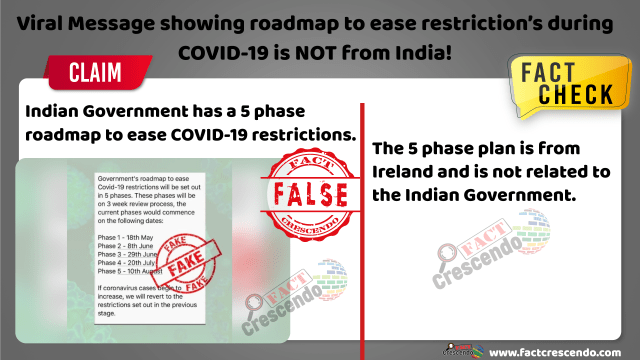 A viral message on social media claims that the government has a roadmap to ease COVID-19 restrictions in 5 phases through a three week review process and would be on the dates of May 18, June 8, June 29, July 20, and August 10. The message then details every phase and the easing of relaxations for various activities and reopening of establishments. This message is doing rounds on social media amidst the current situation of a nationwide lockdown to control the community spread of the COVID-19 virus.

Fact Check-
We started our investigation by using the keywords from the above message on Google, through which we found that the phase-wise easing of restrictions are actually from Ireland. Ireland has designed a five-phase roadmap to get the country back on track. The text in the message also matches with the text used on Ireland's official website. Authorities in Ireland have also categorically stated that these phases will only be applied if the medical advice from the National Public Health Emergency Team permits the government to carry forward the roadmap. This clearly establishes that the viral message that being shared as the Indian Governments roadmap for a gradual reopening of the lockdown is infact from Ireland.
We also found a clarification tweet by the official account of Regional Outreach Bureau Chandigarh, Ministry of Information & Broadcasting , Government of India stating that the viral message on social media is Fake and is not related to India. They have stated that there has been no such announcement or decision declared by the Indian Government.
Conclusion: Fact Crescendo found the above post to be False. The Indian Government has made no such announcement of any 5 phase roadmap that they will be following during the COVID-19 lockdown. The phase division is originally copied from Ireland's Government website.

Title:Viral Message showing roadmap to ease restriction's during COVID-19 is NOT from India!
Fact Check By: Aavya Ray
Result: False