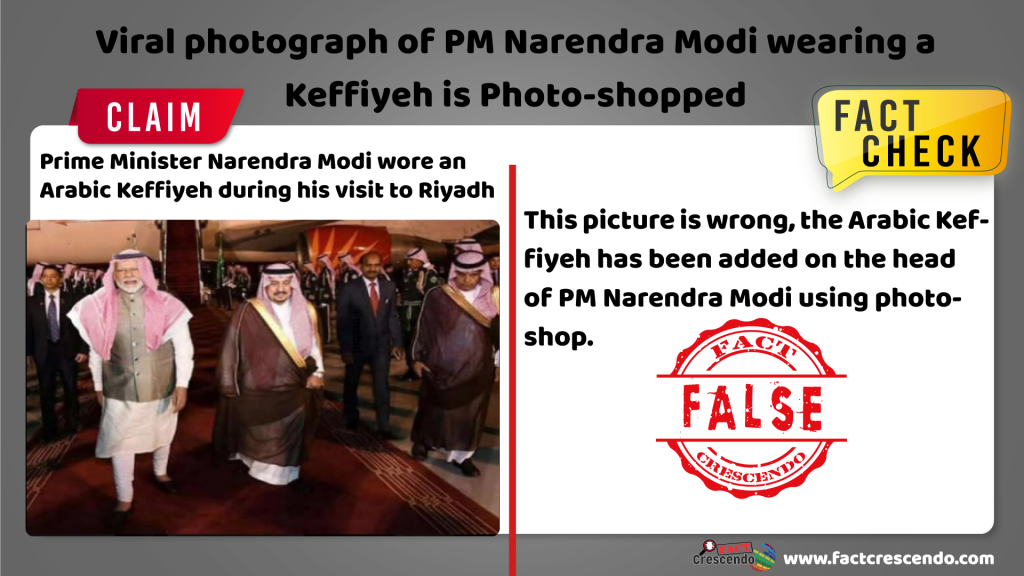 On 29th October 2019, a Facebook user named "Jagatpal Singh" posted a picture, which reads, "ek aur avataar Hindu Hriday Samraat ka, pehele Kedaaraath me Baba bane the, aaj to Shekh Molavi ban gaye, matalab har roj naee nautanke aur ek naya role." In this picture we can see Prime Minister Narendra Modi wearing an Arabic head gear, which is known as a Keffiyeh. This picture is from Prime Minister Modi's visit to the capital city of Saudi Arabia Riyadh, where he is seen coming out of the airport with Faisal bin Bandar bin Abdulaziz Al Saud, Governor of Riyadh. Sharing this picture on social media, it is being claimed that the Prime Minister wore a Keffiyeh on reaching Riyadh to impress the Governor of Saudi Arabia.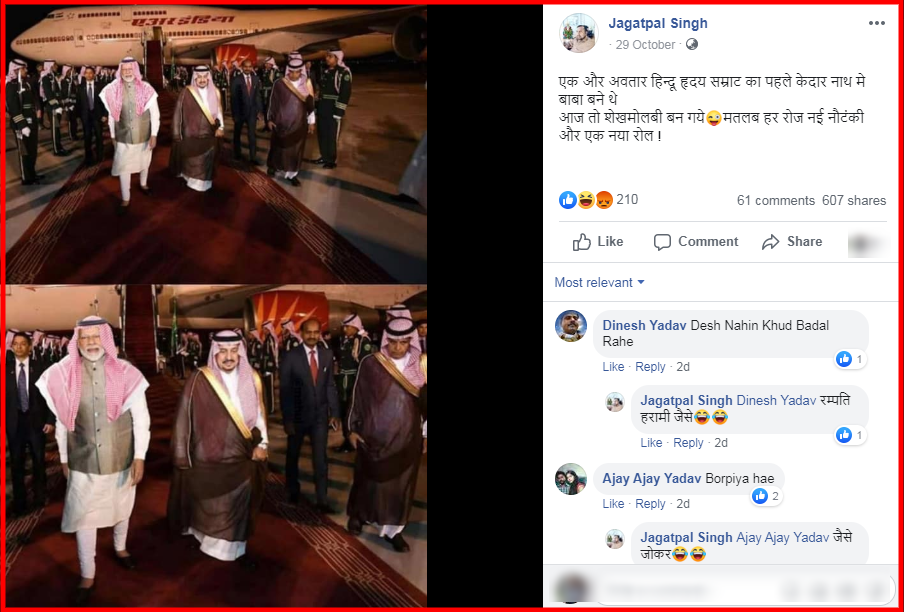 In the beginning of the investigation, we took a screenshot of this picture and conducted Google reverse image search. As a result of which, we found a photograph tweeted on 29th October 2019 from the official Twitter handle of Prime Minister Narendra Modi. The description says "to strengthen the relationship with an important friend, I embarked on an important journey and landed in the Kingdom of Saudi Arabia. During this visit, I will participate in various programs." In these pictures, we can clearly see that PM Modi is not wearing a Keffiyeh.
PM Modi also tweeted a video of his arrival at King Khalid International Airport.
PMO India tweeted pictures of Prime Minister Modi's arrival at King Khalid International Airport in Riyadh on Monday, 29th October 2019. He was welcomed by Riyadh Governor Faisal Bin Bandar bin Abdulaziz Al Saud at the airport.
Archive Link Keffiyeh
Below you can see a comparative analysis of the viral picture and original picture on social media. This makes it clear that Prime Minister Narendra Modi was not wearing an Arab headgear in Riyadh. This photo has been fabricated using Photoshop.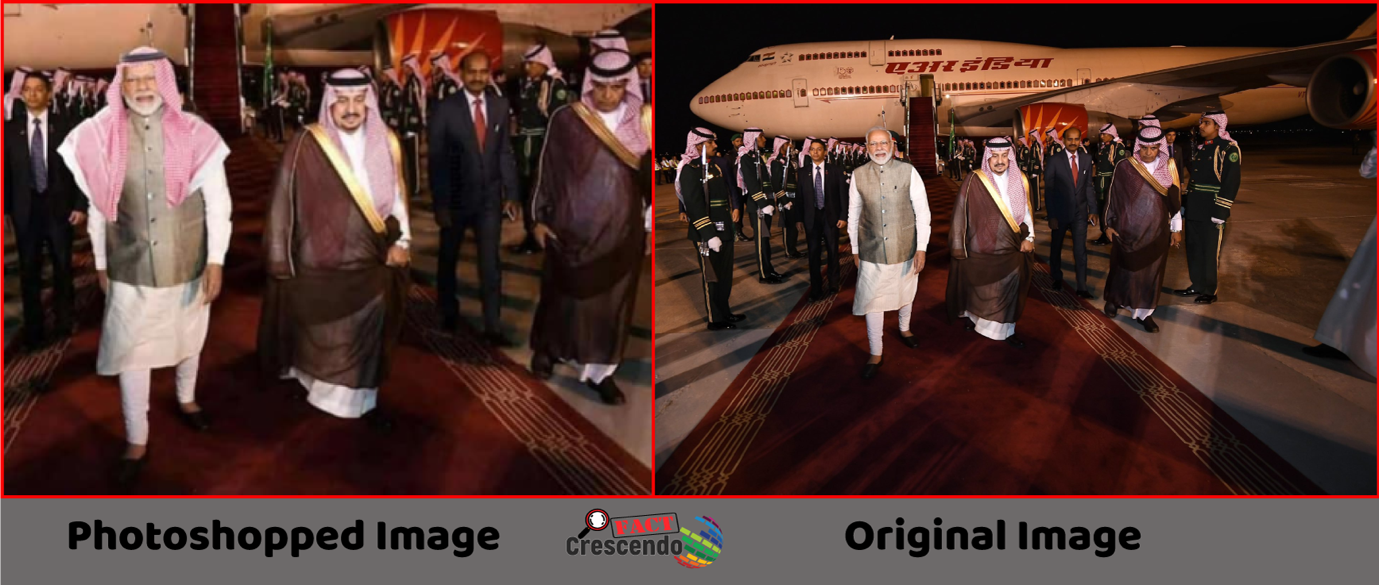 Conclusion: We have found the above post wrong after checking the facts. The Viral photos have been created by tampering with the original photograph using photoshop. In the original photo, Prime Minister Narendra Modi was not wearing an Arab Keffiyeh when he arrived in Riyadh. The Arabic Keffiyeh on his head has been added using Photoshop.

Title:Viral photograph of PM Narendra Modi wearing a Keffiyeh is Photo-shopped
Fact Check By: Ruchika M
Result: False