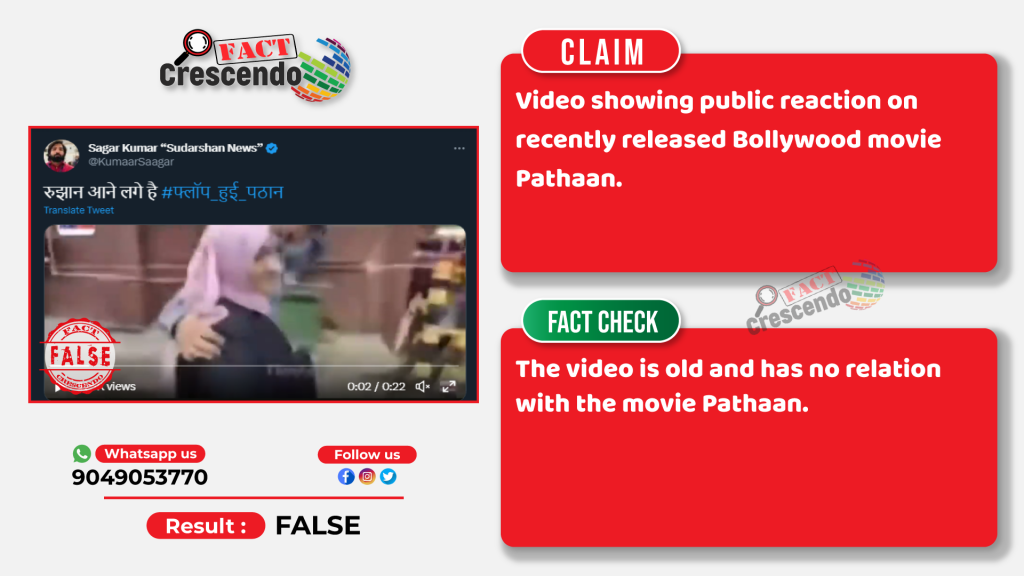 Shah Rukh Khan is back at the box office after more than 4 years as a lead in the movie Pathaan. The movie Pathaan shrouded in controversy over the color of Bikini worn by lead actress Deepika Padukone in a song, has been receiving threats of Boycott on social media. Amid calls for Boycott and protests, Pathaan hit the screens on 25 January 2023.
Sudarshan News and its employees have been running a trend called # फ्लॉप_हुई_पठान (Pathaan has flopped) on Twitter. Its founder Suresh Chavanke and others have been sharing various videos to support their campaign relentlessly even though media reports show Pathaan doing great business worldwide after getting record advance booking. The film has crossed INR 125 Crore mark in just 2 days.
However, Sudarshan news have been claiming otherwise since last few days and sharing videos of protests by Right Wing groups in various cities across the country to support their claim.
Sagar Kumar, a journalist with Sudarshan News shared a video yesterday that showed a woman clad in burqa being interviewed as she walks out of a movie theatre. When the journalist asks the woman did she like the movie? She replies, "I didn't like the movie." Sagar Kumar claims that the woman was responding to a question on Pathaan.
However, we investigated the video and found that the video is 4 months old and it is not related to Pathaan. Let us check the truth behind the viral video.
Fact Check
We did a Google reverse image search on the screenshots of the video and found the following video posted by a YouTube channel Filmi Fever.
In the video, from 3 min onwards we can see a woman in burqa coming out of a movie theater with her son. The interviewer then tries to ask a few questions to her as the son tries drags her away from the interviewer. However, the interviewer asks her about the movie and succeeds in getting some response. When the interviewer asks, "How was the movie?", the woman reponds by saying "Ekdum Bakwaas! (Absolutely ridiculous)". When the interviewer asks her why she found it ridiculous, she says, "There was nothing in the movie!"
The caption and description of the video clearly says that this is the public reaction to the movie Brahmastra, released last year. The interview is supposedly taken outside Gaiety Galaxy theatre in Mumbai.
Conclusion
From the investigation, it is clear that the video being shared as reaction to the recently released movie Pathaan is actually months old. Pathaan was released on 25 January 2023, while the video is available on YouTube from 9 September 2022.

Title:Sudarshan TV Reporter Falsely Shares Old Video as Negative Public Reaction to SRK's Movie Pathaan…
Fact Check By: Harish Nair
Result: False