The viral video is from Gorakhnath temple ceremony where Yogi Adityanath smeared ashes on his forehead after participating in last year's Holika Dahan ceremony.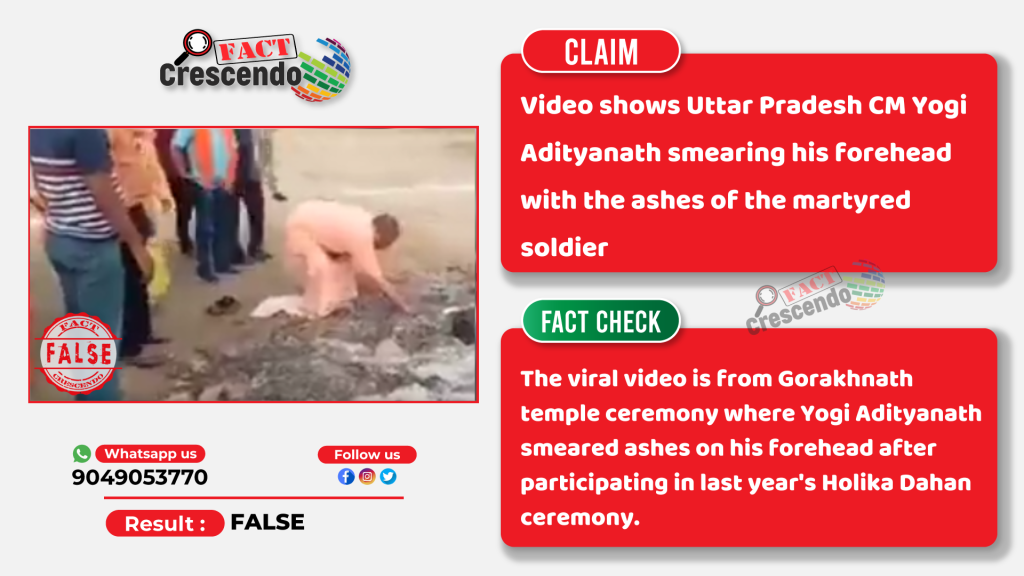 A video of Uttar Pradesh Chief Minister Yogi Adityanath has gone viral on the internet, with the claim that he attended a soldier's funeral and wore ashes on his forehead. Yogi Adityanath is seen bending down and smearing ash on his forehead in the 30-second video. A few people are with him. Following this, the companions can be seen bending down and touching the ashes.
The caption of the viral post states, "Honorable Chief Minister of Uttar Pradesh Shri Yogi Adityanath ji decorating his forehead with the ashes of the martyred soldier in the incident in Prayagraj"
The same video has gone viral on Facebook with the caption "Yogi Adityanath puts the ashes of a martyr brave soldier on his forehead! Tell me if there is only one Chief Minister like this in any other party other than BJP!
Fact Check- 
A reverse image search of the video key frames revealed that the footage had been circulating for over a year. MP Prachi Sadhvi tweeted this video of Yogi Adityanath on 22March 2022. It describes Yogi Adityanath is applying the cold ashes of Holika Dahan on his forehead.
According to the news published by TV-9 on 17 March, 2022Yogi Adityanath had gone to Gorakhpur to celebrate Holika Dahan and Holi the next day. There he participated in the Rath Yatra taken out on the day of Holika Dahan and then took part in the Holika Dahan ceremony.
In further investigation we found the tweet by ANI News about Yogi Adityanath's participation in Holika Dahan ceremony.
Fact Crescendo representative contacted local journalist Markandeya . He clarified that "This video is from Gorakhnath Temple in Gorakhpur. On the second day of Holika Dahan, it is customary to visit Holika by applying its ashes on the forehead; Yogi Adityanath was doing the same. The claim that is going viral with this video is totally false."
To confirm this information, Fact Crescendo contacted Gorakhpur's Additional District Magistrate Vineet Kumar Singh . He also told us that, "This video is from the time of Holi Dahan. Holika Dahan takes place a day before Holi and according to the tradition of Sanatan Dharma, after its ashes cool down, it is applied on the forehead and darshan is taken. That is what is happening in this video.
Conclusion-
Fact Crescendo found the claim made along with the viral video to be False. The viral video shows Yogi Adityanath smearing ashes on his forehead after taking part in the Holika Dahan ceremony last year, not at the soldier's funeral.

Title:Did Yogi Adityanath apply the ashes of Martyred soldier on his forehead? Know the truth
Fact Check By: Usha Manoj
Result: False