Khaleej Times published this special edition related to PM Modi in June 2019.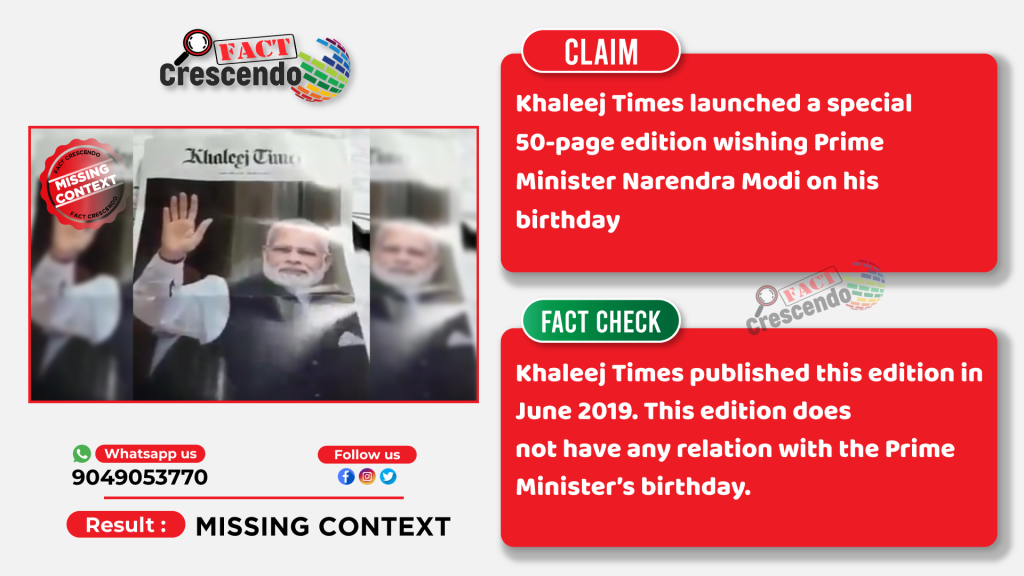 Prime Minister Narendra Modi turned 72 on Saturday. World leaders greeted the PM on his birthday. According to a video circulating on social media, UAE media house- Khaleej Times has released a 50-page special edition on Prime Minister Narendra Modi on his birthday.
Here is what the post's caption says about the video:
"KHALEEJ TIMES DUBAI published 50 Page special coverage of Indian prime minister Honorable Shri Narendra Modi ji, on his 72nd Birthday! A proud moment for all Indians and feeling proud to see this."
However, when we investigated the video, we found that the hype was false. Let us look into the truth of this propaganda.
The same video is also being shared on Twitter.
Fact check-
We started our investigation by running a keyword on Google, whose results led us to a tweet published on 3 June 2019 by Rishi Bagree. Sharing the same video he wrote: "Khaleej Times in Dubai Forty page coverage of PM Modi."
It congratulates Prime Minister Narendra Modi on winning the elections for the second time and becoming Prime Minister.
We found that the same video has been uploaded on YouTube in 2019. This clearly proves that the viral video is old and is not recent. Since the video is available on the internet since 2019, it cannot be published on PM Modi's birthday this year.
The official Facebook page of the Khaleej Times has also posted about this version in 2019. According to a Facebook post by Khaleej Times, it is understood that this special edition was released to mark the new era of relations between India and the UAE. The caption of the post states, "Read our special 40-page report #Modi 2.0- Exciting era in #UAE–#India ties." The image was posted on 2 June 2019.
The KT Connect had published this edition on June 2019. They cover supplements carrying some of the most read features and stories.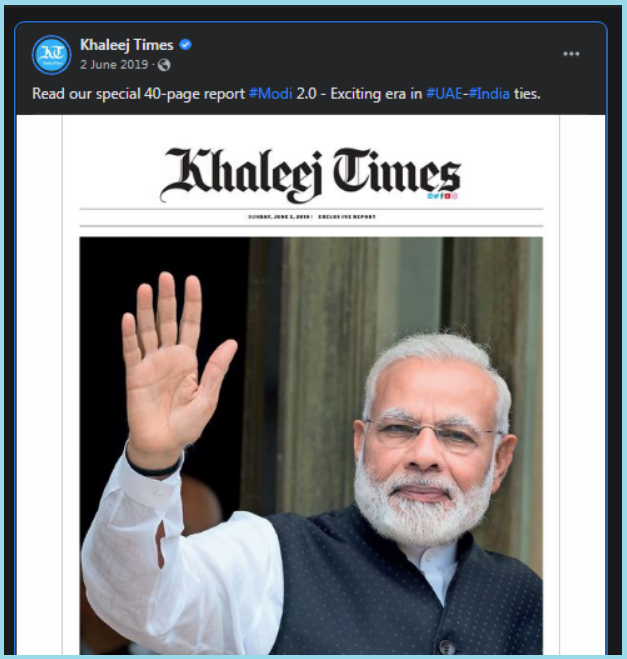 Conclusion-
Fact Crescendo found the claim made along viral video to be shared out of context.
The Khaleej Times has not released a special edition wishing Prime Minister Narendra Modi on his birthday, and the video is 3 years old. This edition was published by Khaleej Times in June 2019.
Title:Khaleej Times has not published a special edition on PM Modi's birthday
Fact Check By: Usha Manoj
Result: Missing Context