Gadchiroli SP clarified to Fact Crescendo that the viral video is old and is not related to the recent encounter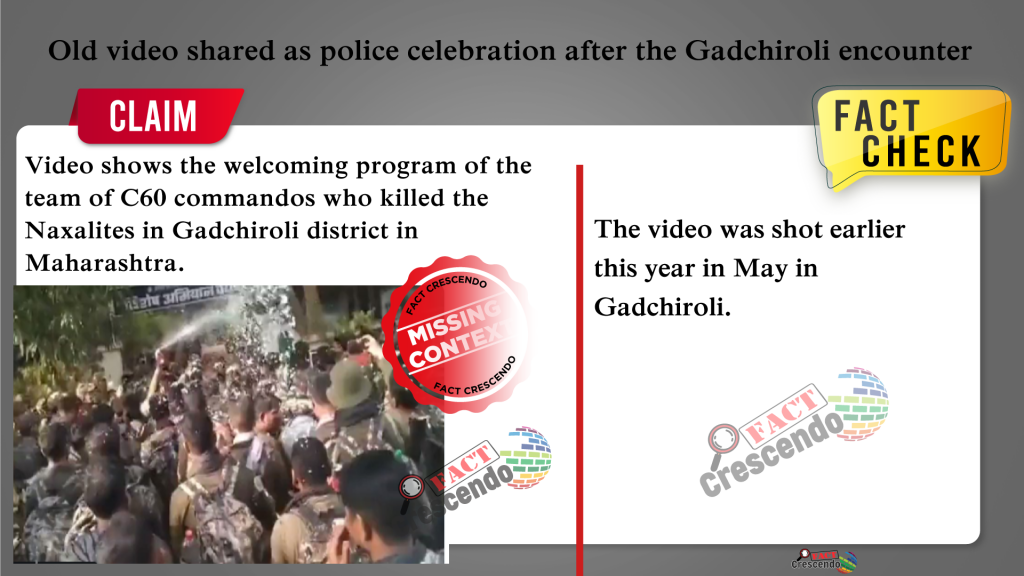 On 13 November, Maharashtra Police encountered 26 naxals who were killed including the top militant Maoist leader Milind Temtumbde. Amidst this, a video of a celebration is going viral on social media claiming to show the grand welcome of the team of C60 commandos who killed the Naxalites in Gadchiroli district in Maharashtra. The Police officers can be seen celebrating by playing music and spraying snow sprays.
The caption of the post mentions, "Warm welcome to team of C60 commandos who wiped out 26 along with most of the top leadership of Left-Wing Naxals in Gadchiroli, Maharashtra Jai Hind #IndianArmy"
Facebook Post | Facebook Post | Archive Link
The video is widely circulating on Facebook.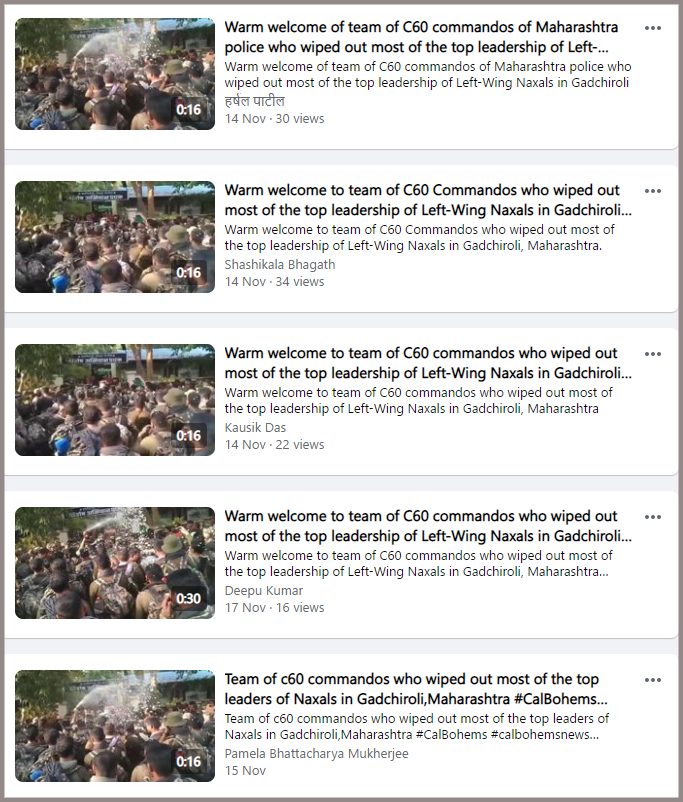 Fact Check-
We started our investigation by contacting the SP of Gadchiroli in Maharashtra, Ankit Goyal, who confirmed to us that the viral video in circulation does not show any recent celebration after the encounter of the Naxalites. He also told us that he has already clarified the same on Twitter.

We found his tweet, in which he has mentioned that the video is old and is not related to the recent encounter. The tweet mentions, "A video purportedly showing C60 jawans celebrating is getting transmitted on SM. This is to clarify that it is an old video and not related to recent encounter. #GadchiroliPolice
Next, we ran a Google reverse image search on one of the key frames we got from InVid Tool, the results led us to the a video posted on Facebook by ETV Bharat om 22 May, 2021. The caption of the post mentioned, "After a successful encounter operation against banned outfits in Maharashtra's Gadchiroli, C-60 commandos were welcomed by officials at police district headquarters with the 'band baaja'."(sic)
The portion of the viral video was observed from 30 seconds in the video published by ETV Bharat.
Since the video is present on the internet since May this year, it is clear that the video is not recent.

We also found a clarification tweet by the Gadchiroli Police on their official Twitter account in Marathi, which roughly translates to "Information :- It should be noted that some videos circulating on social media, in which C60's jawans are seen chanting, have nothing to do with the current incident."
Conclusion-
Fact Crescendo found the viral video to be shared out of context. The video shot earlier this year is not connected to the recent encounter of 26 dreaded Naxals by C60 Commandos in Maharashtra's Gadchiroli.
Title:Viral Video Alleged to be of Police Celebration after Recent Encounter with Naxalites in Gadchiroli is Old…
Fact Check By: Aavya Ray
Result: Missing Context