Video shows an acrobatic combat performance by South Korean soldiers on 69th Armed Forces Day Celebration in 2017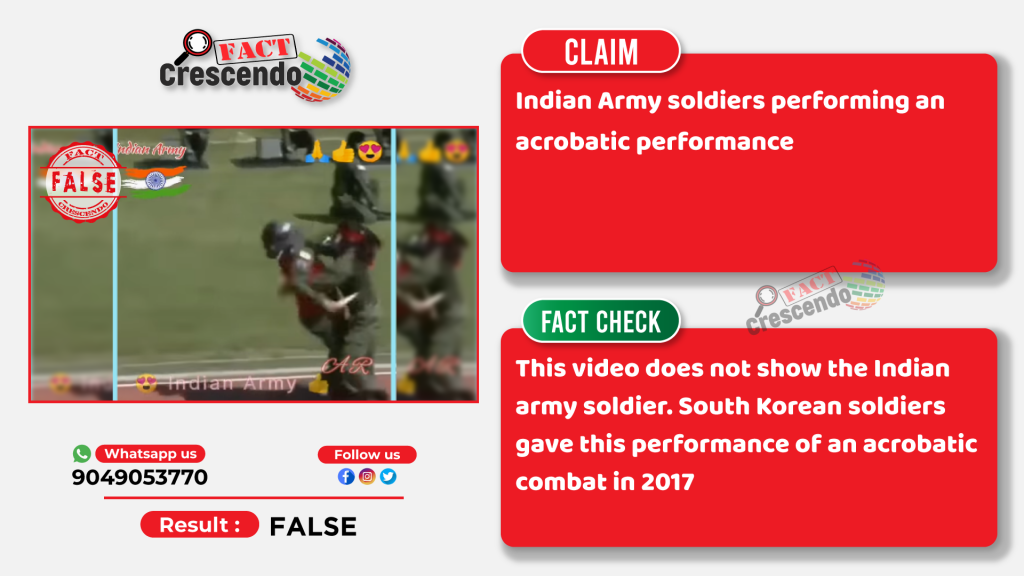 On the occasion of India's 75th anniversary of independence, many misleading videos have surfaced on social media. Amidst this, a video of people dressed in military uniforms demonstrating acrobatic combat skills has gone viral on social media. The video, which shows people with painted faces fighting with one another, is being circulated with the claim that it depicts Indian Army soldiers.
Fact Check-
We started our investigation by closely observing the viral video; we found that the soldier's dress is different from that of the Indian Army.
Next, we ran a reverse image search on Google whose results led us to the YouTube channel of Defense Flash News, which posted the same video stating that it shows the South Korean armed forces demonstrating their Acrobatic combat skills during the country's 69th Armed Forces Day celebration in 2017.
Based on this information, we ran another keyword search on YouTube, which led us to the verified YouTube channel of Arirang News, a South Korean news portal. On September 28, 2017, they uploaded the entire video of this event. This is in connection with the country's 69th Armed Forces Day celebration held in 2017.
Conclusion: Fact Crescendo found the claim made along with the viral video to be False. The video does not show the Indian Army but it originally shows the South Korean army. They performed this demonstration to mark the event of South Korea's 69th Armed Forces Day celebration held in 2017.

Title:2017 video of South Korean Army viral as Indian Army's demonstration
Fact Check By: Usha Manoj
Result: False