The video was edited. It is an old clip from a football game in Kuwait in September 2020.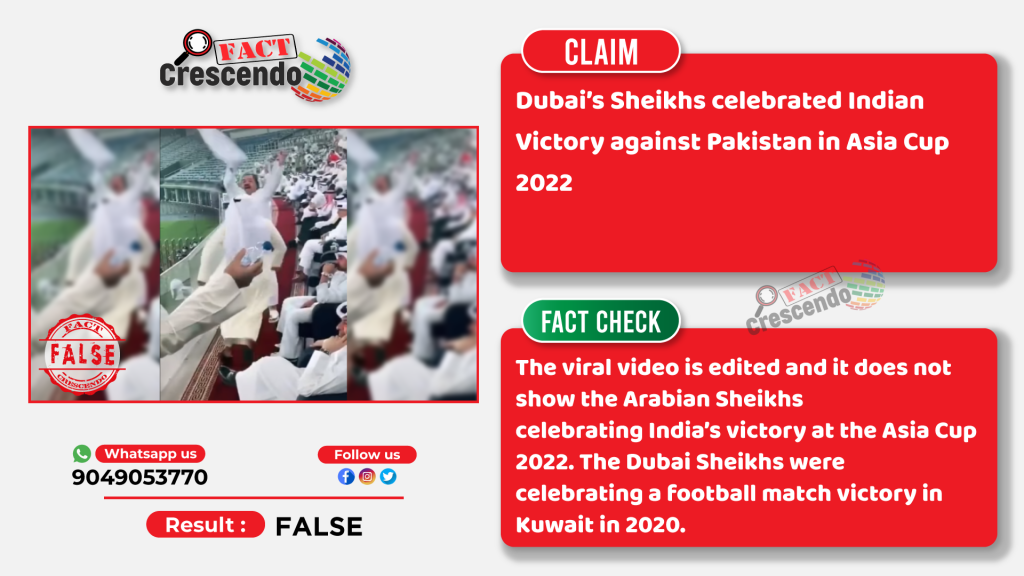 The Asia Cup 2022 match between India and Pakistan was held on August 28 at the Dubai International Stadium, and India won in a nail-biter. Hardik Pandya hit a boundary to give India the victory. Many reels and videos have surfaced on social media in connection with India's victory, and this viral video was also one of them.
Sharing this video, users claimed that even the Dubai Sheikhs are celebrating India's victory against Pakistan. The video shows a Sheikh cheering and applauding for the last six.
The caption of the viral video states,"*Even, Dubai Sheikh is also happy now, when INDIA WINS against Pakistan…!"
The video is also widely circulating on Twitter as well.
Fact Check-
A reverse image search on one of the key frames led us to the original version of the video. We found that the viral video is an edited video with the Sheikh's cheering added from an earlier football match in September 2020.
We found that a Twitter user named Khalf al-Anasi on September 2020 shared the part showing the Sheikhs cheering. The original video description shows Aziz Ashour, who is described as the president of Football Club Al-Arabi, rejoicing after his club won Kuwait's Amir Cup.
The Amir Cup Final for the 2019-2020 season was held in Kuwait on September 21, 2020. According to Kuwait media, several Kuwaiti ministers as well as Kuwaiti Crown Prince Sheikh Nawaf, Al Ahmed, Al Jaber, Al Sabah attended this event. This original video from September 22, 2020 is shared below.
Since the viral video was shared in the year 2020, so we can say that it is not related to any match that took place at present.
Below you can see a comparison between the viral edited video and the original video. The original video mentions told that the man in the video is Aziz Ashour, president of the Arab Club.
A website named Merca Today published a report on 21 September 2020 statign that the football final match of the HH Amir Cup between Kuwait and Al Arabi took place at the Jaber Al-Ahmad International Stadium in Kuwait on that day.
The Kuwait Times published the same image stating the same information. Shaikh, who is seen in the viral video, is also seen in that picture. You can see below.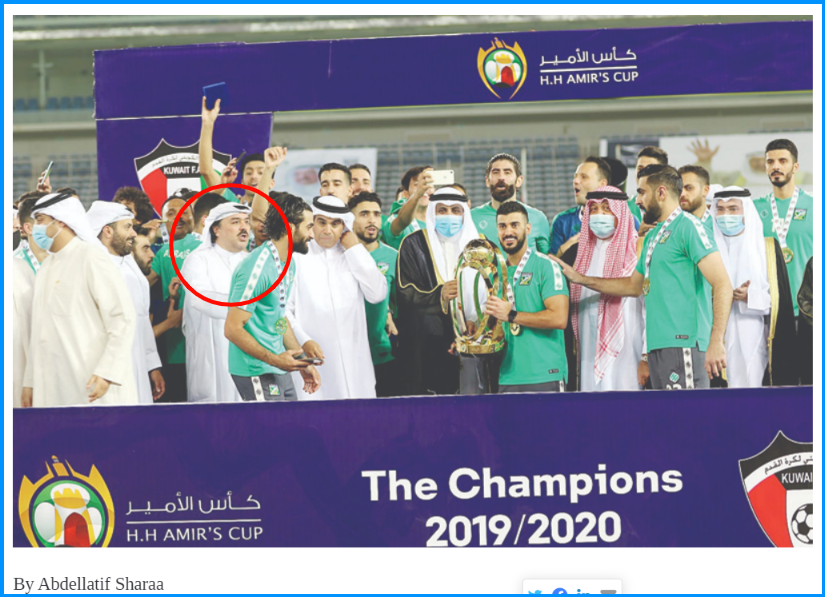 Conclusion:
Fact Crescendo found the claim made along with the viral video to be False and Edited. The viral video is edited and it does not show the Dubai sheikhs celebrating India's victory against Pakistan at the Asia Cup 2022. The sheikhs were originally celebrating at a football match from September 2020. The video has no relation with India and Pakistan's match at the Asia Cup 2022.

Title:Edited video shared as Dubai's Sheikhs celebrating Indian Victory against Pakistan
Fact Check By: Usha Manoj
Result: False