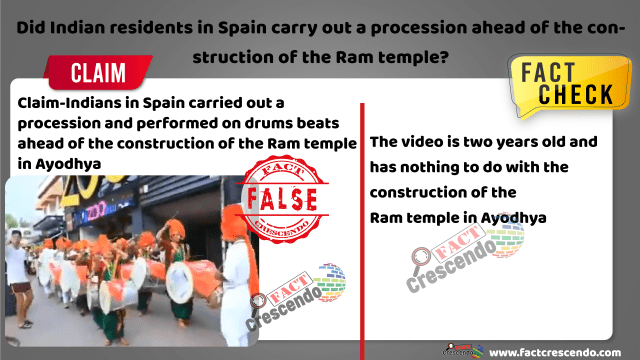 There is a wave of misleading information on the social forums as the foundation stone (Bhoomi Pujan) of the Ram Temple was laid in Ayodhya on 5th August. In this context, a video on social media is doing the rounds, in which a group of people with foreigners can be seen carrying out a procession and beating drums in happiness. Through this video, it is being claimed that Indians in Spain are celebrating ahead of the construction of the Ram Mandir in Ayodhya, Uttar Pradesh.
This clip is being shared on social forums in the backdrop of the Bhoomi Pujan for the Ram temple construction on August 5th, 2020. The title of the post states that-
"This video is from New York and Spain. Indians have taken this procession in the joy of building Ram temple. "
This video is being spread rapidly on Facebook.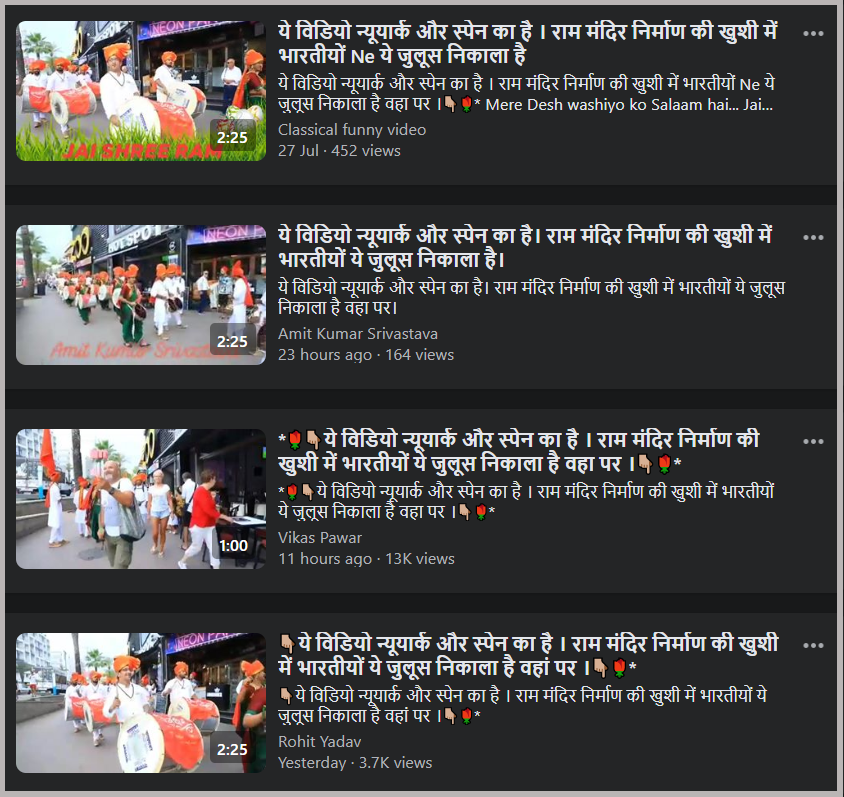 This video has also been shared by many users in Hindi and English on Twitter.
We started the investigation by running a Yandex reverse image search with the help of InVID tool, as a result of which we found a video uploaded on 16th October 2018 on a YouTube channel called Swargandhar Dhol Tasha Pathak. The title of this video reads "Dhol Tasha on the way to Spain – Swargandhar Dhol Tasha Pathak".
Fact Crescendo contacted Prasad Pimpale, founder of Swaragandhar Dhol Tasha Group, who told us that the video is from June 2018, when the group actually went to Spain and performed at a road rally event. The European Government organized an International Festival in which we participated. It was a three-day program, out of which, a rally was held on one day where we were invited to perform. There were groups from different countries besides us, and this video is from that rally. This video has no relation with the Bhoomi Poojan at the Ram temple of Ayodhya. This video is being spread on social media with a false claim. "
This news was also shared by some reputed media institutions on June 2018.
Conclusion: We found the above post wrong after checking the facts. The viral video on social media is actually 2 years old and is from an international festival which was organized by the European government. There is no connection between the construction of the Ram temple and this viral video.

Title:Did Indian residents in Spain carry out a procession ahead of the construction of the Ram temple?
Fact Check By: Aavya Ray
Result: False