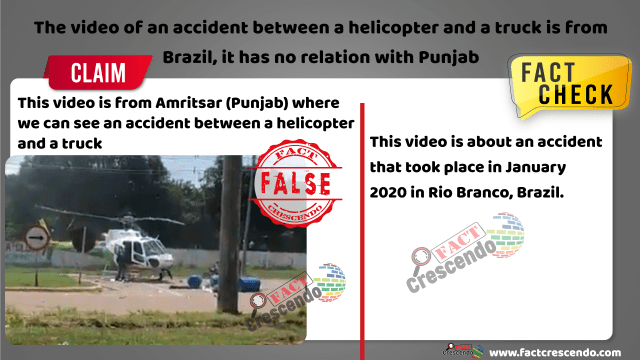 A video is going viral on social media in which we can see a truck and a helicopter colliding with each other. Through this video, it is being claimed that this video is of an accident at Ratan Singh Chowk in Amritsar, Punjab. In the video, we can see the rotating blade of a helicopter hitting the truck that was passing by. After this, the truck overturns due to impact of the blade. The title of the post reads, "Big Breaking, Only in India, Truck crashed with helicopter at Amritsar Ratan Singh Chowk."
This video is being rapidly spread on Facebook
We started our investigation by running a Google reverse image search using the InVID tool. As a result, we found this video available on YouTube on 19th January 2020. The title of this video reads "Truck crashed with propeller of helicopter".
On searching more keywords, we found a long version of the same video aired on 19thJanuary 2020, in which the description reads, "An accident between a helicopter rotor and a truck on 18th January 2020, a helicopter crashed into a truck SSP-AC (Acre Public Safety Secretariat) in the state capital, Rio Branco, Brazil, on Saturday. According to the initial information, no one was hurt in the accident. Pictures show that the aircraft was preparing to take off when a truck, which was going to take a U-turn on the track, hit one of the blades. The location of this video reads Rio Branco."
After that we searched for the keywords through the information given in the above video and searched for any related news. As a result of which we found a news article published by Daily Mail UK on 21st January 2020. Reportedly, a police helicopter preparing to take off from a road in a Brazilian city was severely damaged and two occupants were injured, when a passing lorry came too close and collided with its blades. The helicopter belonged to the Military Police's Integrated Center of Aerial Operations (CIOPAER). According to Colonel Oliveira of the Acker Military Police, the helicopter at that time had five people – including two commanders and three crew members. He said, "Two crew members suffered minor injuries and were taken for treatment and now they are fine."
Charles Matos, a Manager of the company who can be seen in the video, confirmed that no one was injured in the vehicle. The Governor of Acker also issued a notice giving details of this incident on 18th January 2020, which you can read here.
Conclusion: We have found the above post wrong after checking the facts. The viral video on social media is not from Punjab ,India. This accident took place in Rio Branco, Brazil in January 2020.

Title:The video of an accident between a helicopter and a truck is from Brazil, it has no relation with Punjab
Fact Check By: Aavya Ray
Result: False