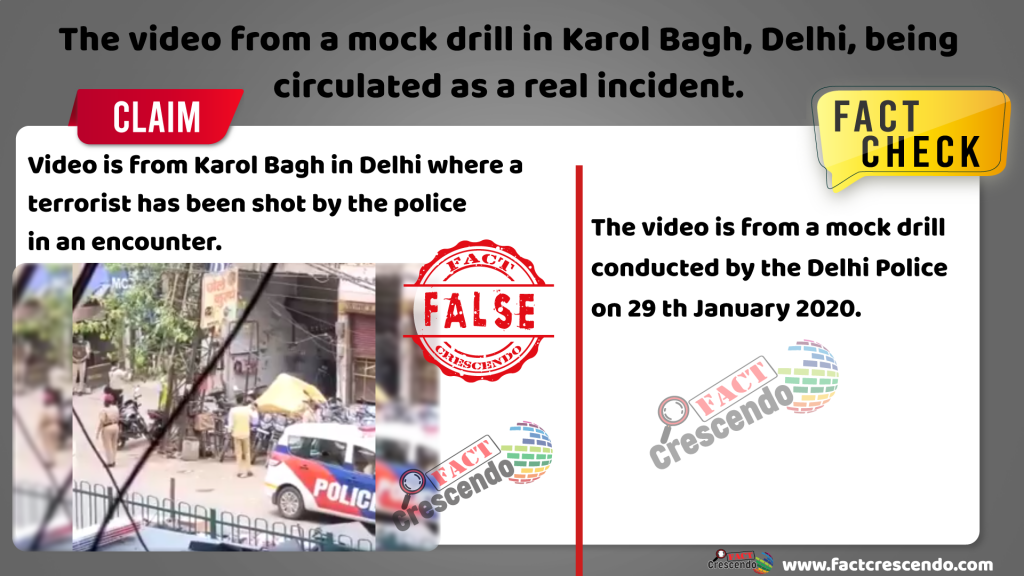 This video that is going viral on social media shows an encounter between the police and terrorists in Karol Bagh, Delhi. The video claims that a terrorist has been arrested in Ghaffar market of Delhi's Karol Bagh. In the viral video, a PCR van belonging to the Delhi Police can be seen standing in front of a building from where a cameraman emerges, behind him is seen a man who is allegedly being described as a terrorist, surrounded by police officers.
The person recording the video can be heard saying, "Watch live, the terrorist is being confronted. I made this video at Gaffar Market. Look here, you can see a cameraman. You can see how the police are carrying a terrorist, who might as well have weapons and bombs. See, this is the Ghaffar market where the police have also shot the terrorist."
The title of the post reads, "A terrorist has been caught in the Ghaffar market in Karol Bagh, Delhi."
Facebook Post | Archive Link | Archive Link
The investigation began with Fact Crescendo contacting the office of DCP Central in Delhi, where he told us that "the claims on social media are false. This video is actually a mock drill which was held on January 29th, 2020. DCP Central Delhi has also released a tweet from its official Twitter account regarding this incident."
Thereafter, we went to the official Twitter account of DCP Central Delhi where we found that they had re-tweeted the news shared by a journalist. The tweet reads that "Mock drill was organized by Delhi Police on 29th January 2020 today in Karol Bagh market of Delhi; such mock drills are often held before August 15th, in this mock drill, three dummy terrorists can be seen caught by police."
Conclusion: We found the above post wrong after checking the facts. The viral video on social media is from a mock drill that was conducted in Karol Bagh, Delhi, which is being spread with false claims that the Delhi Police has caught a terrorist.

Title:The video from a mock drill in Karol Bagh, Delhi, being circulated as a real incident.
Fact Check By: Aavya Ray
Result: False