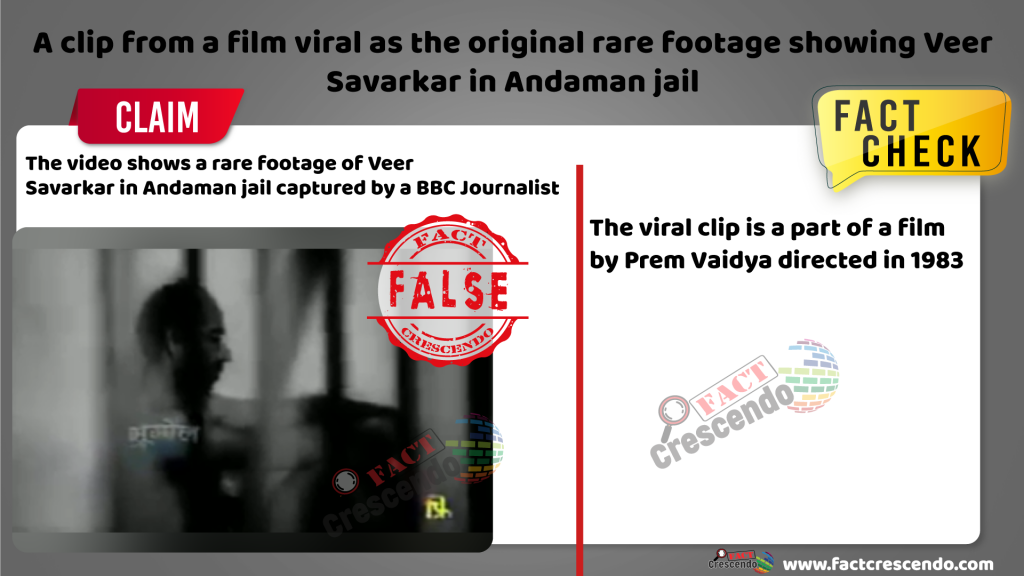 A video on social media is circulating with the claim that the person appearing in the video is Vinayak Damodar Savarkar, whose rare video was captured by a BBC journalist when Savarkar was in the Andaman jail. The viral the video also claims that the video was broadcasted by BBC on their channel. Vinayak Damodar Savarkar who is also known as Veer Savarkar was an Indian Independence activist and politician who formulated the Hindu nationalist philosophy of Hindutva.
The caption of the post mentions, "A British journalist went to the Andaman prison to create this rare footage of 'Veer Savarkar'." The BBC also showed it on its channel … in which Veer Savarkar was imprisoned in a small cell. All these tortures were done on Veer Savarkar, which he happily tolerated for the freedom of the country. Salutations to Veer Savarkar."
Fact Check-
We started our investigation by conducting a keyword search on Google, which led us the similar video uploaded on 14th August 2014 by the Ministry of Information & Broadcasting's official account. The video is titled as: "Life of Shri Vinayak Damodar Savarkar." According to the description of the video it is a film on Veer Savarkar's life which depicts various important events in his life.
At 25: 15 seconds we found the same visual on the Youtube video published by Ministry of Information and Broadcasting as the viral video. Below you can see a comparison video of both showing the similarity.

While watching the video we found that the visuals between the 25 and 30-minute mark are the ones that appear in the viral video on social media. At 01:26 timestamp, we found that the Ministry of Information and Broadcasting video had credited the Films Division of India for the footage.
We then searched on the website of Films Division and found three results. All the results directed to different versions of the https://filmsdivision.org/shop/veer-savarkar-s-v film directed by Prem Vaidya in 1983.
With a keyword search, we found a catalogue of Film Division also had the description of movie made on Veer Savarkar. Upon searching BBC's website, we did not find any such video on Savarkar.

Conclusion- Fact Crescendo found the viral video to be False. The viral clip is a part of a movie and is being falsely shared as a real-life footage of Savarkar in jail.

Title:A clip from a film viral as the original rare footage showing Veer Savarkar in Andaman jail
Fact Check By: Aavya Ray
Result: False