Farmers have been agitating all over the country since the agriculture bill was passed in Parliament a few months ago. Recently thousands of farmers from Punjab, Haryana and other states. have started an agitation and are marching towards Delhi in protest. Many videos and photos have been going viral claiming to show visuals of the farmers protest on social media platforms. Recently a viral video showing a man wearing a turban, hoisting the flag of Pakistan and shouting anti Modi slogans is circulating on social media claiming that the video shows a Punjabi man raising Pakistan Zindabad Khalistan Zindabad slogans during the ongoing Farmer's protest.
The caption of the viral video reads, "Sardarji Farmer agitators are raising slogans of Modi Sarkar Haaye Haaye, it is understandable. But why these slogans of Pakistan Zindabad Khalistan Zindabad. Who are the people, why are they doing all this "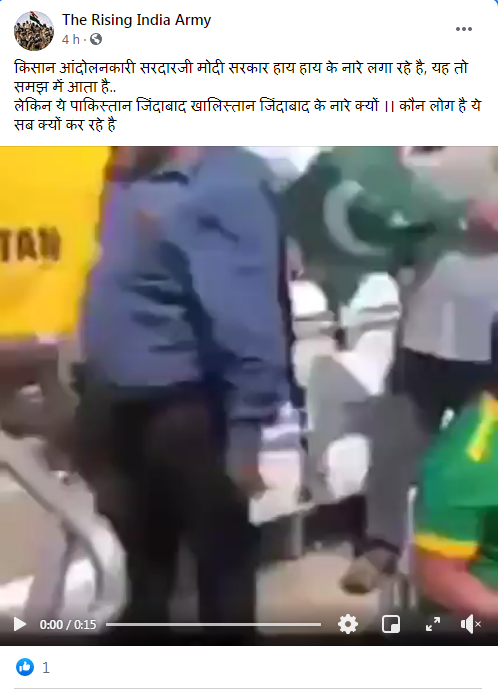 Fact Check-
We started our investigation by running a keyword search on Google to find relevant news reports claiming that the farmers in the protests have actually raised slogans of Pakistan and Khalistan Zindabad, we did not find any news article confirming this. But we found a similar YouTube video published in 2019.
After this, we searched for more keywords on YouTube and we found many videos in which a turban-cladded man is seen raising slogans of Khalistan. In a video published on 10 July 2019, you can see that some police are taking two turban cladded men with them. On seeing, the police uniform we can understand that the policeman are not from India. The title of the video reads, "Khalistan Zindabad slogans were raised during India and New Zealand matches in World Cup 2019."
We found another such video where a turban cladded man is shouting slogans of Pakistan at a cricket stadium. The video was published on 1 July 2019 by a YouTube channel called Punjab Kesari TV. The title of the video reads, "Pakistan got Khalistan supporters in the World Cup."
Subsequently, considering the information given along with the above three videos, we searched for more keywords on YouTube, and we found a video broadcast by ANI News on its official YouTube channel. This video was published on 7 July 2019 and captioned, "Sikhs in Britain shout pro-Khalistan slogans during World Cup matches." According to the description of the video it mentioned that "Sikhs living in United Kingdom have categorically denounced pro-Khalistan slogans raised during the ICC World Cup 2019 matches in the United Kingdom. Several videos have gone viral on social media where some Sikhs along with Pakistani fans were seen raising Pakistani and Khalistan flags and shouting Khalistan Zindabad' and Pakistan Zindabad' slogans. It clearly indicates an attempt by Pakistan's Inter-Services Intelligence (ISI) to malign India's image and use sports platform for its political gains. "
You can see the viral video from the timestamp of 0.20 to 0.25 minutes.
Another keyword search led us to several media reports, which described the similar incident.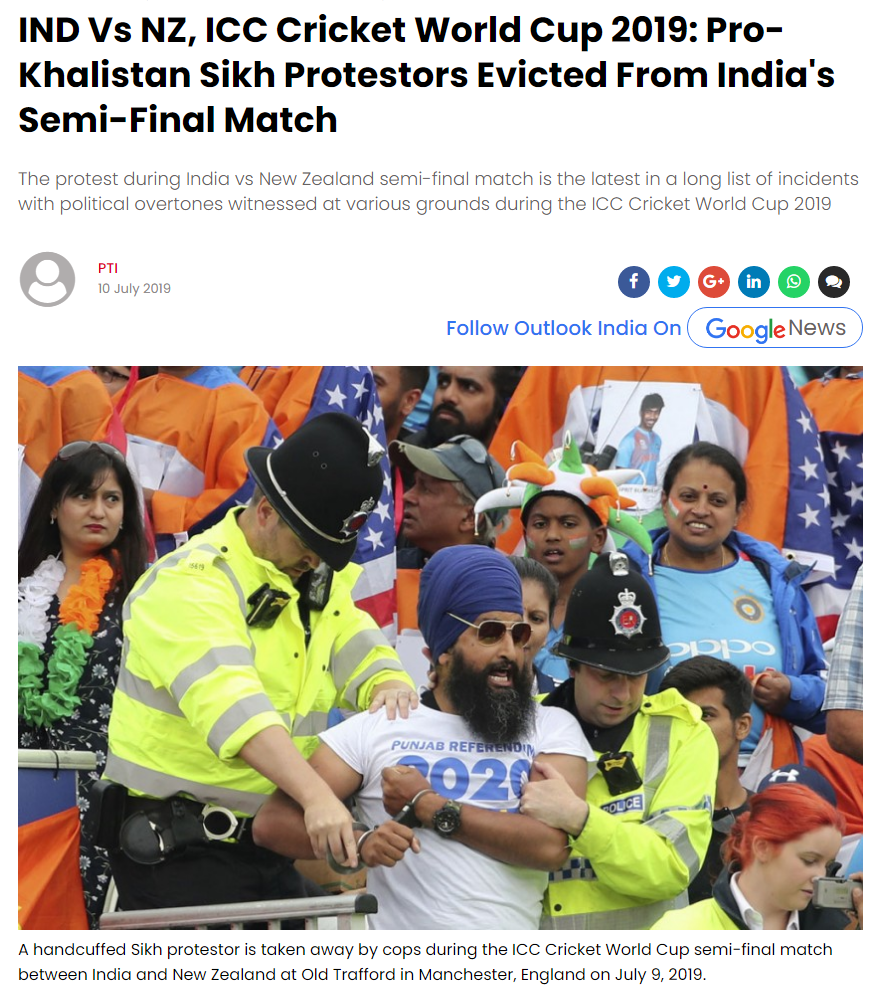 Conclusions: Fact Crescendo found the above-mentioned post to be False. The video going viral is from 2019 World Cup in the UK. During the World Cup, some turban cladded men raised slogans for Pakistan and Khalistan. This video has nothing to do with the farmer movement in India.

Title:A 2019 World Cup video from UK going viral as pro Pakistan slogans being raised during the ongoing Farmer's protest.
Fact Check By: Aavya Ray
Result: False