The viral video does not show a massive landslide on Anmod Ghat at the Karnataka-Goa border. The video is from an incident that took place in 2021 in Shimla, Himachal Pradesh.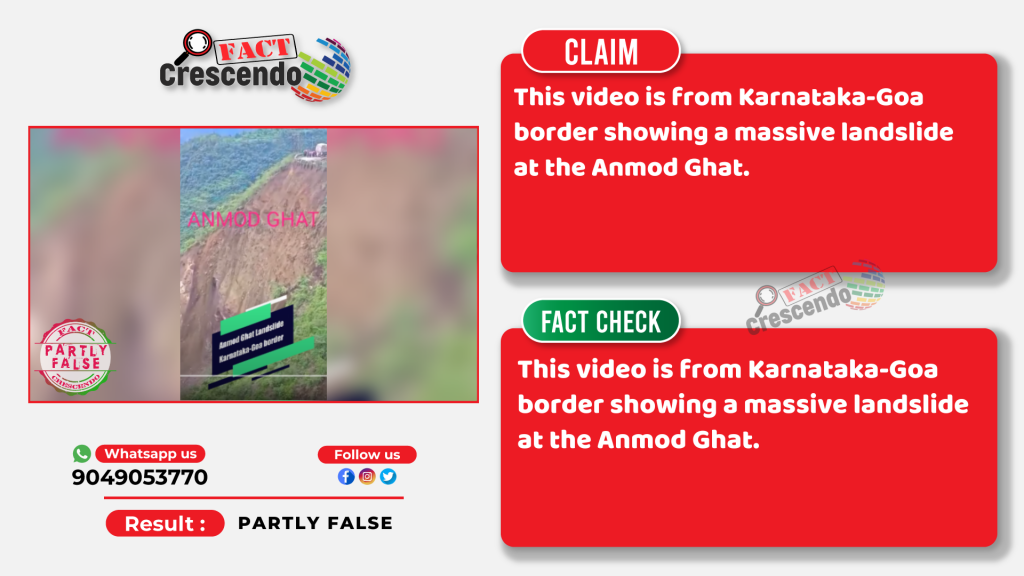 A video showing a massive landslide due to which a part of the road can be seen collapsing within seconds. The users claim that this video is from Karnataka-Goa border showing a massive landslide at Anmod Ghat. The caption of video states, "Anmod Ghat Landslide, Near Karnataka-Goa border"
Fact Check-
A Google reverse image search led us a news reported related to the video posted on 30 July 2021 by CNN News 18. The caption of the video states, "Road stretch collapses due to landslide on NH 707 in Himachal Pradesh"
According to the report, the video shows the visuals of a major landslide on NH-707. In this landslide, 100-meter stretch of road connecting Paonta Sahib with Shillai-Hatkoti (national highway 707) collapsed at Kali Dhank (Barwas) in Sirmaur district. No loss of life was reported in this incident while traffic was blocked on this road.
This landslide was reported by several media organizations in 2021. The reports state, the landslide in Himachal Pradesh's Sirmaur district took away a huge portion of the mountain on National Highway 707. The incident also took away a section of the road, which connected Paonta Sahib to Hatkoti. No casualties were reported in the landslide. The site was less than 30 kilometres from Paonta Sahib in Sirmaur district. Sirmaur deputy commissioner Ram Kumar Gautam said travellers were alerted when they saw a minor landslide first and stopped their vehicles.
You can read them here and here.
Was there a landslide near Karnataka-Goa border recently?
According to Times of India, two incidents of landslides occurred at Anmod Ghat on 4th July 2022, causing a stretch of the Goa-Karnataka national highway to be closed for traffic. About 8km from the Goa border check post at Mollem, a large portion of the hillside came down at two separate places following incessant rain in the Ghat region over the past two days.
The same video was also circulated claiming to be from Nepal, you can read the full fact check on this claim here.
Conclusion-
Fact Crescendo found the claim made along with the video to be Partly False. The viral video does not show a massive landslide on Anmod ghat near Karnataka-Goa border. The video shows an old incident that took place on 2021 in Shimla, Himachal Pradesh. However, it is true that there are reports of occurrence of landslides along the Anmod ghat in Karnataka-Goa border.

Title:2021 visuals of landslide from Himachal Pradesh shared as recent landslide in Anmod Ghat.
Fact Check By: Drabanti Ghosh
Result: Partly False