Image of temple razed in Karachi in 2012. Credits: AFP
An image of Hindu deities placed on a pile of debris is being shared on social media claiming that the image is of a Hindu temple, recently vandalized in Karachi, Pakistan. However, the image is not related to the recent act of vandalism of a Hindu temple in Korangi area of Karachi.
Viral Posts on Social Media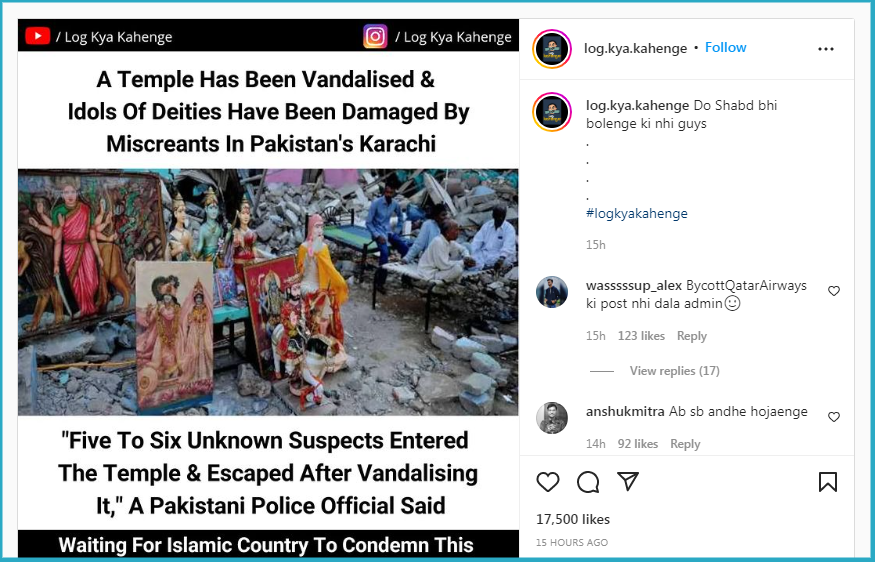 In the above Instagram post, we can see a meme condemning attack on a Hindu temple in Karachi, Pakistan. The meme says, "A temple has been vandalized and idols of deities have been damaged by miscreants in Pakistan's Karachi." The meme further quotes a Pakistani police official as such, "Five to six unknown suspects entered the temple and escaped after vandalising it."
There are similar posts on Facebook as well. These posts have also shared the same image suggesting that the scene is from the recently vandalized temple in Karachi.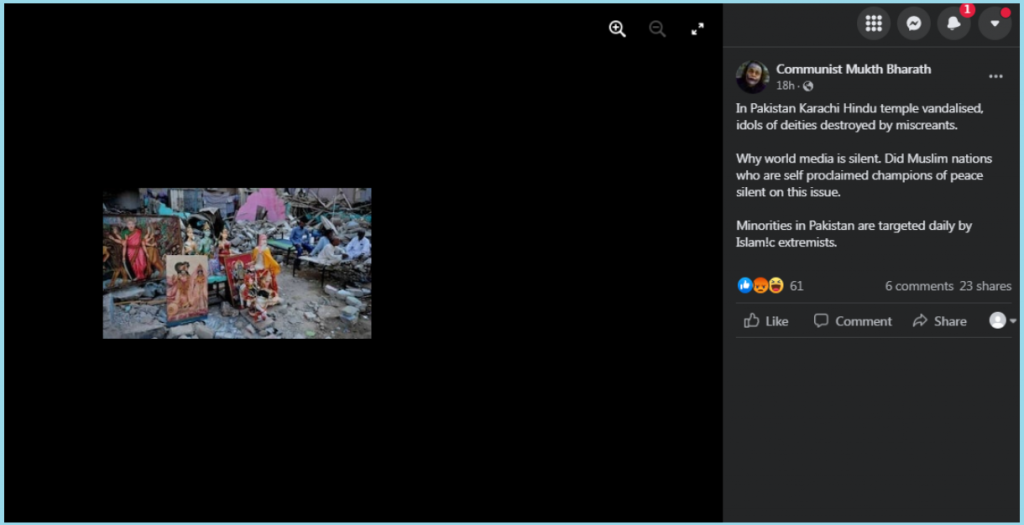 Let us find out the actual context of the image shared widely here as the temple vandalized in Karachi.
Fact Check
We searched for news related to vandalism of Hindu temple in Karachi and found the news to be true. The incident has been widely reported by Pakistani media. As per The Express Tribune, some miscreants vandalized the statue of deity Shri Maata in in Karachi's "J" area located within the jurisdiction of Korangi police station on Wednesday.
Some five to six miscreants came on motorcycles and entered the temple, vandalized the idol of the deity and escaped The Express Tribune reports. Murtaza Wahab Siddiqui, spokesperson of Sindh government has informed on Twitter, that an FIR has been registered against the culprits. He also said that the government would repair the vandalized temple.
However, the image used in the posts are not related to the above incident. Google reverse image search reveals that the above image is of a temple demolished by a builder in Karachi in 2012. We found an article by BBC titled, "Razed temple highlights Pakistan Hindu woes." The image used in the article is credited to AFP.
Read full news here – BBC
As per the report, a property developer in Karachi razed an old temple of Rama Peer in December 2012. The temple was located in Doli Khata area of Karachi. Some residents claim that the temple was 80 years old. The property developer reportedly demolished the temple along with four adjacent houses.
Conclusion
The image shared in connection to the recent vandalism of a Hindu temple in Karachi is almost a decade old. The image is of a temple dedicated to deity Rama Peer in Doli Khata area of Karachi, demolished by a property developer in 2012. However, it is true some miscreants vandalized a temple located in Korangi area of Karachi recently.
Title:Old image of a temple demolished in Karachi goes viral in connection to the recent vandalism…
Fact Check By: Harish Nair
Result: Missing Context