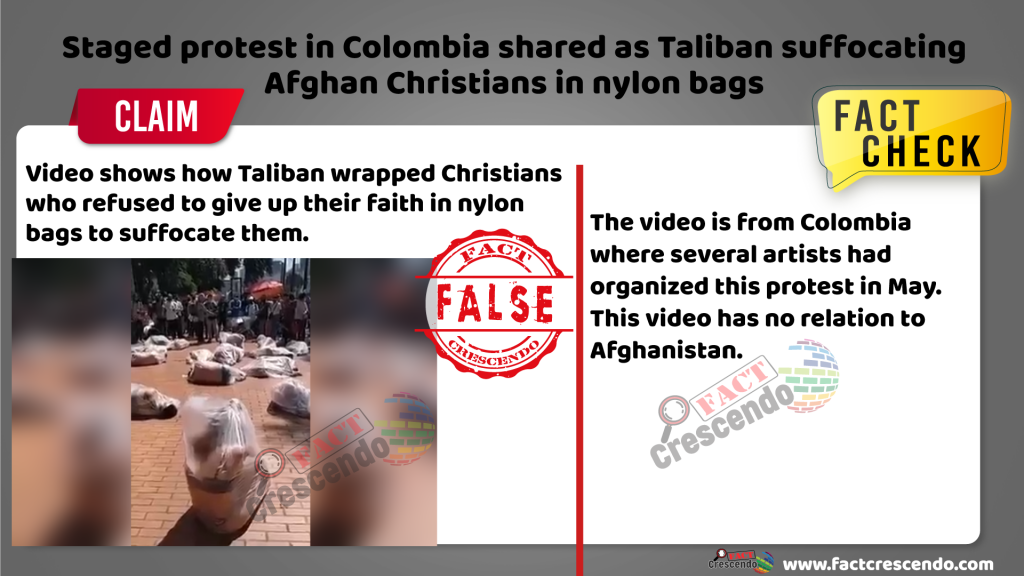 A horrifying video of people wrapped up in plastic bags has emerged on social media claiming to show the atrocities carried out by the Taliban on Christians in Afghanistan.
It is has been shared with a claim that Taliban wrapped Christians who refused to give up their faith in nylon bags to suffocate them.
Fact Crescendo found these claims to be false.
WHAT'S THE CLAIM?
The caption along with the viral video reads– "Christians wrapped in nylon bags to die slowly of suffocation in Afghanistan for refusing to deny Christ. Please, let's pray for them. (Sic)"
Fact Check-
Using the InVid We Verify tool, we performed a reverse image search on the key-frames of the viral video. It led us to a similar video on YouTube uploaded on 29 May 2021.
The description of the video mentions that this is a protest organized under the title "Empaquetados" held in Poblado Park on 26 May 2021. Poblado Park is in Medellín, Colombia.
With a keyword search, we found a Facebook Live Video of the same protest on 26 May 2021.
"A tribute to the people who have been found dead in recent days, drowned, in pieces and in sacks. In honor of all those who left their homes to fight for their rights and who could not return home," reads the description. 
A local newspaper, ADN Medellin published images of the protest on 27 May 2021. According to it, several artists had organized this protest.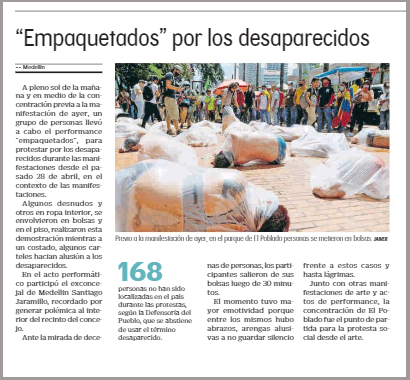 You can read more fact checks related to the Taliban-Afghanistan situation below-
Conclusion-
Fact Crescendo found the claim made along with the video to be False. The viral video on social media does not show Christians suffocated to their death tied up in nylon bags by the Taliban in Afghanistan. The video shows a staged protest that took place in Medellin city in Colombia earlier in May.
Title:Staged protest in Colombia shared as Taliban suffocating Afghan Christians in nylon bags
Fact Check By: Aavya Ray
Result: False