Canada has not banned straight marriages during the ongoing Pride month. The viral article is a Satire.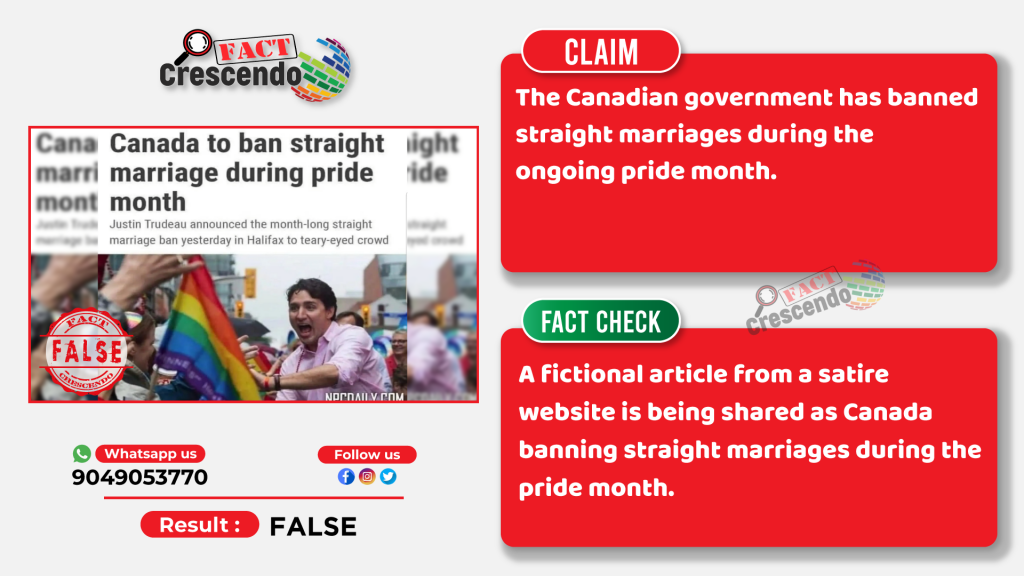 Amidst the ongoing celebration of the pride month across different countries, a screenshot of a news report is widely circulating on social media. Users claim that the Canada government has banned straight marriages during the ongoing pride month. It further states, "Justin Trudeau announced the month-long straight marriage ban yesterday in Halifax to a teary-eyed gathering."

Social media users are sharing the screenshot of this article as a real incident and a tribute to the pride month.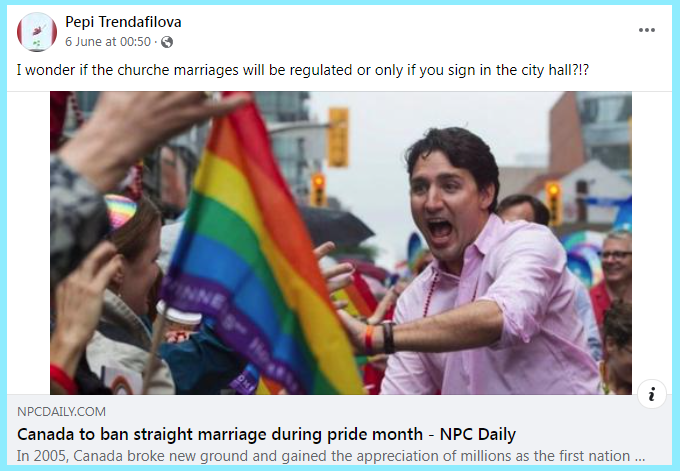 Fact Check-
We visited NPC Daily's website, their about section mentions that this website is a satire site, providing political and cultural commentary with wanton sarcasm. NPC Daily pokes fun of modern journalism and liberalism. Their content is fictitious.
The website states, "If you believe one of our articles is real, it's because the content is not too far adrift from what is published by mainstream news outlets."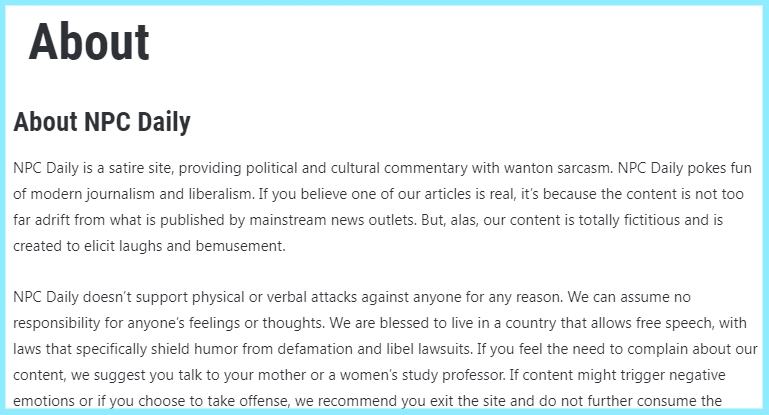 The Frequently Asked Questions section of the website mentions, "NPC Daily is not a not a legitimate or real news site. However, it is a legitimate source of a good laugh." NPC Daily has also mentioned that they are a satirical website on their Twitter and Facebook accounts as well.

We found the viral article published on NPC Daily's website in 10 June 2019 with the headline, "Canada to ban straight marriage during pride month." This article is now being shared as a real incident during the ongoing pride month.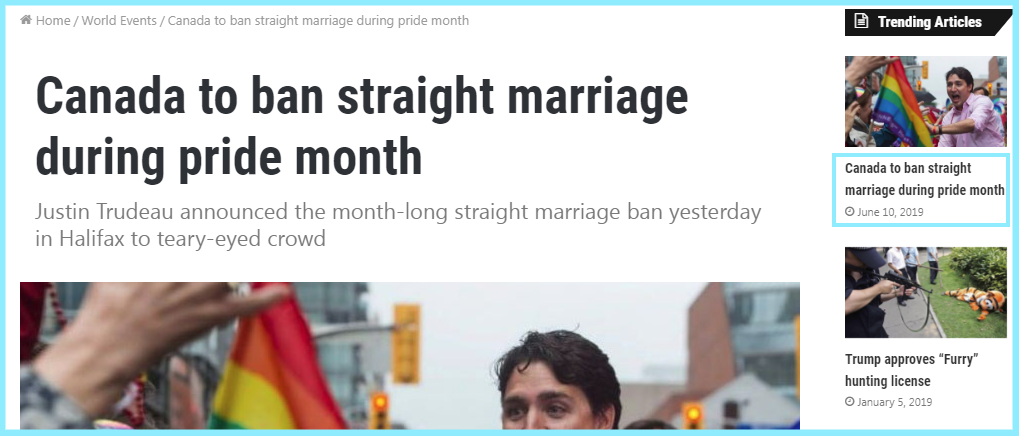 We found that Quinn Bartan wrote this article, who is a social activist and member of Boston Antifa since its inception in 2017. She spends most of her time as a 'freegan at local vegan restaurants and the rest at demos for social justice'.
We could not find any relevant news report or announcement made by the Canadian government or any Canadian news channel.

What is the pride month?

Lesbian, Gay, Bisexual, Transgender, Queer, Intersex, Asexual and others (LGBTQIA+) Pride Month is currently celebrated each year in the month of June to honor the 1969 Stonewall Uprising in Manhattan. Police raided the Stonewall Inn, a gay club in Greenwich Village in New York on June 28, 1969, which resulted in bar patrons, staff, and neighborhood residents rioting onto Christopher Street. Among the many leaders of the riots were African Americans, Trans, Bisexual and women. Marsha P. Johnson, lead the movement to continue over six days with protests and clashes. Protestors demanded the establishment of places where LGBQTIA+ people could go and be open about their sexual orientation without fear of arrest.
Conclusion-
Fact Crescendo found the claim made along with the viral image to be False and Misleading. Canada has not banned straight marriages during the ongoing Pride month. The article shared has been picked from a satire website and everything stated in the article if fictional.

Title:Satirical article shared to claim Canada is banning straight marriages during the pride month.
Fact Check By: Drabanti Ghosh
Result: False