The video is not related to Bihar. The video is from Bengal showing clashes between TMC and BJP workers.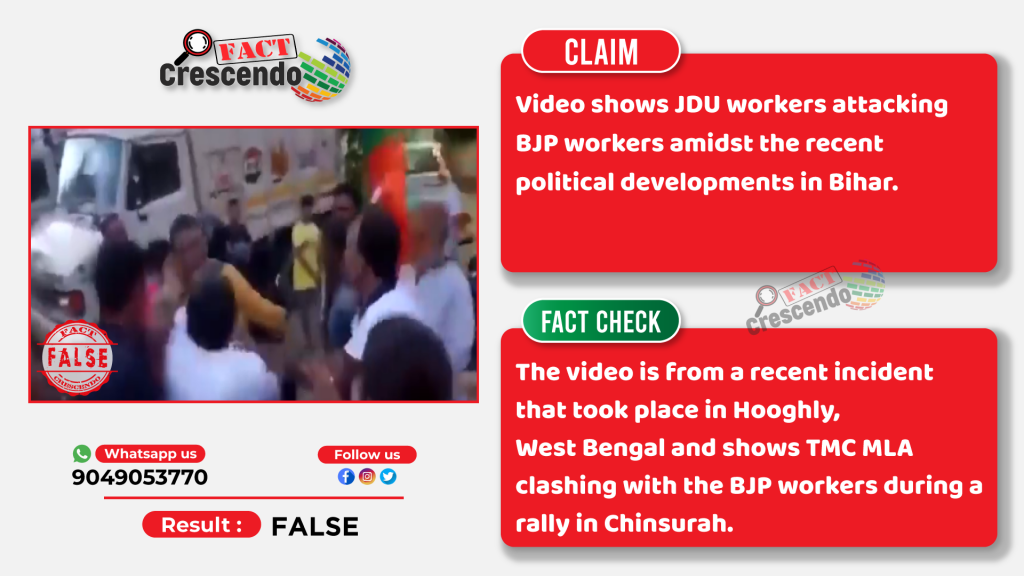 JD(U) chief Nitish Kumar took oath as the chief minister of Bihar for the eighth time on 10 August after a dramatic and sudden exit from the National Democratic Alliance(NDA). Nitish Kumar has returned to the
Mahagathbandhan alliance with RJD leader and former deputy Chief Minister Tejashwi Yadav. BJP has also called out Kumar as a "habitual betrayer" who has previously broken the party.
Meanwhile, a video showing people thrashing BJP workers is widely circulating on social media with the claim that it shows BJP workers being attacked in Bihar after Nitish Kumar ended his party's alliance with BJP.
Ahmed Khabeer who is the editor of the Jamia Times shared this video claiming to be an incident from Bihar after the recent political turmoil.
The caption of the tweet states, "It's not even one day the alliance ended and BJP receives its share of Hatred in return."
Fact Check-
We observed that the people in the video can be heard speaking in Bengali, thus we can ascertain that this video could be from West Bengal.
Taking a cue from this, we ran a relevant keyword search on YouTube, which led us to a news report published by Times Now on 6 August. The caption of the video states, "West Bengal: Clash raged between TMC and BJP Workers, TMC alleges BJP Blocked Convoy | English News."
According to Times Now, this video is from the Hooghly district in West Bengal. The video was shot when TMC and BJP workers clashed in Hooghly. Chunchura MLA Asit Mazumdar said that he was driving home from Kolkata when his car was allegedly stopped by BJP supporters and attacked.
According to a NDTV report, Trinamool Congress MLA Asit Majumdar and his supporters were accused of beating up BJP workers in West Bengal's Hooghly district on 5 August. Denying the accusation, the TMC alleged that BJP supporters heckled the legislator. The incident happened at Khadinan More in Chinsurah during a rally of the BJP. The BJP workers alleged that the MLA and his supporters beat up the participants of the rally without any provocation.
Conclusion-
Fact Crescendo found the claim made along with the video to be False. The viral video does not show JDU workers attacking BJP workers. The video is from a recent incident that took place in Hooghly, West Bengal and shows Trinamool Congress MLA Asit Majumdar and his supporters clashing with the BJP workers during a rally in Chinsurah. This video does not have any relation with the ongoing Bihar political crisis.

Title:Video of a clash in Bengal shared as JDU workers attacking BJP workers in Bihar…
Fact Check By: Drabanti Ghosh
Result: False