BSP has called out the viral press release as Fake.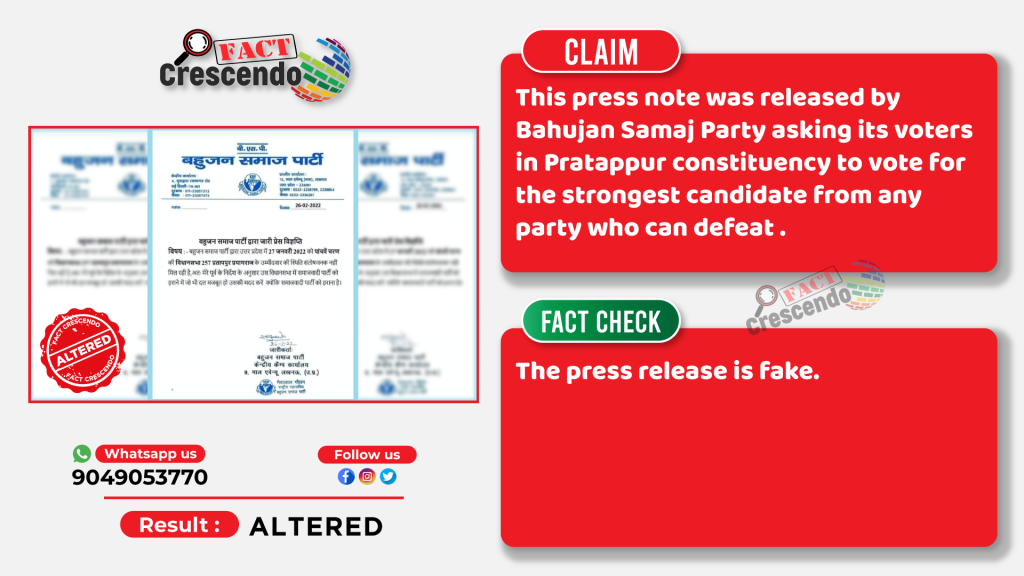 In the backdrop of the ongoing assembly elections in Uttar Pradesh, an image of a press release of the Bahujan Samaj Party's central camp office is widely circulating on social media.
The press release states that the winning prospects of the BSP candidate of Pratappur constituency that is to be held on 27 January 2022 in the fifth phase of the UP Elections are low. Hence, in order to defeat candidate of Samajwadi party vote for the stronger candidate from any party other than BSP. It claims that it is very important to defeat Samajwadi Party.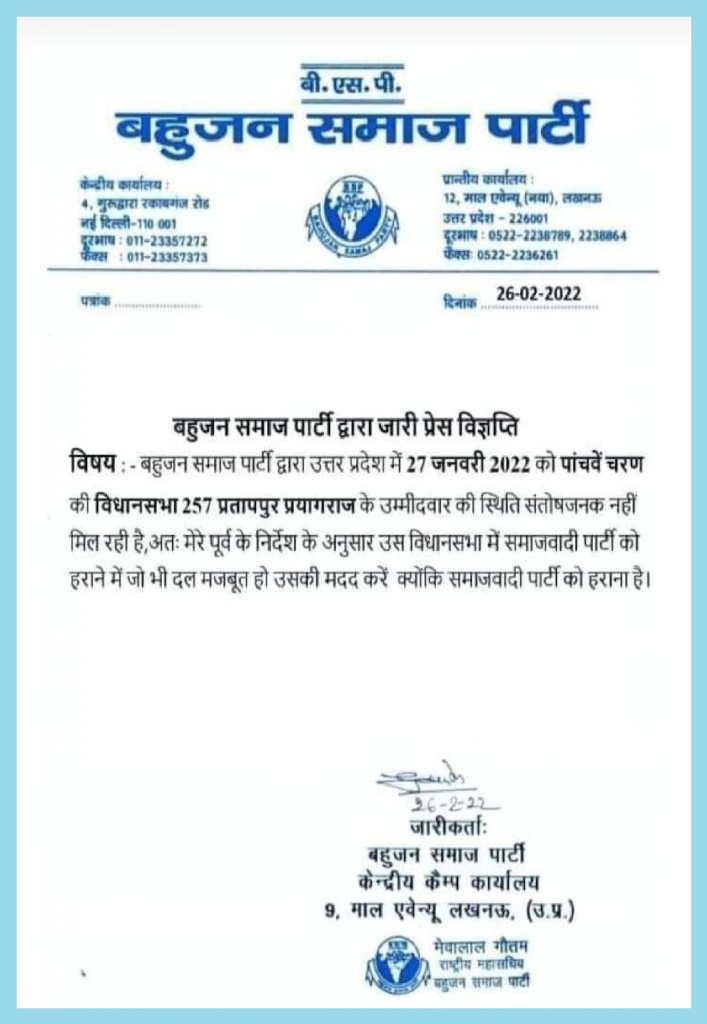 Fact Check-
We started our investigation by carefully observing the press release by BSP where we found several discrepancies in the press release such as
The date mentioned on the press release is 26 February 2022 but it speaks about polling date on 27 January 2022.
Secondly, the polling in Uttar Pradesh started on 10 February 2022, which means that the voting for Pratapppur constituency voting could not be held before that.
Thirdly, the fifth phase of the actual polling day was on 27 February 2022 and not January. It makes it clear that the date was wrongly printed. It is unlikely that a National party will print the date of election incorrectly in a press release.
It is also very unlikely that a National Party like BSP will release a press note asking voters to vote for other party candidate because their own candidate is weak.
Further, we found that the official BSP Facebook page posted a clarification about the viral press release calling it out as a Fake letter pad on 28 February 2022. The caption of the post states, "Please beware of fake news/rumors in 6th and 7th phase also. Bahujan Samaj Party's fake letter pad, strict action will be taken against those who make it viral by writing false news."
We also found a news report by Bhaskar published on 28 February 2022 that stated that after the letter went viral, Bahujan Samaj Party's Pratappur Vidhan Sabha candidate Ghanshyam Pandey called out this letter as Fake. He issued a written clarification on the letterhead of the party the alleged letter issued earlier as fake.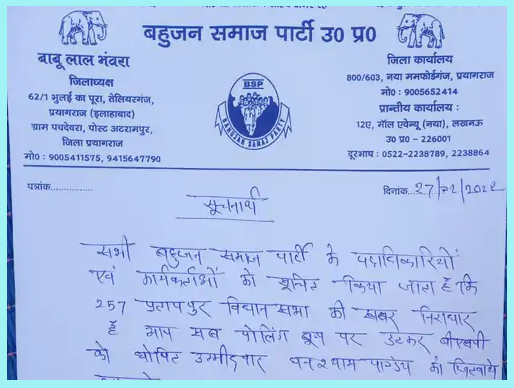 Conclusion-
Fact Crescendo found the claim made along with the viral image on social media to be Digitally Altered and False. BSP did not release this press note asking voters in Pratappur constituency to vote for other candidate to defeat Samajwadi Party.
(If you also have any suspicious messages, posts, photos, videos or news, send them to our WhatsApp Fact line Number (9049053770) for Fact Check. Follow Fact Crescendo on Facebook, Instagram and Twitter to read the latest Fact Check.)
Title:BSP did not ask its voters to vote for stronger candidate of other party in Pratappur to defeat SP…
Fact Check By: Aavya Ray
Result: Altered