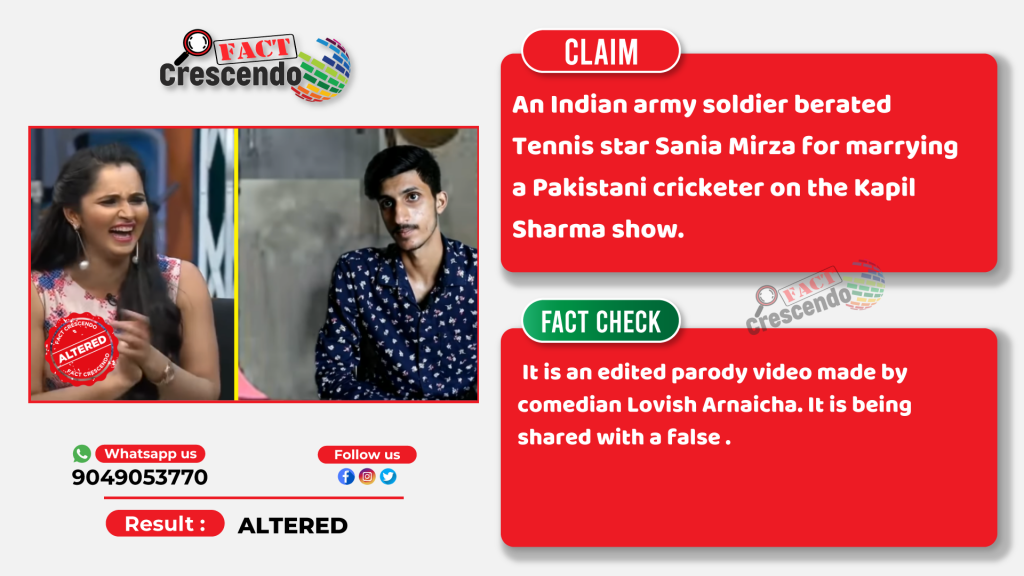 Sharing a supposed clip of the Kapil Sharma show, users are claiming that an Indian soldier berated Tennis star Sania Mirza for marrying a Pakistani cricketer on the show. It has also been further claimed that this clip was deleted by the show makers.
Readers of Fact Crescendo forwarded this video to our WhatsApp FactLine (9049053770) and requested to do a fact-check on it.
We found that this is a clip from a parody video and was not from the Kapil Sharma show.
WHAT'S IN THE CLIP?
In the viral video, a man can be seen scolding off Sania Mirza in the presence of Kapil Sharma and Navjot Singh Sidhu. He harshly criticized her for marrying Pakistan cricketer Shoaib Malik.
Users are giving the caption: What a slap this patriotic soldier gave to Sania Mirza on the set of Kapil Sharma Show! And, walked off the stage! And, Kapil Sharma cut off this scene from his show!
The same video is widely shared on Facebook as well.
FACT CHECK
We noticed this same claim was also viral in 2019. Hence, it is an old video.
First, we looked for the Kapil Sharma show in which Sania Mirza had come as a guest. The full episode is available on the Sony TV channel's YouTube channel. It was broadcasted on 5 June 2016.
We noticed that the clips used in the viral video are present in this original episode but the man claimed to be a soldier is not in it.
Using keywords search, we came upon a full-length video of the man seen in the video. It was uploaded on 25 August 2019.
At the beginning of the video, the disclaimer is given that "this video is only for entertainment. So don't be serious. Our motive is not to insult any artist."
In the title of the video, a name – Lovish Arnaicha – is mentioned.
We found that Lovish Arnaicha is a YouTube creator. He is known for making such edited and parody videos. He claims to make funny videos every weekend.
He takes clips from popular TV shows and edits them in a way as if he was present in the show. He plays the character of Haryanvi Malang in these videos.
He has made a similar video on Kaun Banega Crorepati (KBC)
He has also made an edited parody video of FilmFare award ceremony. It is available on Lovish Arnaicha's Facebook page.
Original Video – Facebook
CONCLUSION
It is understood then an edited parody video is making rounds with misinformation. No army man berated Sania Mirza for marrying a Pakistani cricketer on the Kapil Sharma show.
If you come across any suspicious content on social media, forward it to our WhatsApp FactLine (9049053770) for a fact-check.
Title:Did Soldier Berate Sania Mirza For Marrying Pakistani Cricketer On Kapil Sharma Show?
Fact Check By: Mayur Deokar
Result: Altered