The viral graphic cards are made after digitally altering India TV opinion poll survey results.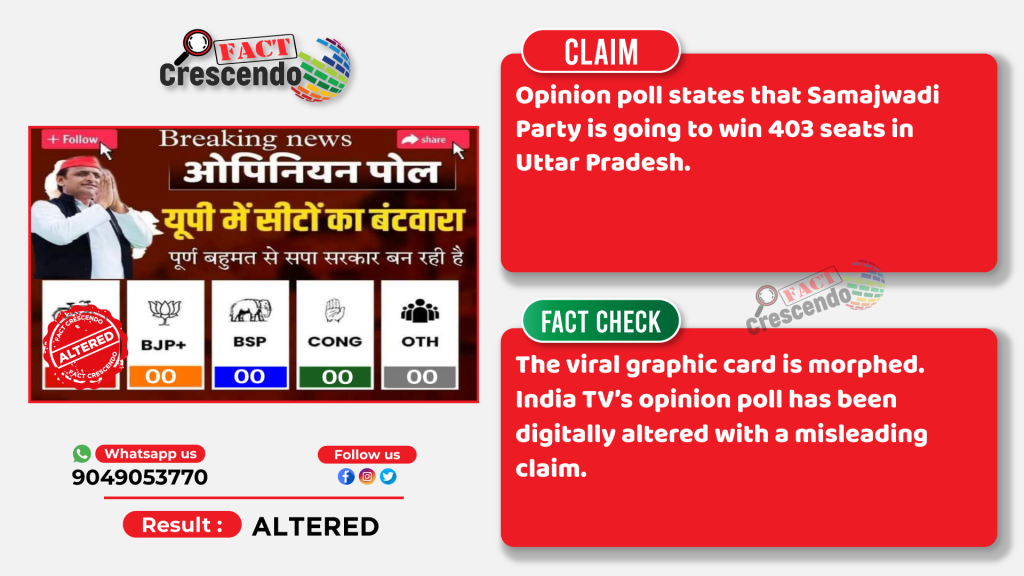 With the upcoming elections in Uttar Pradesh, two graphic images are circulating on social media that showing an opinion poll prediction for the upcoming winners and losers for Uttar Pradesh Elections. The first image shows SP winning all the 403 seats in an unprecedented manner. This ridiculous graphic card has been a subject of trolling on social media with users mocking at the channel for publishing these bizarre opinion polls. The second image shows Samajwadi party winning 350-390 seats and single digits for parties such as BJP, BSP, Congress and other.
In a big state like Uttar Pradesh with many factors such as caste and religion influence the elections in a big way, a clean sweep for a single party is hardly believable. However, Samajwadi party followers are still sharing the opinion polls claiming this clearly shows a massive shift in the mood of the people in the state.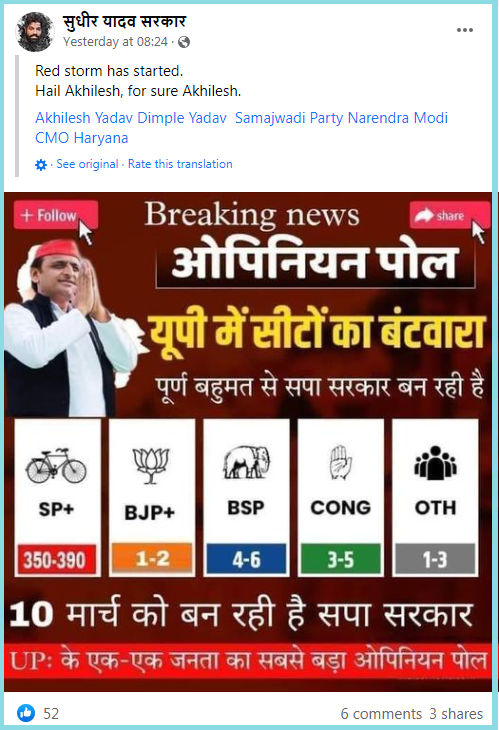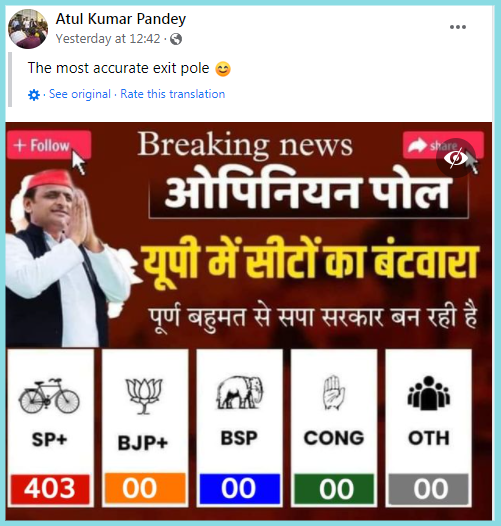 Let us check whether India TV has actually conducted such an opinion poll or is it simply a creation of some mischievous minds.
Fact Check-
We ran a keyword search on Google that led us to a similar graphic card that has been posted by India TV on their Twitter account on 31 January 2022. According to India TV's ground zero research (Opinion poll), the seat distribution in Uttar Pradesh will be BJP- 242-244, SP- 148-150, BSP- 4-6, Congress- 3-5 others – 1-3. The striking similarity of the graphics clearly suggest that the viral image has been created by editing the graphics published by India TV.
Below you can see the comparison image between the viral image and the original image, which makes it very clear that the viral opinion poll is edited.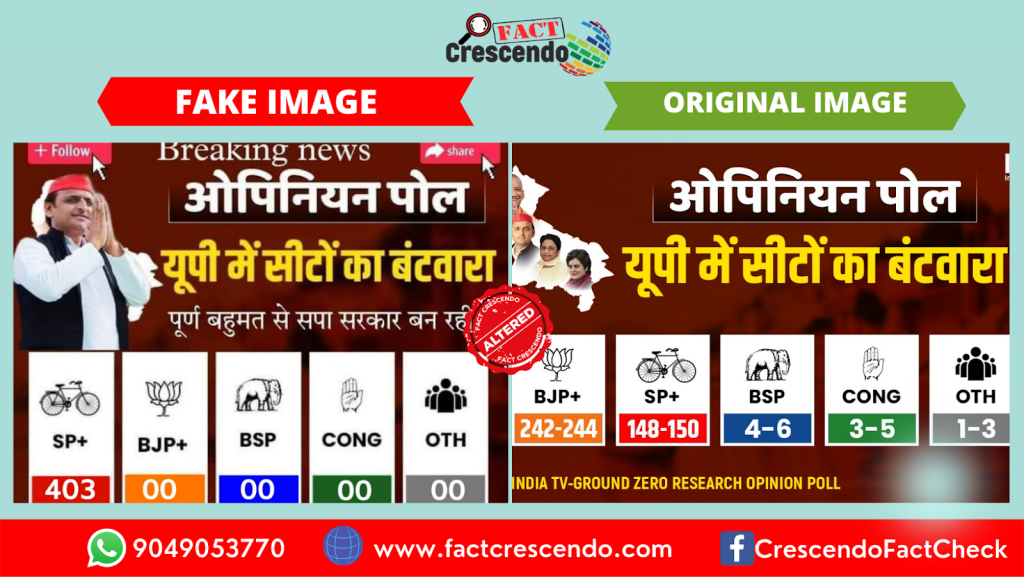 According to India TV's Opinion poll report, "BJP is projected to win a comfortable majority in the forthcoming Uttar Pradesh assembly elections 2022, however, it may score less seats than 2017 polls, according to India TV-Ground Zero Research Opinion Polls. The saffron party may secure 42% vote share, Samajwadi Party may bag around 37%, BSP may get somewhere around 13% while Congress and Others may get around 4% each vote share."
Conclusion-
Fact Crescendo found the viral image showing opinion polls suggesting clean sweep in UP by SP on social media to be digitally altered. No opinion polls have given 403 seats to SP. India TV's opinion poll graphic card has been morphed to claim Samajwadi Party's absolute win.
(If you also have any suspicious messages, posts, photos, videos or news, send them to our WhatsApp Fact line Number (9049053770) for Fact Check. Follow Fact Crescendo on Facebook, Instagram and Twitter to read the latest Fact Check.)
Title:Opinion Poll graphic card predicting Samajwadi Party's Full Sweep in UP Elections is Morphed
Fact Check By: Aavya Ray
Result: Altered