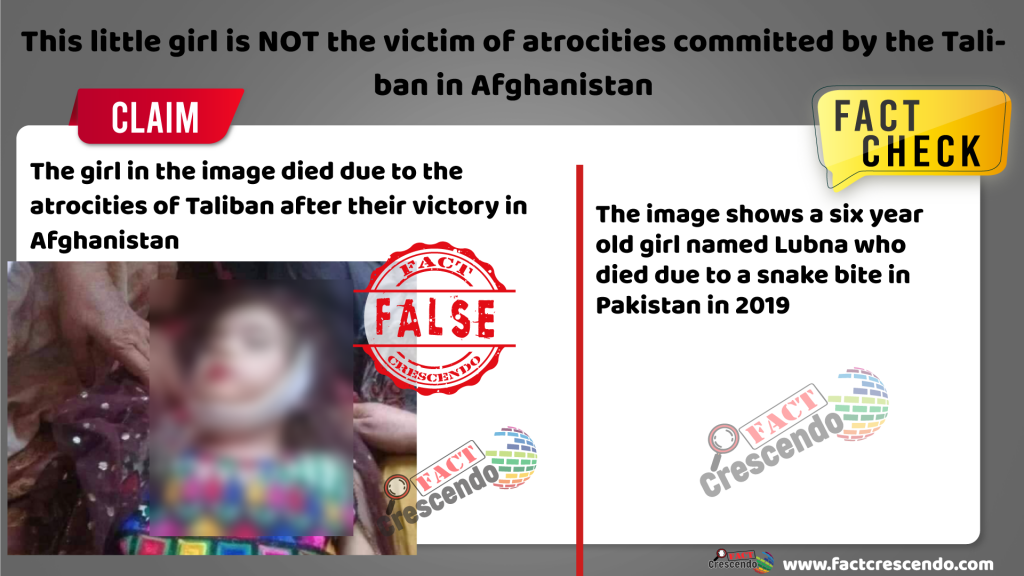 Social media is witnessing a lot of content showing the atrocities carried out by the Taliban in Afghanistan after the change in power. Amidst this, an image of a little girl wearing a colorful outfit lying lifeless on the floor is widely circulating on social media claiming that the Taliban killed the little girl.
The caption of the post mentions "My heart has broken into pieces what has this little angel done that she had to be sacrificed. Lanat to T*liban supporters and groups !!! #NoToTaliban"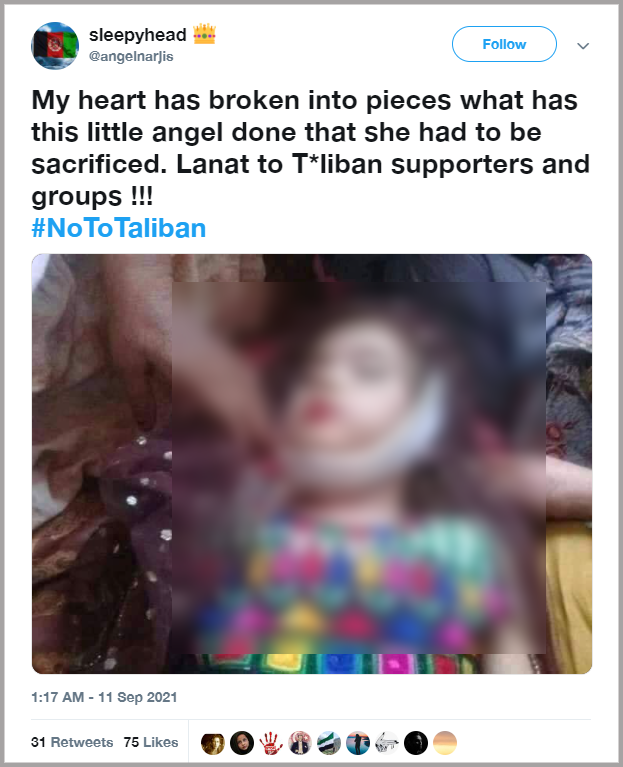 Fact Check-
We started our investigation by running a reverse image search on Google which led us to a news report published by the Tribal News Network on 22 August 2019. According to the report, the name of the girl is Lubna who is said to be 6 years old when she died due a snake bite on the way to Peshawar due to unavailability of anti-venom injection's. She hailed from Yakkaghund tehsil of the Mohmand tribal district. Mohmand District is a district in Peshawar Division of Khyber Pakhtunkhwa province in Pakistan.
Elaborating the incident Lubna was bitten by a snake when she was playing outside her home and was shifted to Shabqadar for treatment. However, the anti-venom injection was not available in Shabqadar and the staff asked the family of the girl to take her to Peshawar. The girl died on way to Peshawar.
The victim's father complained that they were given an ambulance but it was without an oxygen kit due to which his daughter died on way to Peshawar in the ambulance.
Next, Fact Crescendo contacted a Pakistan based journalist named Izharullah who is a correspondent at the Independent Urdu. He confirmed to us that the incident took place in Pakistan. He told us that the girl died of a snakebite in Khyber Pakhtunkhwa district Mohmand in Aug 2019. He also sent us a news report published by a local Pakistani media house named Khyber news tv. According to them the girl bitten by a snake was taken to the Yaka Ghund hospital where on duty doctors said they do not have an anti snake venom vial.
Further, we found that the Khyber Pakhtunkhwa Health Department had suspended four doctors in Charsadda, including the district health officer (DHO) and medical superintendent (MS), after completion of inquiry into the death of six-year-old girl Lubna due to lack of facilities at Shabqadar hospital.
Social media is flooded with misinformation related to the ongoing unrest in Afghanistan post the Taliban take over. You can read more fact checks related to this incident below-
Conclusion-
Fact Crescendo found the claim made along with the video to be False. The image is not related to the ongoing tension in Afghanistan. The viral image on social media shows a 6 year old girl who died due to a snake bite in Pakistan in 2019.
Title:This little girl is NOT the victim of atrocities committed by the Taliban in Afghanistan
Fact Check By: Aavya Ray
Result: False