The image is digitally altered. The original image does not have lord Krishna's image put up on it.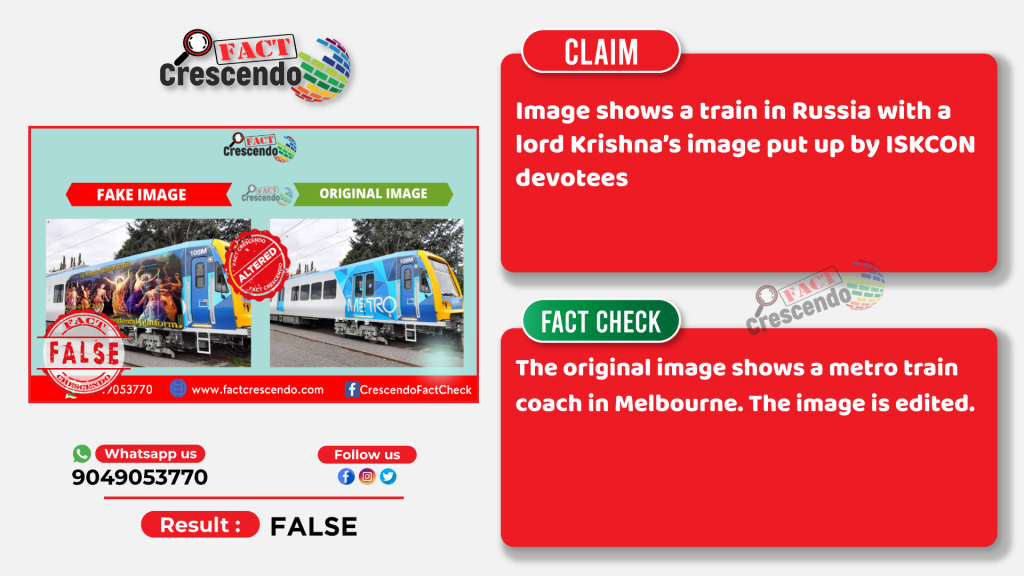 An image showing a painting of Lord Krishna on the engine of a train is widely circulating on social media. Users claim that the devotees of ISKCON temple have painted the image of Lord Krishna on a train in Russia.
The caption of the post states, "This is the train of Russia, where the people of ISKCON temple have got the painting of Shri Krishna ji on the engine. So that people all over the world can know about Krishna ji. Now just imagine if this engine had been in India, then there would have been a ruckus, from Parliament to the whole country. It's bitter but it's true that we ourselves are the cause of our downfall."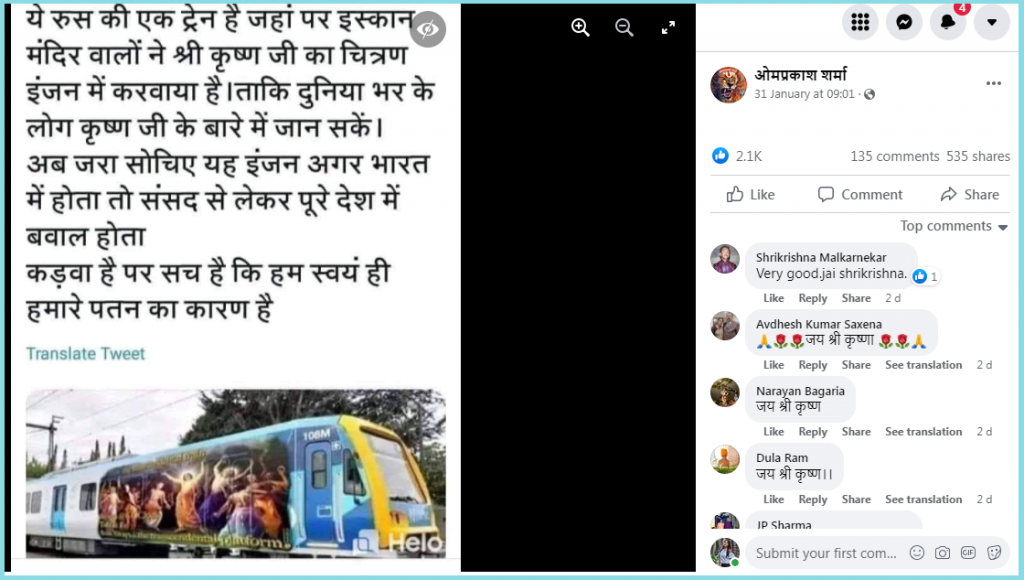 Fact Check-
We started our investigation by using the Yandex reverse image search, whose results led us to the image posted by a Facebook page named Southern States Group on 17 march 2015. The image of the train does not have any depiction of Lord Krishna. The original image has Metro written on the engine instead of Lord Krishna's image.
The website of Southern States Group state that they are an Australia-based company provides services to the transport refrigeration, air refrigeration, rail air conditioning; roller door and tail lift industries.
Below you can see the comparison between the viral image and the original image.
We found a YouTube video uploaded one the Melbourne Metro Aircraft Station's YouTube channel. We also found similar images of the metro trains operated in Australia on the website of Metro trains Australia.
Conclusion-
Fact Crescendo found the viral image on social media to be digitally altered. The original image does not show the painting of lord Krishna on a train in Russia.
(If you also have any suspicious messages, posts, photos, videos or news, send them to our WhatsApp Fact line Number (9049053770) for Fact Check. Follow Fact Crescendo on Facebook, Instagram and Twitter to read the latest Fact Check.)

Title:Edited image shared as Lord Krishna's image on a train in Russia.
Fact Check By: AavyaRay
Result: False