Till 2014 there were three bridges over the Brahmaputra River, not one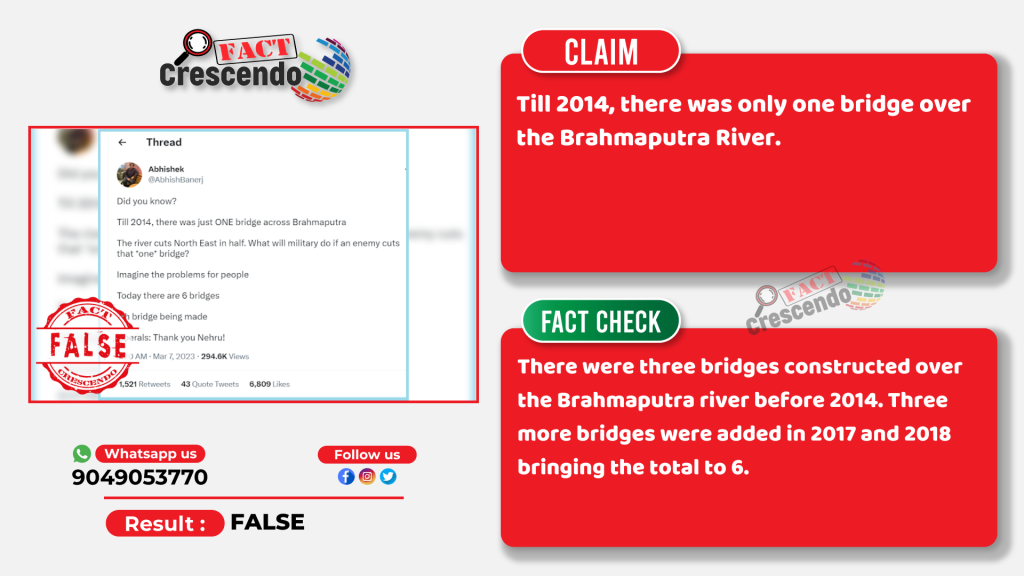 Bridges have a special place in transportation infrastructure due to its direct relationship with other places, they symbolize change and flexibility. Recently, we came across a tweet from a Twitter account. Till 2014, there was just ONE bridge across Brahmaputra The river cuts North East in half. What will military do if an enemy cuts that *one* bridge? Imagine the problems for people Today there are 6 bridges 7th bridge being made Liberals: Thank you Nehru!
Fact Check-
We started with a keyword search and discovered some information. We found a report titled "List of Bridges Over Brahmaputra" published on the website of Pratidin Time on 16 November 2022. According to the website there are currently six bridges over the Brahmaputra River.
Saraighat Bridge
New Saraighat Bridge
The Kolia Bhomora Bridge
Nar Narayan Bridge
Bogibeel Dalang
Bhupen Hazarika Bridge (Dhala-Shadia Bridge)
As per the reports the Saraighat Bridge first opened in 1963, followed by the Kolia Bhomora Bridge in 1987, the Nar Narayan Bridge in 1998, the Bhupen Hazarika Bridge in 2017, and the Bogibeel Bridge in 2014. The report states there were three bridges over the Brahmaputra River before 2014.
In further search, we came across a report in The Sentinel on 2 November, 2022 stating that the new two-lane bridge parallel to the old Kolia Bhomora Bridge would be temporarily opened and the old bridge would be closed for repairs.

We performed another keyword search and discovered a PDF titled "Model project on Construction of Naranarayan Setu over river Brahmaputra at Jogighopa" in the Internet Archive. According to the article, Atal Bihari Vajpayee dedicated the Nar Narayan Bridge on April 15, 1998.
Later, we discovered a report published in the Assam Tribune on 15 September, 2010 commemorating the Saraighat Bridge's 50th anniversary. The Saraighat Bridge was officially inaugurated on June 7, 1963, by then Prime Minister Jawaharlal Nehru, according to the document.

Furthermore, we found an article titled "List of Bridges in Assam" on the website Guwahati Live that listed the length, location, and inauguration date of all the bridges over the Brahmaputra River.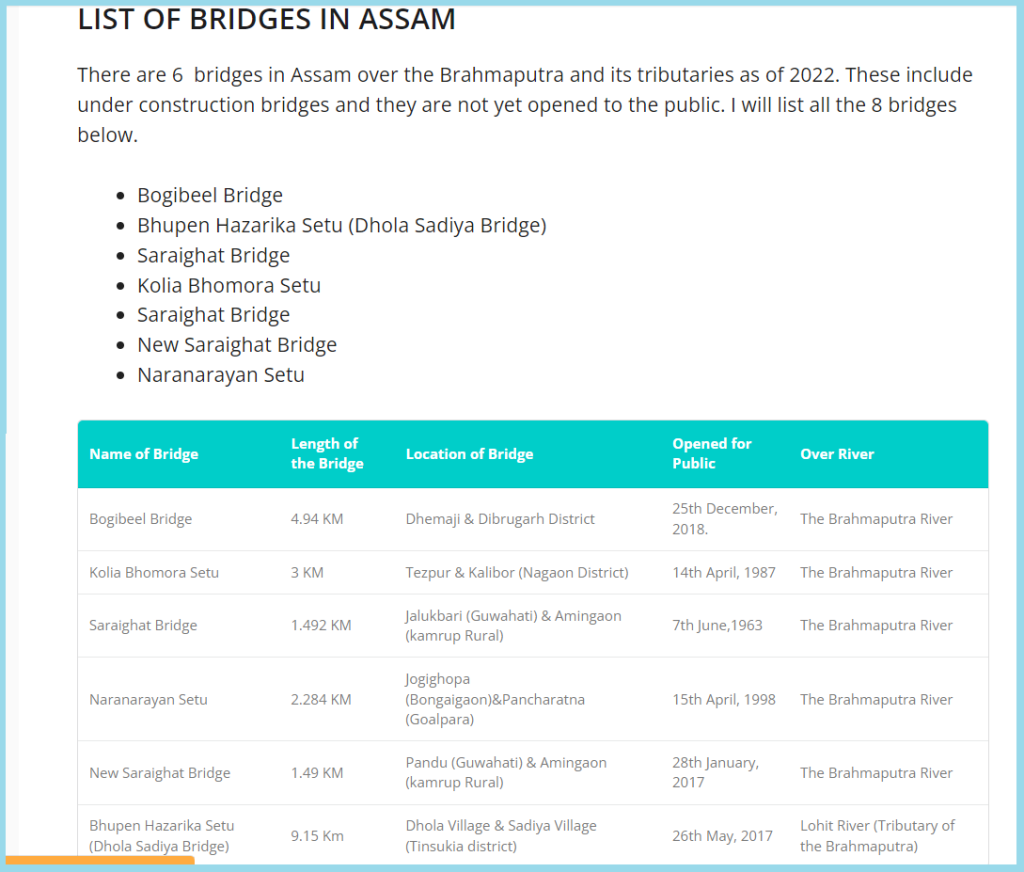 Conclusion–
Fact Crescendo found that until 2014, there were not one but three bridges over the Brahmaputra River, thus the claim is False.

Title:Until 2014, was there really only one bridge over the Brahmaputra River?
Fact Check By: Usha Manoj
Result: False