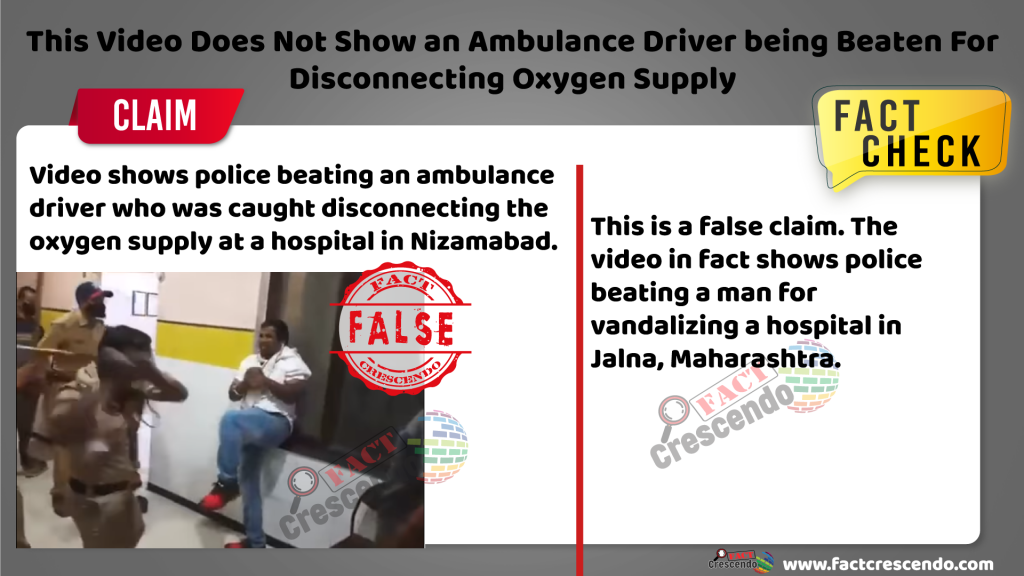 A video of a group of police officers thrashing a man with sticks is going viral with a claim that an ambulance driver was beaten after he was caught disconnecting the oxygen supply at a hospital.
Fact Crescendo received many fact-check requests about this video on our WhatsApp FactLine (9049053770).
We found that this claim is false.
WHAT'S THE CLAIM?
The viral video shows some policemen lathi-charging a man while he begs them to stop.
Many users have been sharing this video with a caption that reads: Man caught red-handed disconnecting oxygen supplies to patients, as he was being paid more money to transport dead bodies in his Ambulance.
In many Hindi language posts, it was claimed that the video is from Nizamabad and the name of the man is Ashim Quraishi.
Original Post – Facebook | Facebook (Hindi)
FACT CHECK
The language used throughout the video is Marathi. Nizamabad is in Telangana state where Telugu is the common language.
Taking clues from it, we looked for videos of "police beating" in Maharashtra and landed on several news reports about an incident that occurred in the city of Jalna.
Hindustan Times reported on the same video stating that the incident took place at Deepak Hospital in Jalna, Maharashtra on 9 April 2021.
The name of the person whom the police were beating is Shivraj Nariyalwale, a local BJP worker.
Free Press Journal reported that some angry youths attacked doctors and went on a rampage in the ICU of the hospital after the death of a youth injured in a road accident. When police reached the hospital, Nariyalwale was caught and allegedly beaten up.
The video of this incident went viral after around two months. BJP leaders demanded action against the police officers involved in the incident.
Former BJP MP Kirit Somaiya, former minister Babanrao Lonikar, MLA Ram Satpute, and Chitra Wagh condemned the police action against their party worker.
Jalna district SP Vinayak Deshmukh suspended a sub-inspector and four police constables in this case.
CONCLUSION
Hence, it is clear that the viral claims about this video are False. The viral video does not show an ambulance driver who was caught disconnecting the oxygen supply at the hospital.
Title:This Video Does Not Show an Ambulance Driver being Beaten For Disconnecting Oxygen Supply
Fact Check By: Mayur Deokar
Result: False