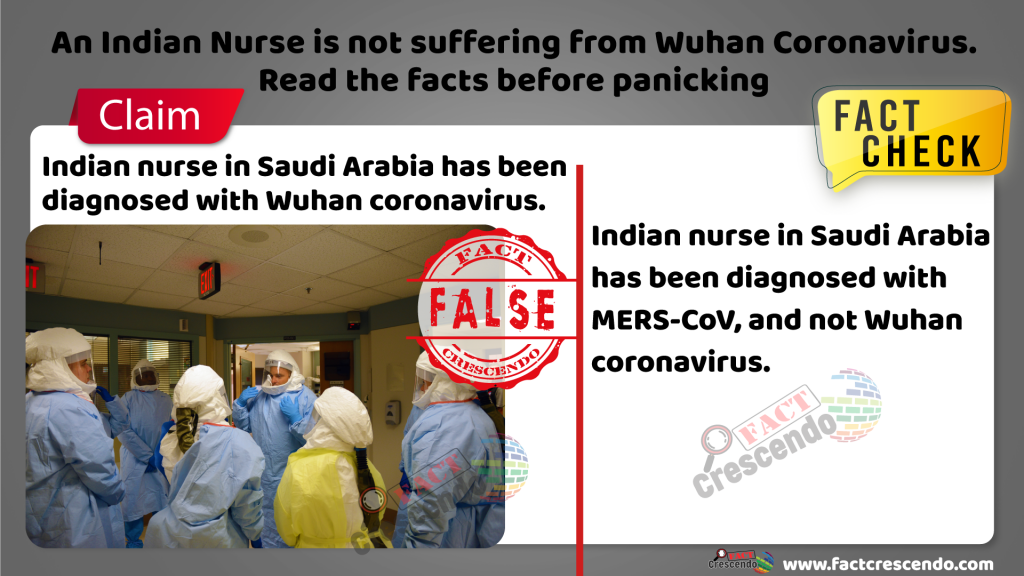 The new coronavirus outbreak that emerged from China has killed more than two dozen patients and infected hundreds of people as of now. It has caused panic around the world and the social media is flooded with misinformation related to the spread of the virus.
This new type of coronavirus first appeared in the Wuhan, China last month. It is called "Wuhan Coronavirus" or "2019-nCoV".
Many cases of the "Wuhan Coronavirus" have been identified around the world. A case of an Indian nurse working in Saudi Arabia has also been tested positive for coronavirus has also been reported. Initially, many media outlets reported that the Indian nurse has been diagnosed with the Wuhan Coronavirus (2019-nCoV), citing India's foreign office. However, that was not the case.
What's The Truth?
When the news of the Indian nurse diagnosed positive of Novel Coronavirus went viral on the social media, the Indian Embassy in Jeddah clarified that the nurse in Jeddah has been diagnosed with a different strain of the Coronavirus.
The embassy tweeted through its Jeddah account that the nurse hailing from Kerala is suffering from coronavirus that goes by the name of Middle East respiratory syndrome coronavirus (MERS-CoV).
It is different from the recently found Wuhan coronavirus. The embassy also urged users not to spread false information on social media.
Kerala Chief Minister Pinarayi Vijayan also wrote to the External Affairs Minister, S. Jaishankar  urging him to take steps towards ensuring that expert treatment and protection is provided to those affected from the virus in Saudi, reports The Hindu.
According to NDTV, All airports will now screen passengers coming from the Middle East and South Korea. Airports have been asked to report any passengers with symptoms of fever and respiratory distress.
What is Coronavirus?
Coronaviruses are a large family of viruses that can cause diseases ranging from the common cold to Severe Acute Respiratory Syndrome (SARS). According to the Centers for Disease Control and Prevention (CDC), coronaviruses are named for the crown-like spikes on their surface. Human coronaviruses were first identified in the mid-1960s.
What is MERS-CoV?
According to WHO, MERS‐CoV was first identified in Saudi Arabia in 2012. It is one of the strains of the coronavirus family of viruses. It causes Middle East respiratory syndrome (MERS).
What is 2019-nCoV?
According to WHO, a novel coronavirus (2019-nCoV) is a new strain that has not been previously identified in humans. At this time that symptoms of 2019-nCoV may appear in as few as 2 days or as long as 14 after exposure, report CDC.
Symptoms of 2019-nCoV
Common signs of infection include respiratory symptoms, fever, cough, shortness of breath and breathing difficulties. In more severe cases, an infection can cause pneumonia, severe acute respiratory syndrome, kidney failure and even death. You can read further on this topic here. 
Conclusion
Indian nurse in Saudi does not have Wuhan strain of coronavirus. Indian Embassy in Jeddah clarified that she has been diagnosed with MERS-CoV, not 2019-nCoV. Earlier, many media outlets misreported that she has been infected with Wuhan Coronavirus. The embassy also urged users not to spread false information on social media.   
Message to Readers
If you come across any inaccurate information regarding the Wuhan coronavirus, please send it to Fact Crescendo for a fact-check. You can contact us through WhatsApp on this 9049043487 number.

Title:An Indian Nurse is not suffering from Wuhan Coronavirus. Read the facts before panicking
Fact Check By: Mayur Deokar
Result: False