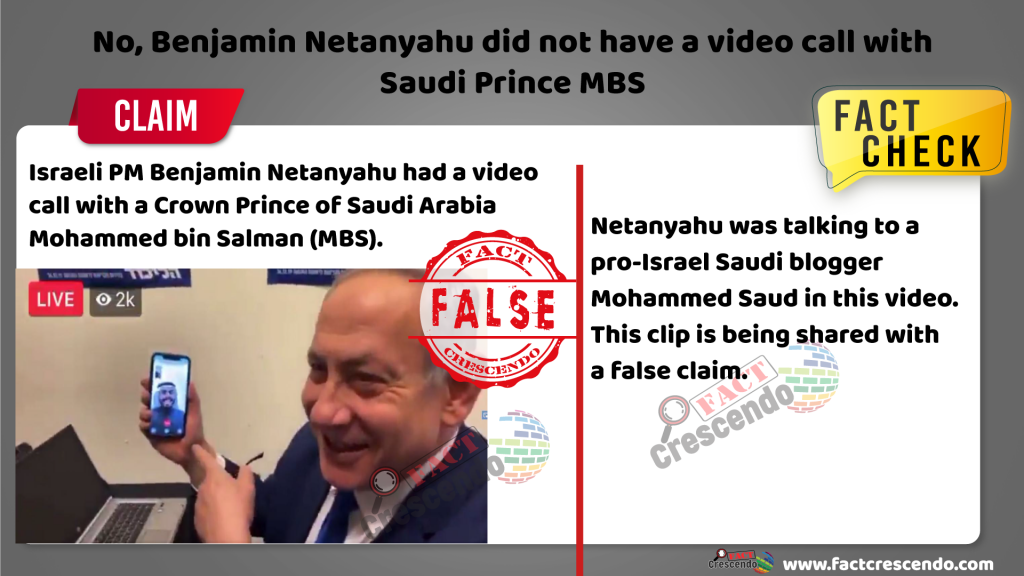 Amid the Israel-Palestine conflict, social media is flooded with misleading claims. In a recent addition to that misinformation cycle, a video is going viral with the claim that Israeli PM Benjamin Netanyahu had a video call with the Crown Prince of Saudi Arabia Mohammed bin Salman (MBS).
Fact Crescendo received many fact-check requests about this video on our WhatsApp Factline (9049053770).
We found that this is a false claim. Benjamin Netanyahu did not have a video call with the Saudi Prince.
WHAT'S THE CLAIM?
A short clip shows Benjamin Netanyahu having a video call with a man in a traditional Gulf Arab attire. Users are sharing this clip with a caption: Netanyahu kissing MBS – Is this real or fake? 
FACT CHECK
Crown Prince of Saudi Arabia Mohammed bin Salman is popularly known as MBS.
We did not find any news about this alleged video call between Benjamin Netanyahu and MBS.
Then we checked the veracity of this video. With the help of keywords, we found a news report by Middle East Eye.
According to it, Benjamin Netanyahu had called a Saudi blogger Mohammed Saud during an election campaign in 2019.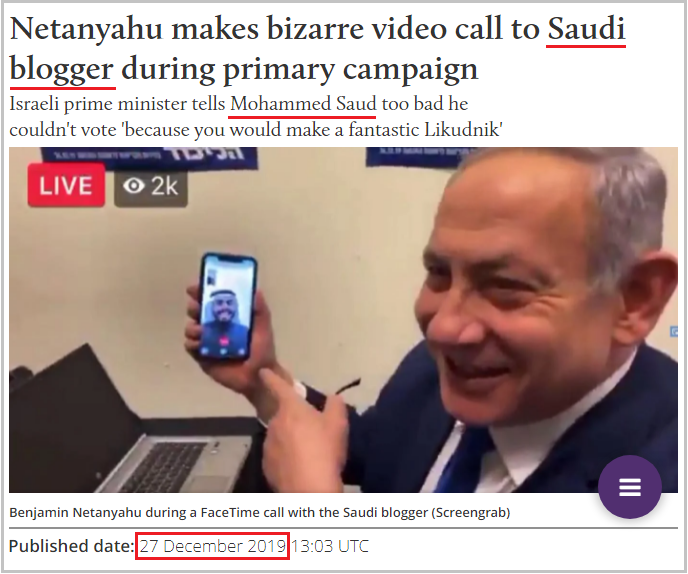 The controversial blogger had tweeted this a video of Netanyahu talking to him on a mobile phone with a tweet: "I hope he wins and brings peace to the Middle East. Netanyahu I appreciate and admire you. God bless you and all the citizens of Israel." (now deleted account)
The full version of this FaceTime video call is available on YouTube.
Who is Mohammed Saud?
He is a pro-Israel Saudi blogger known for his vocal support for Israel and Prime Minister Benjamin Netanyahu.
He came to prominence after a video of him being kicked out of Al-Aqsa Mosque by Palestinian worshippers went viral in 2019.
He had gone to Jerusalem as part of a six-member Arab delegation of journalists officially hosted by the Israeli foreign ministry in the first visit of its kind.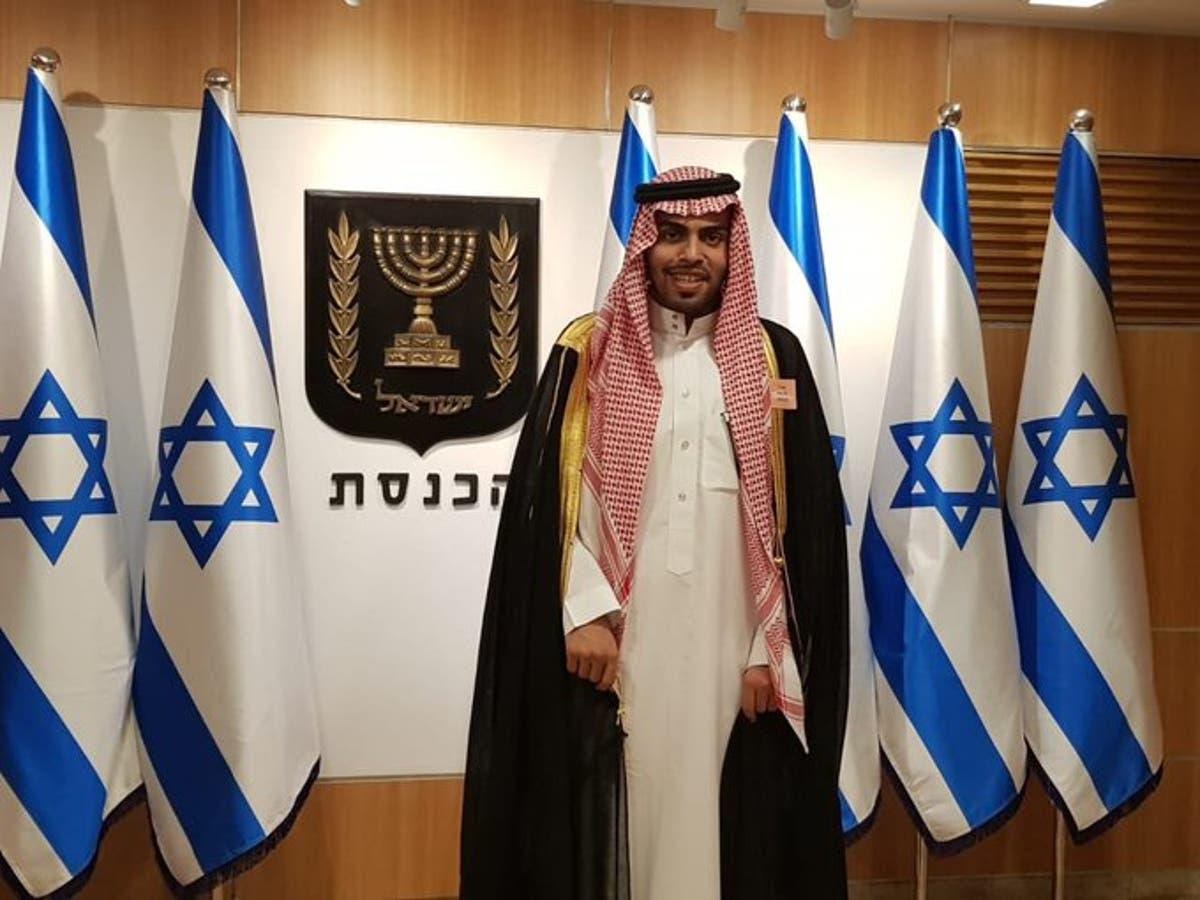 Mohammed Saud, a controversial pro-Israel blogger.
In his Twitter bio, Saud wrote "Only Bibi" in Hebrew, referring to the Israeli Prime Minister Benjamin Netanyahu. His posts mostly consist of retweeting Netanyahu, Al Jazeera reported at the time.
Saud had seen Benjamin Netanyahu and his son Yair. He had been photographed with several Israeli politicians.
Last year, Netanyahu had even tweeted for Saud's health when he was diagnosed with Covid-19.
"To my Saudi friend Mohammed Saud, I was sorry to hear that your father and you are ill with the coronavirus. May God grant both of you a complete and speedy recovery," Netanyahu wrote in Hebrew.
CONCLUSION
Netanyahu was not having a video call with Saudi Crown Prince MBS in the viral clip. In fact, Netanyahu was talking to a pro-Israel Saudi blogger Mohammed Saud. This clip is being shared with a false claim.
If you come across suspicious posts, please forward them to our WhatsApp Factline (9049053770). We will fact-check them for you.
Also Read:
No, Israel has not captured Al-Aqsa Mosque; the Viral video is from Iraq
Old Video Of An Egyptian Oil Fire Viral As An Explosion In Israel Killing 650 Jews
ARMA-3 Video Game Visuals Shared As Israel's Air Defense System Footage
Title:No, Benjamin Netanyahu did not have a video call with Saudi Prince MBS
Fact Check By: Mayur Deokar
Result: False