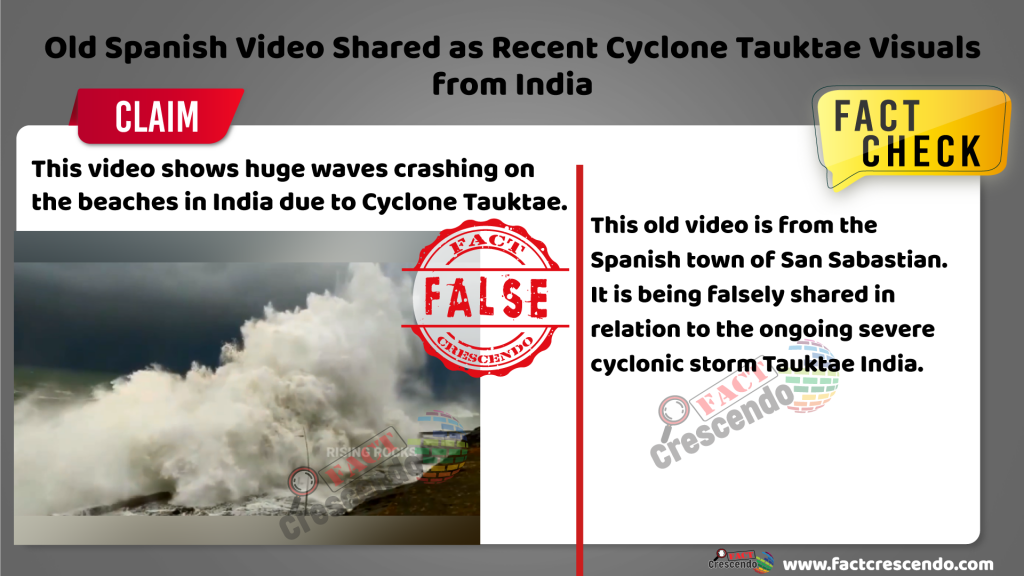 As cyclone Tauktae raging on the western coast of India, old videos of storms are being shared on social media with misleading claims.
One such video of huge waves is doing rounds claiming to be from Maharashtra as well as Gujrat region of India.
Fact Crescendo received many fact-check requests about this video on our WhatsApp Factline (9049053770).
We found that this video is neither from India nor of recent Cyclone Tauktae.
WHAT IS THE CLAIM?
A viral 30-second clip shows high waves crashing on what appears to be the promenade. Some users claimed it to be from Somnath, Gujrat and others passed off it as from Kunkeshwar Beach in Konkan, Maharashtra..
FACT CHECK
Using various keywords, we watched several 'sea waves' videos available on the internet, especially on YouTube.
We came across a video uploaded in January 2020. The video title says it is from Spain.
Upon careful watching, we found that the viral 30-second clip is taken out of this full-length (3-minutes) video. You can watch the viral clip portion from the 1.45-minute mark onwards.
Taking the clue from this video, we decided to geo-locate it independently.
After going through various 'waves in Spain' videos, we learned that San Sabastian is known for "astonishing sea waves hitting the promenade".
With the help of Google Maps, we located the exact location of this video as Paseo Nuevo area of San Sabastian.
In the viral video, we can see that promenade ends on the left side and a mountain is also visible in the distance.
You can see the same visuals by moving around in the above Embedded Street View.
For more clarity, we compared a landmark seen in the video with the Street View.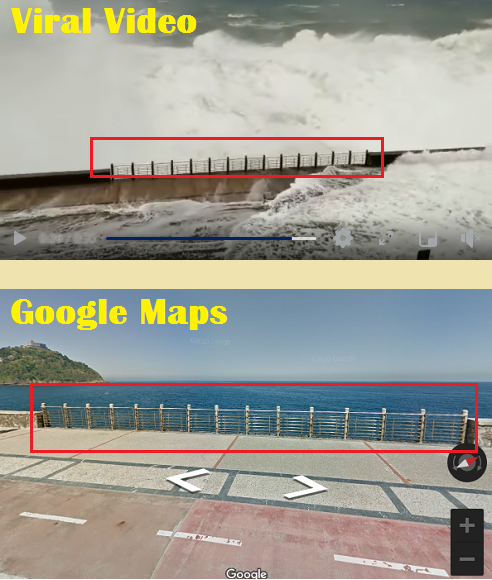 Going further, we even pinned-point the place from where this video might have been taken.
The screenshot produced below is taken from Google Earth. The exact location of the video recorder is denoted in the Red and Yellow circle.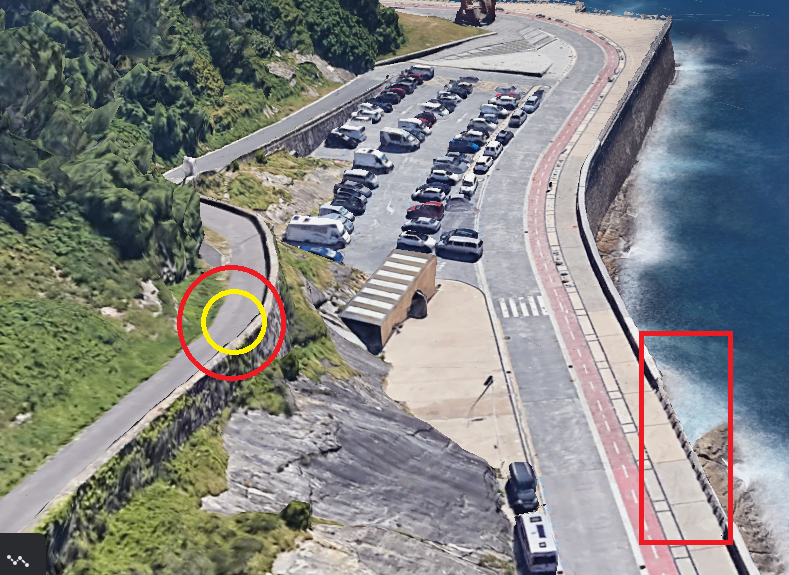 CONCLUSION
Hence, it is proved that the viral video is not from Maharashtra or Gujrat or, for that matter, anywhere in India. This old video is from the Spanish town of San Sabastian. It is being falsely shared in relation to the ongoing severe cyclonic storm Tauktae in India.
If you come across suspicious posts, please forward them to our WhatsApp Factline (9049053770). We will fact-check them for you.
Title:Old Spanish Video Shared as Recent Cyclone Tauktae Visuals from India
Fact Check By: Mayur Deokar
Result: False