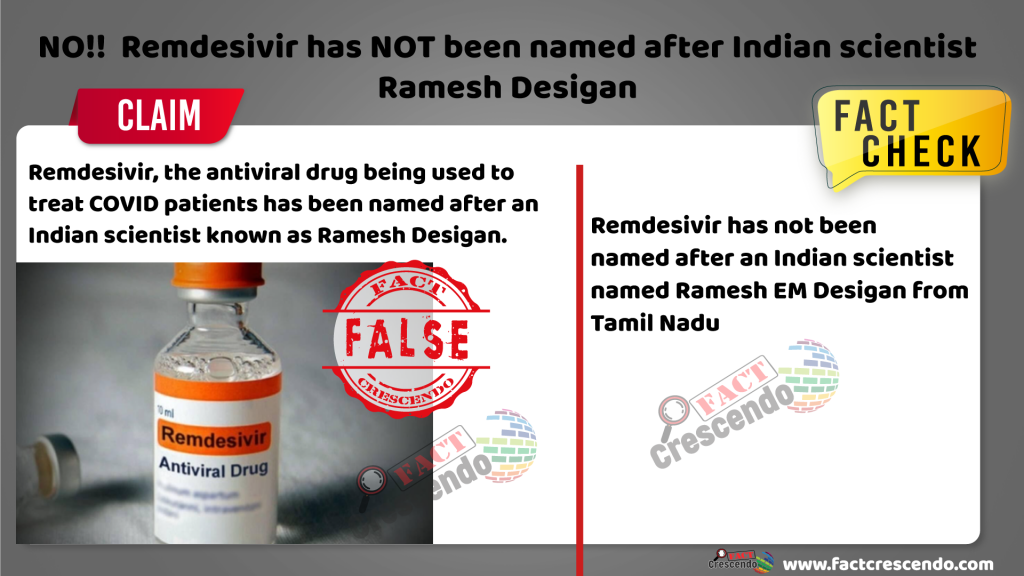 The antiviral drug Remdesivir has been under the spotlight as it is currently being used in the treatment of COVID-19. Several posts associated with the shortage of the drug, duplication of the drug and the price or black marketing of the drug is doing rounds on social media.
One such message claiming that Remdesivir has been named after an Indian scientist named Ramesh EM Desigan from Tamil Nadu is doing rounds on social media. The message consists of the following claims that have been broken down as mentioned below:
1.Remdesivir was developed by Gilead Science, a California-based pharmaceutical company where a team led by Czech scientist Tomas Cihlar worked on the drug for treatment of Ebola.
2.The drug however, was named after Ramesh EM Desigan, the lead scientist of Cihlar's team. Ramesh hails from Rasipuram in Tamil Nadu and moved to California in 2002 to work for Gilead.
3.Remdesivir, initially named Ebpantuvir was later renamed after Ramesh EM Desigan and Gilead donated $ 2 million to his primary school in Tamil Nadu, Rasi International School.
What is in the claim?
The viral message mentions that "The Unsung Indian* A Remarkable story- Dear Friends, Remdesivir Has Been Making The News Of Late As A Drug, To Be Used In The treatment Or At Least Mitigation Of Symptoms, Arising From Covid-19. However, Not Many Know Of The Back~Story Of The Drug, Its Discovery & Name. *Remdesivir* Is Developed By Gilead Science, A Pharmaceutical Based In Foster City, California. The Drug Was Developed By S Team Led By Czech Scientist Tomas Cihlar, Primarily For Treatment Of Ebola Virus. Not Many Know Of The Story Behind The Development & Naming Of This Drug.
It Is Actually Named After *Ramesh E.M. Desigan*, The Lead Scientist In The Team Of Tomas Cihlar.
Ramesh Hails From Rasipuram, Near Salem In Tamil Nadu. Coming From A Poor Family, Ramesh Received A Scholarship To Study At Madras Christian College, Followed By A PhD In Pharmacology From "JNU" New Delhi.
In 2002 Ramesh Moved To California, To Work For Gilead Sciences & Was Instrumental In Identifying The Viral Pathway, That Could Be Blocked By Anti-viral Drugs.
Initially Called Ebpantuvir, The Name Was Changed In Honor Of The Inventor Of The Drug To *"REMDesiVir"*.
Additionally In Honor Of This Discovery, Gilead Donated $2 Million To The Rasi International School Where He Did His Primary Education.But very few Indians know about this interesting story -cascade and share this to your friends and relatives."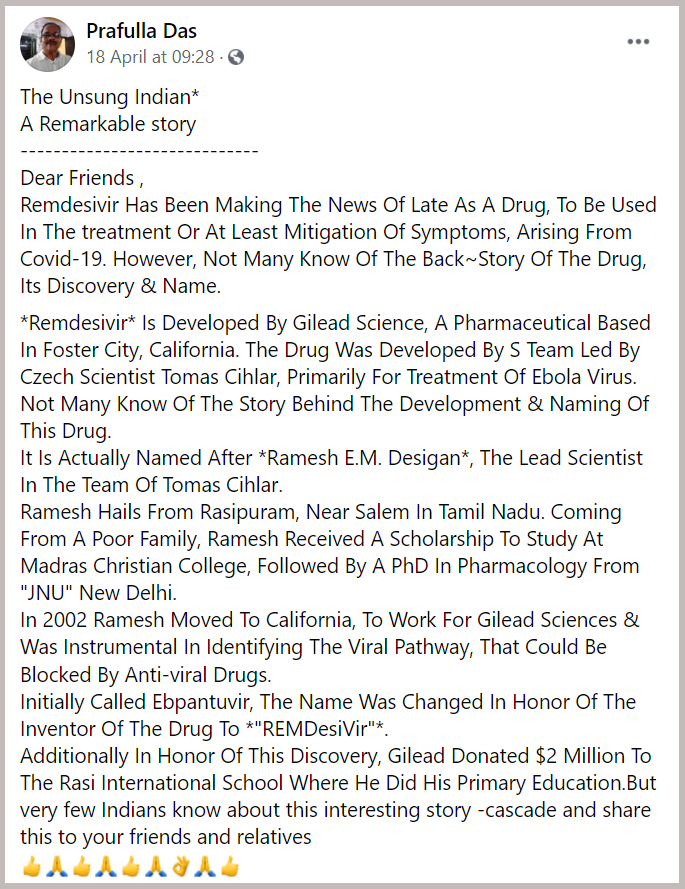 Fact Check-
We started our investigation by searching about each claim individually. The first claim mentioned in the viral text is about California-based Gilead Sciences being the parent pharmaceutical company of Remdesivir. Upon checking Gilead Science's website, we found that the drug was indeed developed by them. We found a document detailing the development of the drug which mentions the research that led to the development of Remdesivir started in 2009 with research programmes underway in hepatitis C (HCV) and respiratory syncytial virus (RSV). The drug was subsequently tested for Ebola in 2014 and more recently for coronavirus.
Upon a further keyword search we came across an article on Gilead's website which answers questions made to the team which developed the drug. The article is titled as 'Four Questions with Tomas Cihlar: Committed to the Field of Emerging Viruses'. The article mentioned that Cihlar is the Vice President of Virology and leads Gilead's antiviral research. He has led the development efforts related to Remdesivir. There was no mention of any Ramesh Desigan being the part of the team neither does it mention that the drug was named after him.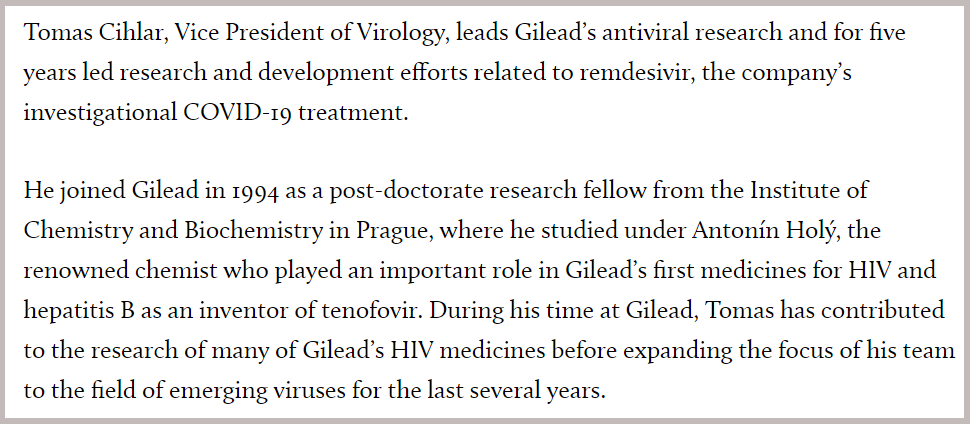 There is no mention of any Ramesh Desigan on Gilead Science's website. However, Fact Crescendo has contacted the parent company for a clarification and the article will be updated post their comment.
Next, to verify the last claim we searched about Rasi International School in Tamil Nadu. The school's website mentioned that the school was started by Venkateshwara Educational & Charitable Trust in 2008. It is unlikely that the school started in 2008 will have students working in Gilead Science's as scientist.
For further confirmation Fact Crescendo spoke to Dr D Vidyasagar, principal of the school who told us that the message doing the rounds is completely false and that the school has not received any such donation neither knows anything about such student working for Gilead Sciences. He also informed us that the school was setup in 2008 which makes it very clear that nobody can be enrolled in a school which was not even setup.
Who is Ramesh EM Desigan?
Upon looking up for this name in the field of pharmaceuticals we could not find any credible source that would mention Ramesh Desigan's name. We could not even find this name in the field of science for any credible contribution. Thus, it becomes very clear that Ramesh Desigan is a fictional name created to circulate the viral message.
Conclusion- Fact Crescendo has found the viral message circulating on social media to be False. Remdesivir, the antiviral drug being used to treat COVID patients has not been named after an Indian scientist known as Ramesh Desigan. No donation was made to the primary school where Ramesh had allegedly completed his education.
If you come across such viral posts on social media, send it to us on our WhatsApp Fact line number 9049053770 for verification.
Title:NO!! Remdesivir has NOT been named after Indian scientist Ramesh Desigan
Fact Check By: Aavya Ray
Result: False