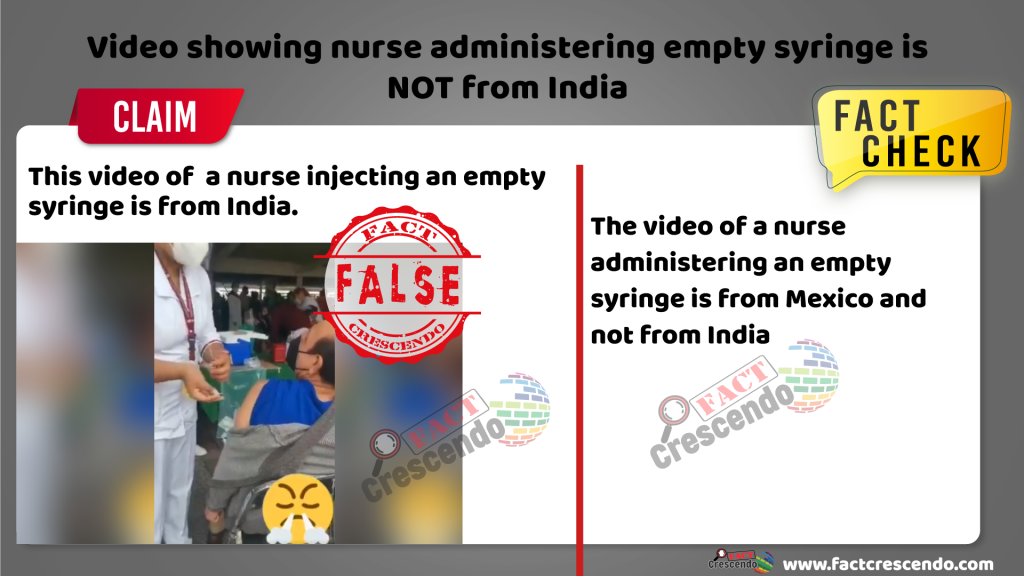 A video of a 'volunteer vaccinator' administering an injection using an empty syringe into the shoulder of an elderly adult has gone viral claiming that the video is from India where vaccines are being sold in the black market and citizens are being fooled by the hospital administrations.
Fact Crescendo received many requests for verification of this video on our WhatsApp Fact line (9049053770). Upon checking we found that the video is going viral on several other social media platforms as well.
What is the claim?
A 30-second video clip shows a nurse administering a vaccine to an elderly adult man with an empty syringe. The caption going viral with the video says "Watch closely. The injection is withdrawn without administering the vaccine! So be alert big racket in hospital in India than selling it in black Mkt."
Fact Check-
Upon observing the video, we can spot a lot of foreigners in the video which indicated that the video may not be from India. We ran a reverse image search on one of the keyframes provided by InVid-We Verify, we came across a report by a Colombia-based newspaper El Tiempo, which stated that the incident took place in Mexico.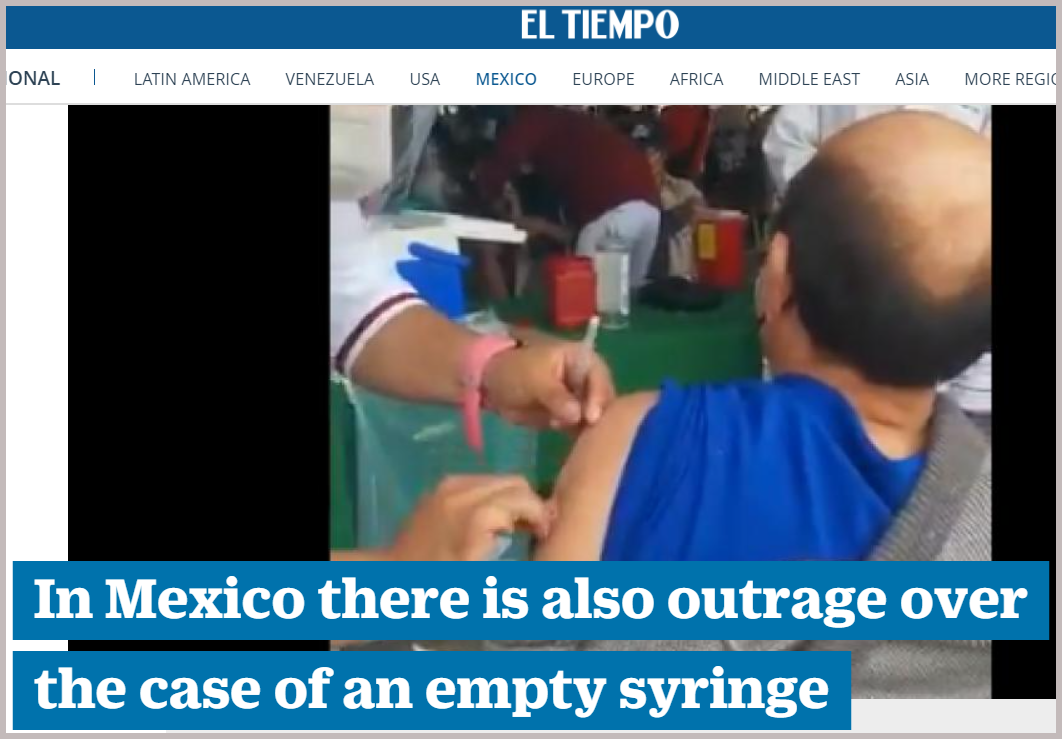 Next, we ran a keyword search on Google and came across several news articles which stated that the viral video is from Mexico. On 4th April 2021, Aristegui Noticias, a news site in Mexico, stated that the video shows a "volunteer vaccinator" with the Mexican Institute of Social Security (IMSS), a government body that assists public health. According to the news report she had injected the adult with an empty syringe and was removed from her services when the matter came to light. Both the IMSS and the Ministry of Health of the capital regretted what happened and stressed that the fact was reported by a relative accompanying the elderly adult, who was offered an apology and the vaccine was applied correctly, "without major complications in presence of his family, who in turn witnessed the procedure and reported on their social networks that the situation had been corrected."
The IMSS had also tweeted about the incident, which took place on 3 April, clarifying that the vaccine was later administered correctly, "without major complications, in the presence of his family."
Conclusion– Fact Crescendo found the viral post mentioned above to be False. The video has no relation with the vaccine drive in India. The video is from Mexico where IMSS clarified that the vaccine was later administrated correctly without any major complication in the presence of the man's family.
If you come across such viral posts on social media, send it to us on our WhatsApp Fact line number 9049053770 for verification.
Title:Video showing nurse administering empty syringe is NOT from India
Fact Check By: Aavya Ray
Result: False