The accused of the incident does not belong to the Muslim community. They belong to the Hindu community.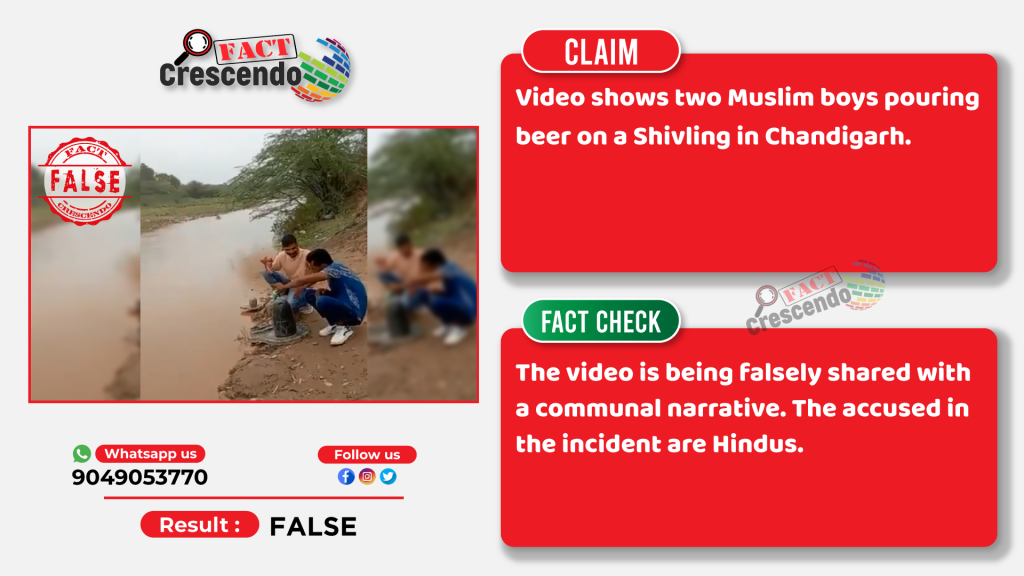 Social media users are sharing a video showing two boys pouring alcohol on a Shivling beside a river. Users claim that this video shows two Muslim boys pouring beer from a beer bottle on a Shivling to hurt Hindu sentiments.
The caption of the post states, "The sentiments of Hindus are being instigated by pouring beer on Shivling, if these two jihadis fall into the hands of the public, people will cry for the constitution, the video claimed to be from Chandigarh."
(Hindi: शिवलिंग पर बियर डालकर हिन्दुओ की भावनाओ को भड़काया जा रहा है, यह दो जिहादी जनता के हाथ चढ़ गए तो संबिधान का रोना रोयेंगे लोग, चंडीगढ़ का वीडियो बताया जा रहा है |)
Fact Check-
We started our investigation by running a keyword search on Google, whose results led us to a news report published by the Indian Express on 27 June 2022. The video showing two boys pouring alcohol on a Shivling was shot near river Ghaggar in Panchkula, Haryana. The police have arrested the accused and they are in judicial custody for hurting religious sentiments. The name of the accused is Dinesh Kumar and Naresh Kumar, who are the residents of New Indira Colony of Mani Majra.
The police officer said "Accused Dinesh and Naresh Kumar work at Grain Market, Sector 26. They claimed during interrogation that they had gone to Ghaggar river some days back for an outing. They were drunk when they found broken pieces of the Shivling on the river's bank. They assembled it and poured beer on it for fun. The two claimed that a minor boy was present at the spot and they told him to record their act. The boy made the video clip."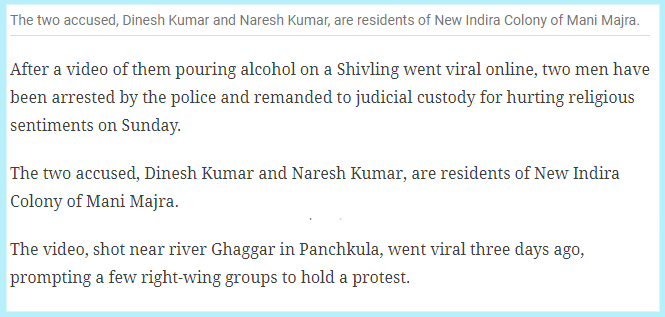 Fact Crescendo spoke with the SHO of Chandigarh Police Station Rohitash Yadav who told us that the viral claim on social media is false. The accused in this incident belong to the Hindu community. They are not Muslims. Some miscreants on social media has deliberately shared a false narrative with this video amid the recent communal tensions in the country.
Conclusion-
Fact Crescendo found the claim made along with the video to be False. The video is from Chandigarh, where two miscreants poured alcohol on a Shivling. Both the accused belong to the Hindu community.

Title:Video showing boys pouring beer on a Shivling shared with false communal narrative
Fact Check By: Drabanti Ghosh
Result: False