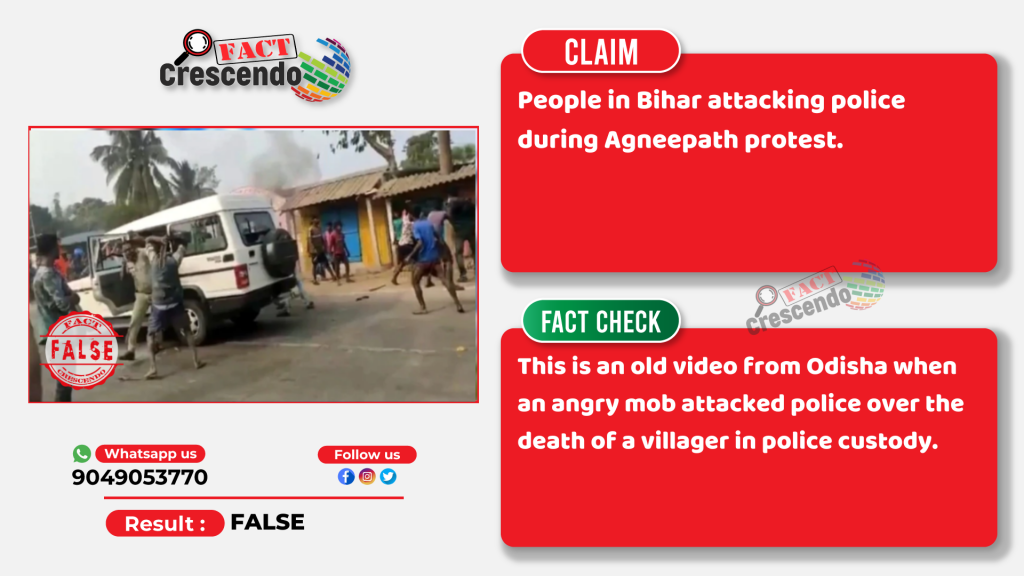 A video of people attacking police is widely circulating on social media. Users are claiming that this video is from Bihar during the Agneepath protest.
However, Fact Crescendo found the claim is false. This is an old video from Odisha where an angered mob attacked police after the death of a youth.
What is the Claim?
The caption with this video says, "Agneepath wapis lo nahi toh aaisa hi hoga. Bihar main aapka swagat hai (Repeal the Agneepath Scheme else this will happen. Welcome to Bihar)"
FACT CHECK
A Google reverse image search on keyframes of this video led us to a video uploaded on ONA Khabar YouTube Channel on 14 January 2021. According to the report, this video is from Bhadrak district in Odisha.
This incident took place after the mob got angry over the death of a physically disabled youth in the village. Police mistook a youth named Bapi as some culprit they were looking for. Bapi got scared and tried to elope but fell in a nearby pond and died.
On 13 January 2021, Sambad reported that locals set a police van on fire over the death of a detainee in Odisha's Bhadrak district's Haturi village. Police detained a man named Bapi Mahalik of the village for interrogation. But later the boy was found dead. Family members alleged that Bapi jumped into the pond after being tortured by the police.
CONCLUSION
Hence, the viral video has no connection with Agneepath Scheme or with Bihar. This is an old video from Odisha where a mob attacked police over the death of a villager in police custody.

Title:Old Video from Odisha Viral as Attack on Police During Agneepath Protest in Bihar
Fact Check By: Siddharth Sahu
Result: False