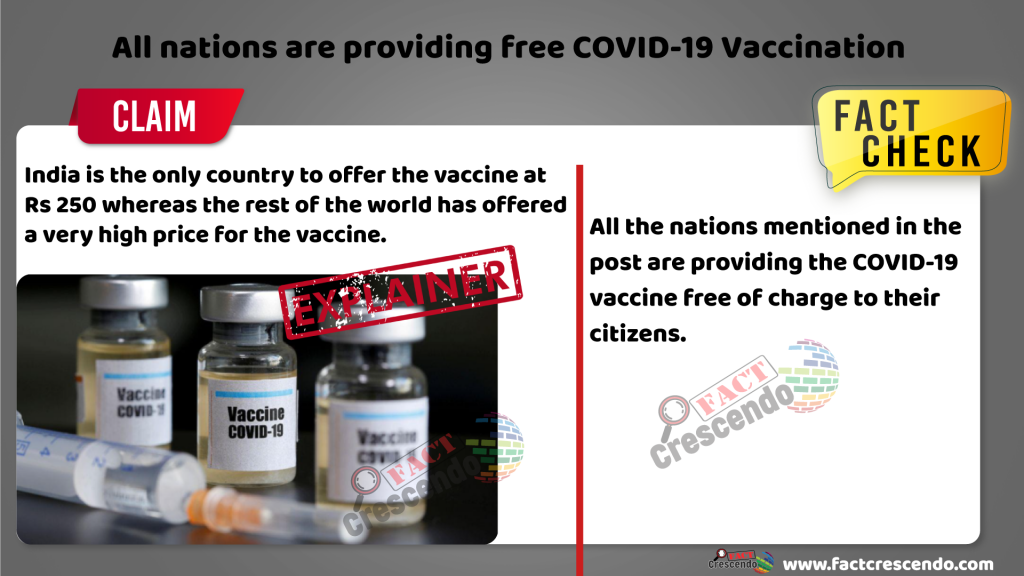 Photo credits- BBC
The COVID-19 vaccination drive has come to a new phase and the state has opened up vaccination for senior citizens and those above 45 years with co-morbidities. Amidst this, a message is going viral on social media enumerating COVID-19 vaccine prices in different countries. It claims that India is the only country to offer the vaccine at Rs 250 whereas the rest of the world has offered a very high price for the vaccine.
Fact Crescendo received this message for verification on our WhatsApp Fact Line number 9049053770.
The message states "Covid Vaccine price in different countries China – 2200, US – 1400, EU – 1300, Russia – 730, Saudi Arabia – 390, Brazil – 370, INDIA – 250, Biggest success of Atmanirbhar Bharat, let's RT to reach India's achievement to the masses. Source- India Today."
Fact Check-
We started our investigation by running a keyword search to find the price of the vaccine in different countries.
1. Europe-
According to the latest information available on the European Commission website, a large majority of the member states are intending to offer vaccination free of charge. Further the website states that at this stage the specific pricing per dose is covered by confidentiality obligations. However, a significant part of the overall costs are funded by a contribution from the overall EU funding for vaccines.
2. China-
According to China's National Health Commission, COVID-19 vaccines will be provided free of charge to all Chinese people.
3. United States of America (USA)-
According to the press release by the U.S. Department of Health & Human Services dated 11th February 2021 regarding the purchase of additional doses of COVID-19 vaccines from Pfizer and Moderna, it is categorically-mentioned that the vaccines will be at no cost.
Whereas 'Vaccine administration costs for private-sector administration partners are being covered by healthcare payers: private insurance, Medicare or Medicaid, and an HHS program to cover COVID-19 costs for the uninsured which is reimbursing providers at Medicare rates from the Provider Relief Fund'.

4. India-
As per CO-WIN 2.0 guidance note released by the Ministry of Health and Family Welfare, vaccination will be free of charge at the Government Vaccination Centres. The beneficiary will have to show a photo ID document for proof of age (preferably Aadhar card or EPIC card) and certificate of co-morbidity (if required). Those taking the COVID vaccine at any designated/ empanelled private health facility will have to pay a pre-fixed charge.
According to a press release by Ministry of Health and Family Welfare reported by PIB, 'Private Hospitals functioning as CVCs may recover a charge subject to a ceiling of Rs. 250 per person per dose'.

Although vaccine producers are selling vaccines at different prices per dose in different countries, most of the countries are making vaccines available free of cost to their citizens.
Conclusion– Fact Crescendo found the viral post on social media to be False. The Governments of the countries mentioned in the post are making the COVID-19 vaccine available to their citizens free of cost. Even the Indian Government is providing the COVID-19 vaccine free of cost at the public healthcare facilities.
UPDATE (5-03-2021)- This article was updated and changed to an Explainer.
Fact Crescendo found several other social media users claiming USA is providing the vaccine at Rs 5000, UK is providing the vaccine at Rs 3000 and India is giving the vaccine free of cost.
We searched on the UK Government's website, which clearly mentions that the COVID-19 shot would be distributed only through the National Health Service (NHS) and that this would be a free vaccination drive.
Further, we found a dashboard by UNICEF which mentions the COVID-19 Vaccine prices. The dashboard states the price of vaccination in India, Europe and USA.
However, it is important to note that the countries are providing free vaccination to their citizens as well as few countries have provision of getting the vaccine from private hospitals whose prices are stated such as India.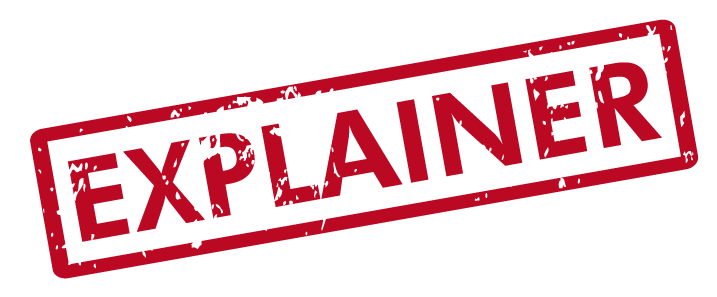 Title:All nations are providing free COVID-19 Vaccination
Fact Check By: Aavya Ray
Result: Explainer