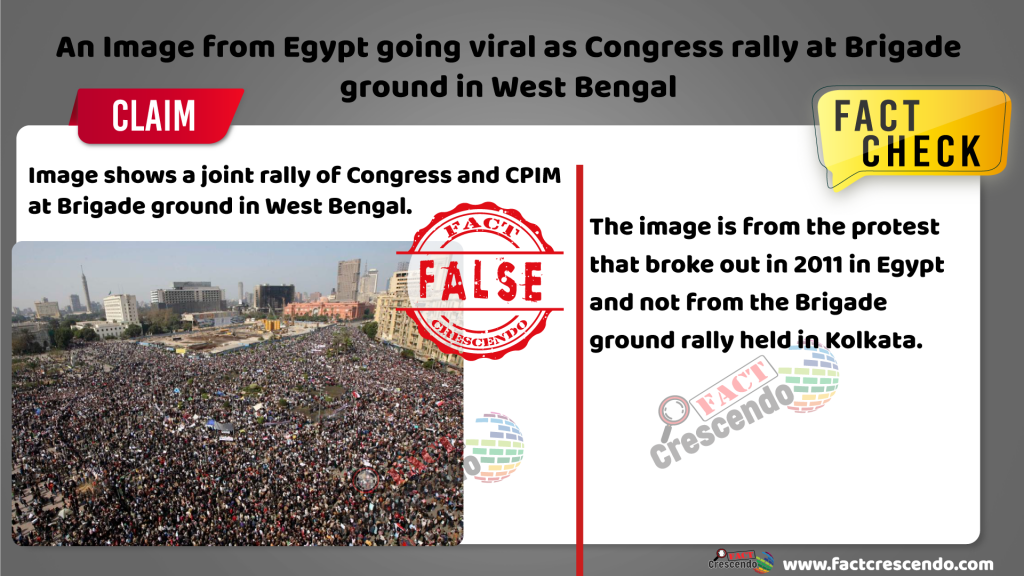 Amidst the upcoming state assembly elections in West Bengal, political parties are campaigning widely, and the Brigade ground has become an important location for the campaigning and rally. With reference to this, an image is going viral on social media claiming that the image is from the joint rally of Congress and CPIM held at the Brigade ground in West Bengal.
The caption of the post mentions, "This is Massive! Joint rally of INC, India & CPIM, WESTBENGAL at Brigade ground in the heart of Kolkata. More then 10 million people join in. According to opinion polls conducted by Telegraph, Wire, Scroll and Quint, Mamta Bannerjee won by an overwhelming majority already. In the words of Neruda, you can cut all flowers but you cannot stop spring."
Fact Check-
We started our investigation by running a reverse image search on the image, which led us to several images published almost 10 years back.
We found the same image published on Crytome.org website with the title as "The crowd gathers in Tahrir, or Liberation, Square in Cairo, Egypt, Tuesday, Feb. 1, 2011. Tens of thousands of people flooded into the heart of Cairo Tuesday, filling the city's main square as a call for a million protesters was answered by the largest demonstration in a week of unceasing demands for President Hosni Mubarak to leave after nearly 30 years in power. AP." According to the description the image dates back to 1st February 2011.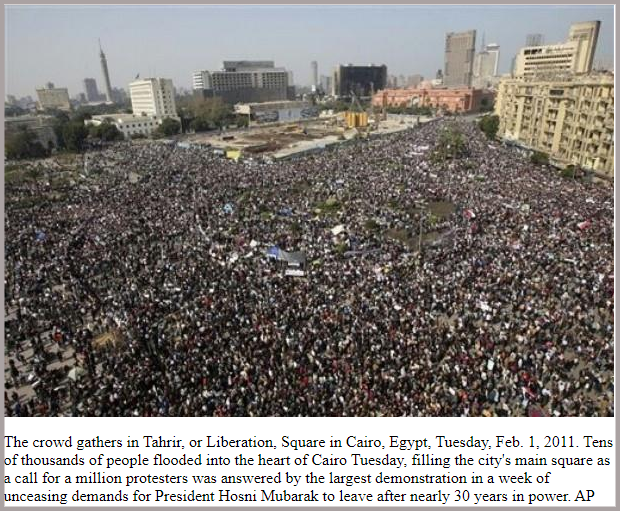 Archive Link
With a further keyword search, we found that Tahrir Square was the focal point of the 2011 Egyptian Revolution against former president Hosni Mubarak. On 1 February 2011, Al Jazeera reported that more than one million protesters peacefully gathered at the square and adjacent streets.
We found that the same photo was posted by The Albany Democrat-Herald. According to the article, the picture was taken on February 1, 2011, in Egypt.
The caption of the post read, "Ten years ago: Egyptian President Hosni Mubarak announced he would not run for a new term in September elections but rejected protesters' demands he step down immediately and leave the country, after a dramatic day in which a quarter-million Egyptians staged their biggest protest to date calling on him to go." The website also credits Associated Press for the image.
Apart from this, we found a similar photo, taken at the same location in an article by The Guardian.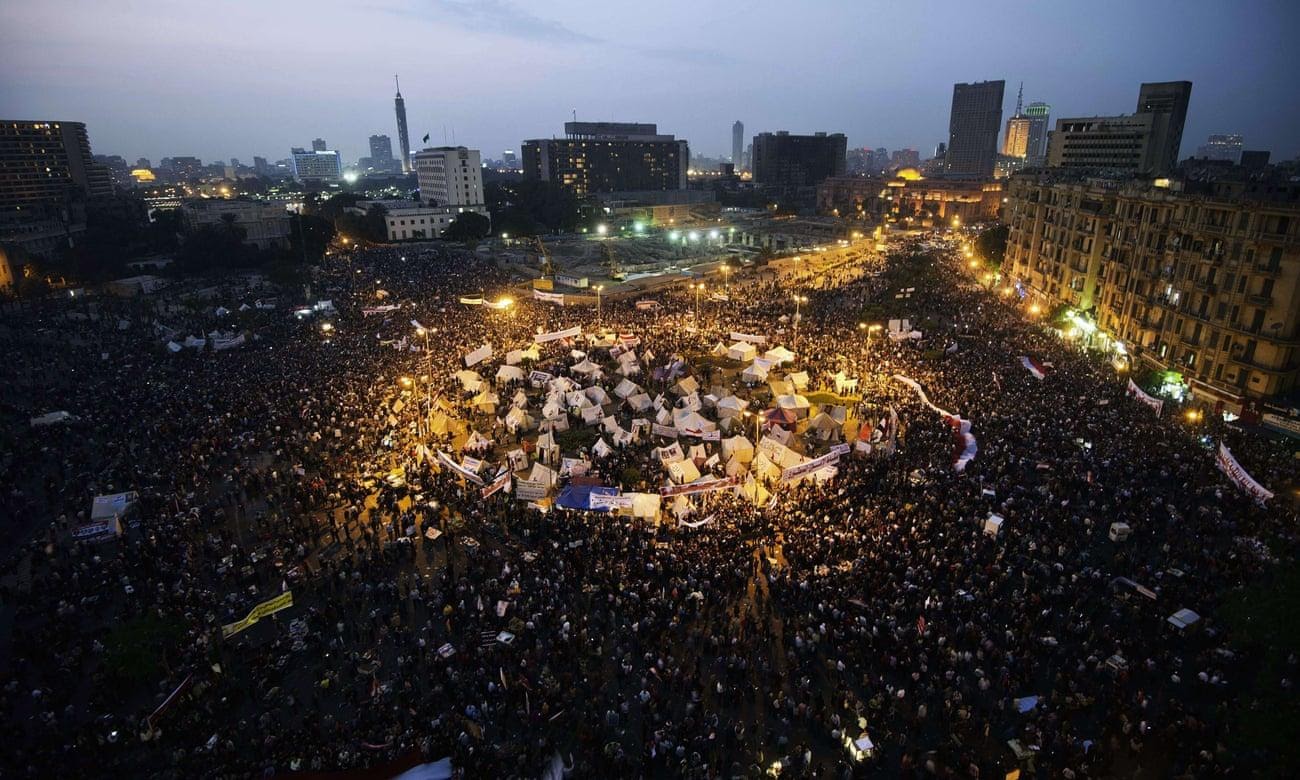 Archive Link

We searched for Tahir Square situated in Cairo, Egypt on Google Maps and found the exact location where the image was captured.
Below you can see a comparison image between the viral image and the location seen on Google Maps, which makes it clear that the image is from Egypt and not from Brigade ground in Kolkata, West Bengal.

We also searched for visuals from the left and Congress rally, which was held on February 28, 2021, in Kolkata.
Conclusion- Fact Crescendo found the viral image on social media to be False. The viral image on social media is from the protest that broke out in 2011 in Egypt and not from the Brigade ground rally held in Kolkata, West Bengal organized by Congress and CPIM

Title:An Image from Egypt going viral as Congress rally at Brigade ground in West Bengal
Fact Check By: Aavya Ray
Result: False