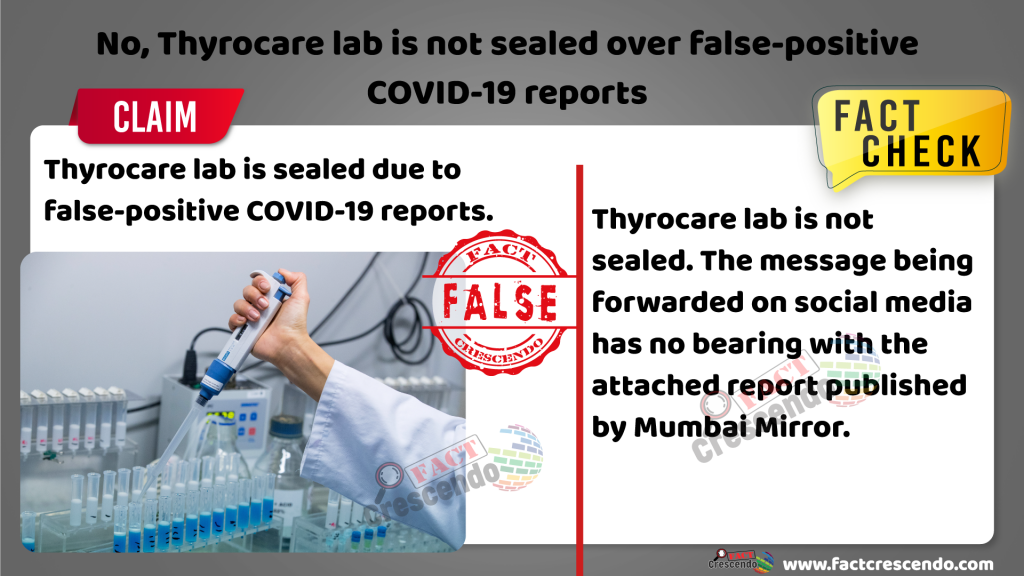 A viral message on social media claim's that Thyrocare, a private test lab, has been sealed by government authorities over COVID-19 test report lapses. A link of a Mumbai Mirror news report is being shared in the message to support this claim.
After the message went viral, Mumbai Mirror and Thyrocare denied the claims made in the post. Fact Crescendo began investigating this post after receiving many requests to Fact check this claim.
What's the claim?
The viral message that has been doing rounds on social media reads: In Thane, Thyrocare lab sealed by government because they gave fake COVID positive reports to people. The reason behind this is this lab have a connection with private Hospitals and after fake positive reports, they send that person to that particular hospitals those have three lakhs rupees package for COVID patient.
Along with the above text, a link of the Mumbai Mirror news report is included in the message. The title of this news report is "False positives putting Thane citizens at risk".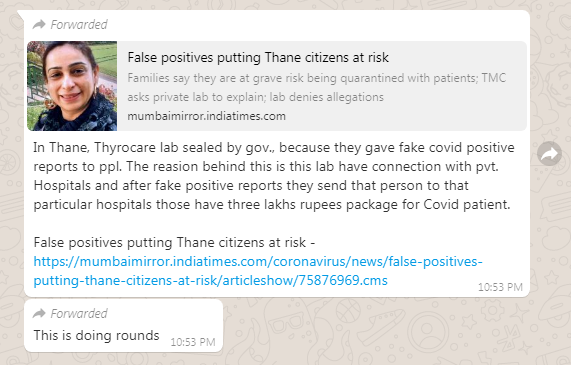 FACT-CHECK
First of all, a simple reading of the news report given in the message reveals that there is no mention of "Thyrocare lab being sealed" in the news. It only reports about the irregularities in the COVID test results from Thyrocare.
Mumbai Mirror reported on 22nd May that some results of the tests done by Thyrocare were found false positive. The news further reports four accounts of people who were tested positive by Thyrocare but when Thane Municipal Corporation (TMC) conducted the second test on the same people, their results came negative.
Upon learning these irregularities, The TMC had sent the private lab a notice seeking a response.
On the same day Mumbai Mirror reported that The Thane Municipal Corporation has asked Thyrocare labs to stop testing coronavirus swab samples of suspect patients after the civic body allegedly found irregularities in the test results from the private lab. (Archive)
None of these reports claimed that Thyrocare labs were sealed by the government.
Mumbai Mirror Tweeted clarification that Thyrocare Lab has not been sealed. If you've received any such forward along with this news report from May 22nd, please read the full story, it makes no such claim.
When the claim about the Thyrocare labs being sealed went viral, Thyrocare put up a clarification denying the rumours. "Rumours being spread that Thyrocare is sealed. We reported 1,881 COVID samples on 6.6.2020. Cybercrime alerted, FIR filed for this nefarious activity under Epidemics Diseases Act", Thyrocare tweeted on 7th June.
It is clear that Thyrocare lab is not sealed. But what about testing?
Fact Crescendo contacted deputy municipal commissioner of TMC Sandeep Malvi who informed us that Thyrocare is barred from doing COVID-19 testings in Thane.
According to News18, the public health department of Brihanmumbai Municipal Corporation (BMC) has sent a show cause notice on 28th April to Thyrocare Lab over alleged lapses asking them to stop testing for coronavirus till they send a reply.
Later BMC allowed Thyrocare to test only swabs taken by BMC from suspected COVID-19 patients and temporarily stop all private testing, Indian Express reported on 4th May.
CONCLUSION
Thyrocare labs are not sealed as claimed in the viral message. Thane Municipal Corporation has barred them from conducting COVID-19 tests only in Thane. TMC has not sealed the lab.  The message being forwarded on social media has no bearing with the attached report published by Mumbai Mirror. 

Title:No, Thyrocare lab is not sealed over false-positive COVID-19 reports
Fact Check By: Mayur Deokar
Result: False