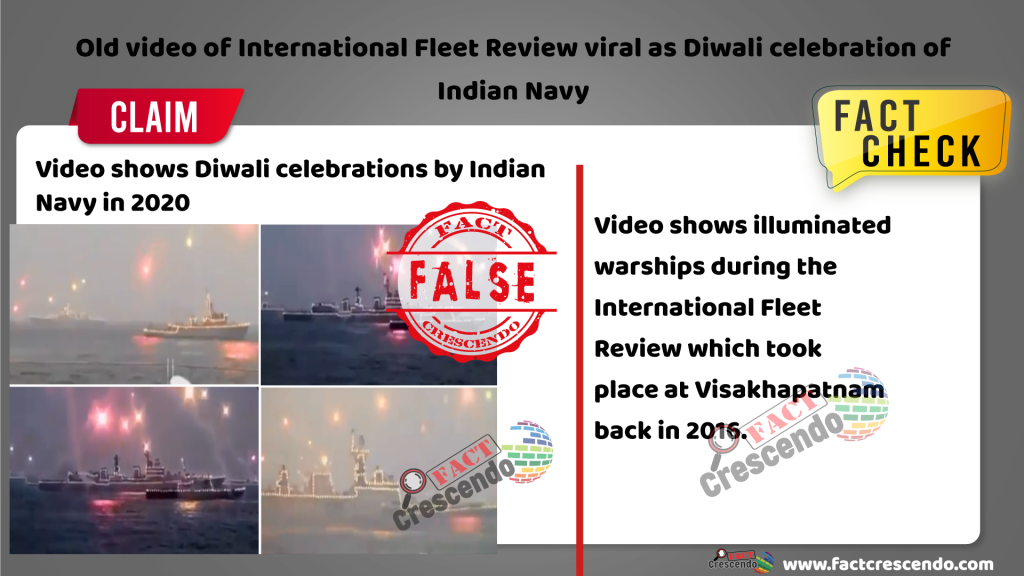 A video of illuminated ships and fireworks is going viral on several social media platforms claiming that that the video shows celebrations by Indian Navy during Diwali 2020. The caption of the post mentions "Indian Navy celebrating Diwali 2020." The same video is also going viral with the claim that says "Celebration of Diwali by INDIAN NAVY."
Fact Check- 
We started our investigation by running a Google Reverse Image search on one of the key frames by InVid-We Verify tool, which led us to a similar YouTube video uploaded by the verified YouTube channel of Wild Films India on 18th May 2016. The headline of the video reads as "Lit up warships of the Indian Navy fire flares on Bay of Bengal". The description of the video mentions as "Illuminated warships and fireworks on Eastern Naval Command during International Fleet Review organise by Indian Navy. A Naval Fleet Review is a long-standing tradition followed by navy's all over the world. It is a grand occasion when every operational ship is spruced up, proudly displaying its crest and its company in a spirit of loyalty and allegiance to its sovereign and the state."
Taking a hint from this we ran a key word search on Google, which led us to a news article, which carried images similar to the visuals of the video. According to the article, these images are related to the International Fleet Review, which took place in Visakhapatnam in 2016.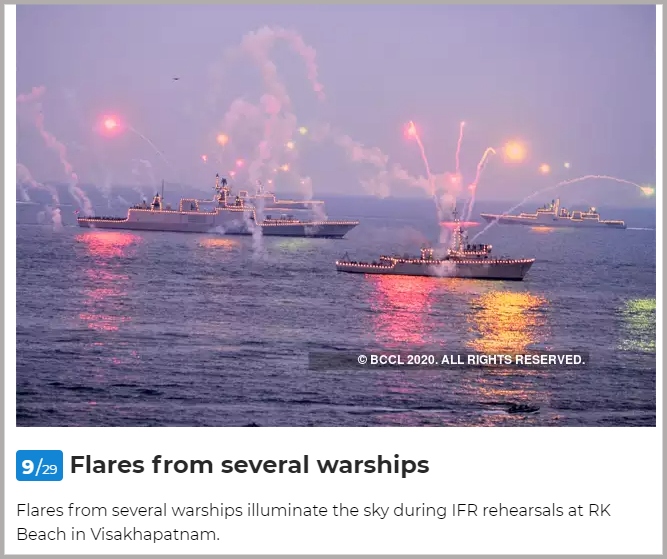 A further key word search led us to Prime Minister Narendra Modi's official YouTube channel, which had the full video of this event. The headline and caption of the video mentions "PM Modi at the International Fleet Review 2016 in Visakhapatnam, Andhra Pradesh." We can see similar visuals from the viral video at 31 minutes.
The official Twitter handle of the Indian Navy's Spokesperson also has posted similar images of the event on 1st December 2016. The caption of the tweet mentions , "#NavyWeek2016 @SpokespersonMoD Some breathtaking shots of Operational Demonstration practice at RK Beach Vizag-Navy Day rehearsals."
ANI had also posted a similar video on 7th February 2016 with the caption "WATCH: Illuminated Naval ships at the Operational demonstration at International fleet review in Vishakapatnam (AP)"
Conclusion- Fact Crescendo found the above-mentioned post to be False.

Title:Old video of International Fleet Review viral as Diwali celebration of Indian Navy
Fact Check By: Aavya Ray
Result: False