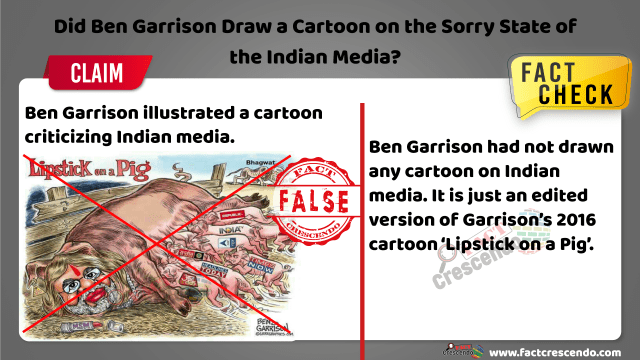 As the trust in news media is falling all over the world, people are questioning the credibility of news organizations. India is no exception to it. And what better way to do it than a scathing cartoon? Many social media users are sharing a cartoon depicting the sorry state of Indian news channels. It is being claimed that popular US cartoonist Ben Garrison had created it.
Fact Crescendo received many requests from readers to fact-check this image. Upon our investigation, we found out that the cartoon is being falsely linked to Ben Garrison.
What's the claim?
A Twitter user shared the 'Lipstick on a Pig' cartoon with the caption: American cartoonist BEN GARRISON's cartoon on INDIAN media. What a masterpiece!!
Another user said, "American Artist Ben Garrison Made Hilarious Cartoon On Indian Media"
FACT-CHECK
A simple reverse image search reveals that Ben Garrison has not drawn any cartoon on the state of Indian media. The viral image is an edited version of the original cartoon by Mr. Garrison.
The official Twitter handle of Ben Garrison tweeted the original 'Lipstick on a Pig' cartoon in 2016. He had criticized the then-presidential candidate Hillary Clinton in it.
Ben had elaborated on the cartoon in his blog post. You can read it here.
Interestingly, many cartoons about Indian politics have been shared in the name of Ben Garrison. Fact Crescendo has also debunked them previously.
Ben also clarified on Twitter that he has not drawn any cartoon about India or its politics. He said, "No- I have never drawn any cartoons on India politics- there are some cartoons with my sig going around- Not mine"
CONCLUSION
This proves that Ben Garrison has not drawn the viral cartoon on the state of the Indian media. It is just an edited version of Garrison's 2016 cartoon 'Lipstick on a Pig'. You can see the difference in the following comparison of both images.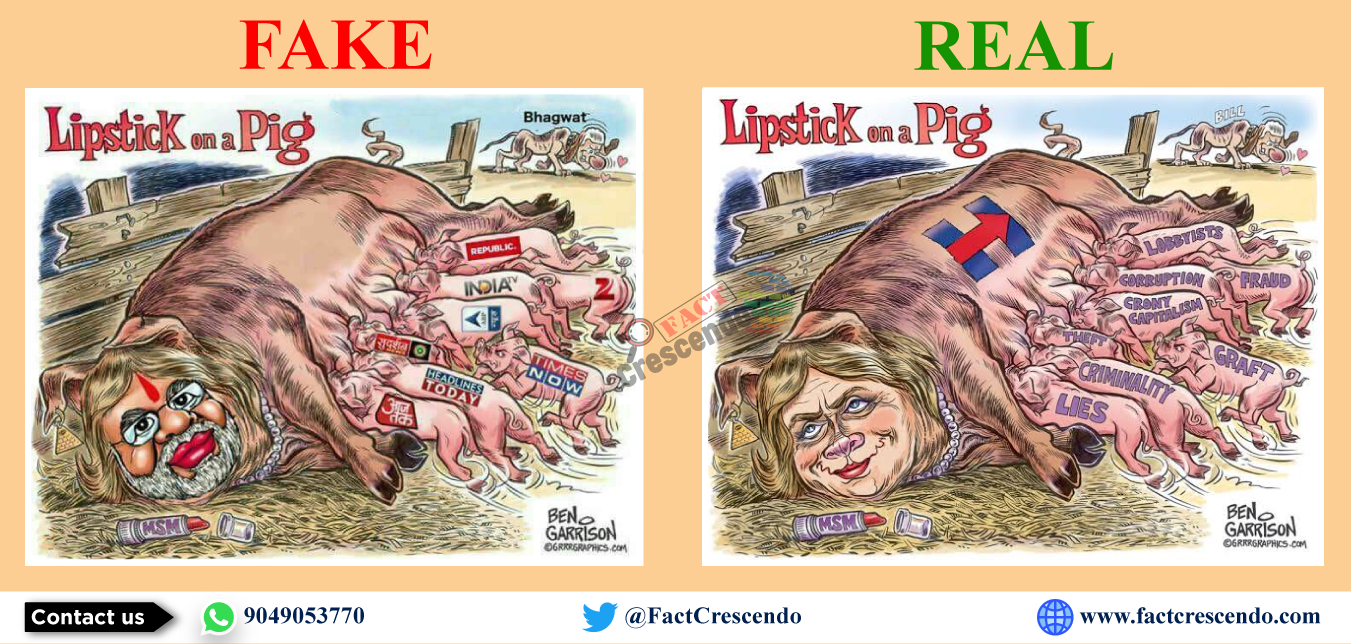 Have any fake-news? Send it to us and we will verify it for you, WhatsApp us on 9049053770. You can also get in touch with us via Facebook and Twitter.

Title:Did Ben Garrison Draw a Cartoon on the Sorry State of the Indian Media? Read the Truth
Fact Check By: Mayur Deokar
Result: False