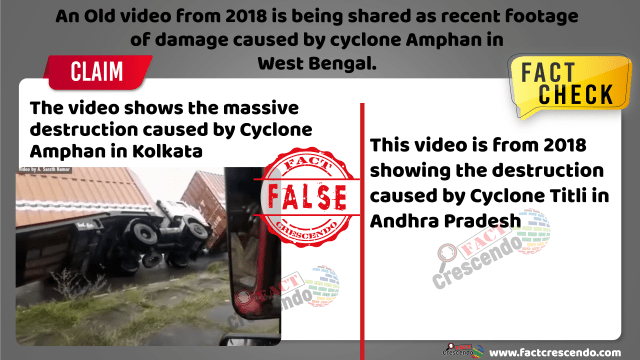 Super Cyclone Amphan struck land on Wednesday, 20th May 2020 lashing coastal areas of West Bengal with ferocious wind and rain. Thousands of trees were uprooted, electricity and telephone lines brought down and houses flattened. The storm is the first super cyclone to form in the Bay of Bengal since 1999. As the city is in its initial stage of disaster management, the citizens have flooded the internet with images and videos of the aftermath of super cyclone Amphan. Amidst this, we received a video which claims to be the actual footage of the destruction caused by the Amphan Cyclone. We can see how strong winds are turning trailers, trucks and buses over as a car passes by recording this destruction.
Fact Check-
We started our investigation by using simple keyword search on YouTube which led us to a video published by a user in 2018. According to the headline of the video these are visuals captured during the Titli storm.
Upon further search we came across a news published in 2018 by Newsflare which reported that Cyclone Titli overturned several heavy trucks on a highway in Srikakulam district of Andhra Pradesh, India on 11th October 2018. A district official said vehicles had been stopped from entering Srikakulam district on the night of October 10th. However, a few had ignored the warning and ventured into the district. A stretch of highway near Kaviti village resembled a war zone with several capsized trucks dotting the road.

We also found another news report by Times of India on 11th October 2018 showing the same video. The headline mentions that "Cyclone Titli: Brutal winds overturn trucks in Srikakulam district of Andhra Pradesh. According to the news report people in the coastal areas of Odisha and northern Andhra Pradesh are have faced the full onslaught of the Cyclone Titli. 'Titli', has been categorised as a 'very severe cyclonic storm'.
Conclusion- Fact Crescendo found the above video to be False. The video has no relation with Cyclone Amphan that hit West Bengal on 20th May 2020. The video shows visuals of Cyclone Titli which hit Andhra Pradesh in October 2018.

Title:An Old video from 2018 is being shared as recent footage of damage caused by cyclone Amphan in West Bengal.
Fact Check By: Aavya Ray
Result: False