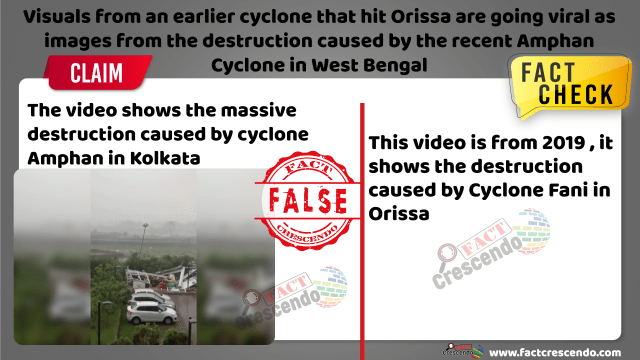 As the entire country stands together fighting against a common enemy COVID-19, West Bengal on the other hand witnessed one of the most severe cyclones ever. Super Cyclone Amphan struck land on Wednesday, 20th May 2020 lashing the coastal areas of West Bengal with ferocious wind and rain. Thousands of trees were uprooted, electricity and telephone lines brought down and houses flattened. The storm is the first super cyclone to form in the Bay of Bengal since 1999. Amphan is classified as a very severe cyclone even though its wind weakened by the time the storm struck. Social Media is flooded with footage of the destruction caused by the cyclone. As the city is in its initial stage of disaster management, the citizens have flooded the internet with images and video of the after effects of the super cyclone Amphan. Amidst this, Fact Crescendo received a video on our WhatsApp number 9049053770 requesting for Fact Check. The video is claimed to have been shot when cyclone Amphan hit Kolkata on 20th May. The video shows strong winds blowing away a shop near a parking lot.
Fact Check-
We started our investigation by using a simple keyword search on YouTube we found the same video uploaded on YouTube by a user on 16th May 2019 with the headline , "No one has ever seen such a storm in years". We spotted the logo of Economic Times on this video which suggested that the video was uploaded by The Economic Times.
Next, we conducted another keyword search on YouTube which led us to the video published by The Economic Times on 3rd May 2019 with the headline "Cyclone Fani batters Odisha :Dramatic Visuals | Economic Times." According to the report Cyclone Fani barrelled through Odisha on Friday, unleashing copious rain and windstorm that gusted up to 175 kmph, killing at least eight people, blowing away thatched houses, and swamping towns and villages, officials said.
Conclusion- Fact Crescendo found the above-mentioned video to be False. The video has no relation with Cyclone Amphan that hit West Bengal on 20th May 2020. The video shows visuals of Cyclone Fani which hit Orissa in May 2019.

Title:Visuals from an earlier cyclone that hit Orissa are going viral as images from the destruction caused by the recent Amphan Cyclone in West Bengal
Fact Check By: Aavya Ray
Result: False