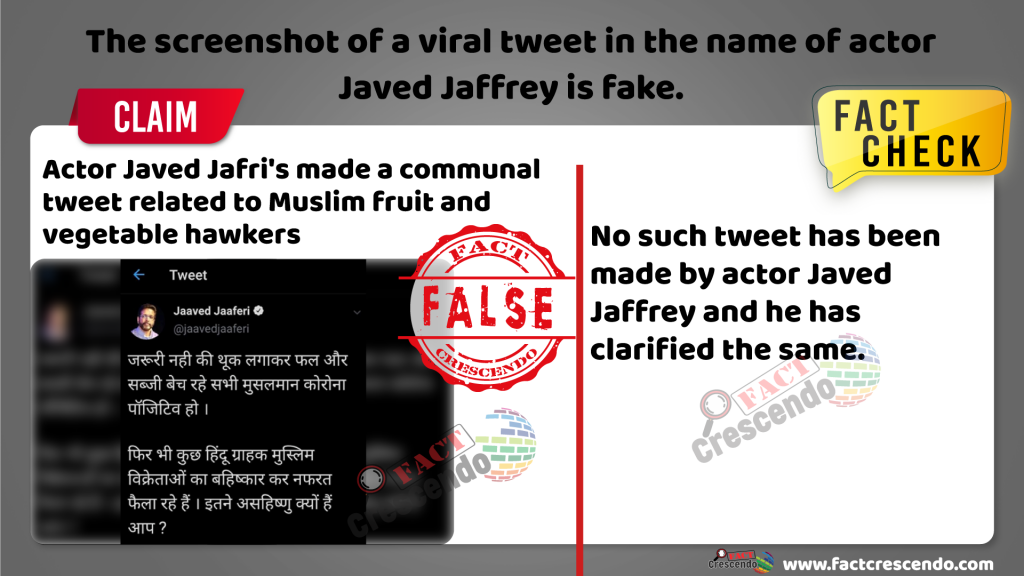 A screenshot of a tweet by actor Javed Jaffrey is going viral on social media. The tweet is about the claims made in the viral videos that Muslim fruit and vegetable hawkers are spitting on the fruits and vegetables before selling them. It is also mentioned in that tweet that there is no evidence that the hawkers are suffering from COVID-19. The tweet was exclusively shared as a screenshot, with no link or archive.
In the screenshot of the tweet made in Javed Jafri's name, it is written that "Not necessarily all Muslims hawkers selling fruits and vegetables by applying their saliva on it are corona positive. Still some Hindu customers are spreading hatred by boycotting Muslim vendors. Why are you so intolerant? "
We started our investigation by trying to find this particular tweet through Twitter advanced search and different keywords. However, we did not find any such tweet, this tweet was not available in Google's cache as an archive or in any URL form.
Seeing the posts available on social media, it is understandable that social users are downloading and sharing the same screenshot.
After this, we found an explanation tweet shared by Javed Jaffrey's official Twitter account in which he writes that "The screenshot of a tweet in my name is quite viral on social media. This tweet is fake. This is a part of the fake news scam. My tweets and speeches have always promoted communal harmony, especially in today's time where the world unites to fight against the enemy of humanity."
He eventually posted a video, where he reiterated his claim of not tweeting the viral screenshot, saying that he does not use the profile picture being displayed in the screenshot. He has also threatened to file a police complaint against those who shared the screenshot. In the tweet, he wrote that "I usually don't post personal videos despite being trolled often, but this time I had to." At a time when humanity has faced with an epidemic where race, religion and color have no meaning, some Indians are still indulging in #FakeNews #HinduMuslim #HateMongering. "
We don't want hate but love. "
Conclusion: We found above the post to be incorrect after checking the facts. The communalism-filled tweet being spread on social media in the name of Javed Jaffery is forged.

Title:The screenshot of a viral tweet in the name of actor Javed Jaffrey is fake.
Fact Check By: Aavya Ray
Result: False