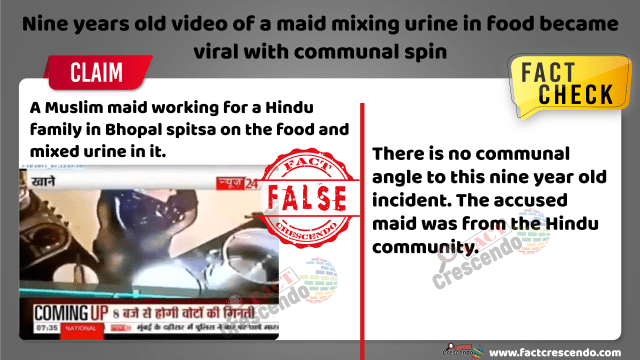 Many events are being spread on social media with the aim of misleading people by giving them a communal form. Meanwhile, while sharing a highly objectionable video on social media, it is being claimed that a person named Mukesh Suri of Bhopal hired a Muslim maid named "Hasina". The woman was caught on CCTV footage mixing her urine in the food that was to be served to her employer.
The title of this video reads, "In Bhopal, Mukesh Suri Ji hired a Muslim maid named 'Hasina'. She started behaving in a bizarre way and mixed her urine in the food before serving it.
We started the investigation by searching the news related to this video through keywords on Google, as a result of which we found news published by Times of India on October 18th 2011. According to which the maid was arrested by the police for allegedly mixing urine in the food which was to be served to her employer who is an interior designer. The report said that the maid's name was Asha Kaushal, who is 55 years old.
Citing police inquiries, the report states that Asha cited several reasons for doing this, including the perceived undesirable behavior by her employer towards her young daughter, for which she wanted to teach him a lesson.
A case has been registered against the accused under section 270 of the IPC after the complaint was filed by the employer of that maid, Mukesh Suri. It is a fatal act, which is related to the spread of infection or disease, which is life-threatening. It is a non-bailable offense.
On this incident, we also got a report published by "Jagran" on October 18th, 2011. In this article too, the maid's name has been mentioned as Asha Kaushal.
Fact Crescendo contacted ASP Rajat Saklecha of Bhopal (Zone 1), who confirmed to us that, "communalism has nothing to do with this incident." This video is from 2011 and in this incident the case was registered at Baig Sewaniya Police Station. This woman was from the Hindu community. An old and objectionable video is being circulated on social media giving it a wrong communal spin."
Conclusion: We found the above post wrong after checking the facts. The viral video on social media is about 9 years old. In the present times, where many false and misleading posts against people of a particular community are quite popular on social forums, it is utterly condemnable to spread communal hatred towards any community. The said incident has no relation to communalism. The name of the maid shown in the video is not "Hasina" but Asha Kaushal.

Title:Nine years old video of a maid mixing urine in food became viral with communal spin
Fact Check By: Aavya Ray
Result: False